[Stop and do it]
I went walking over backbones,
i broke my stiletto,
and we were so cold.
and like a Febuarys courts we froze
and so the song goes,
and we were among those
far from the Holy Ghost.
and when the Body was received i shreiked.
out of flirtation,
i screamed,
out of exsasperation, and fascination.
And so for all of us,
Lustful or our of lust,
we are the sainest bunch.
and over backbones we will ride to meet for lunch.
Contributed by Alexis B. Suggest a correction in the comments below.
To comment on specific lyrics,
highlight them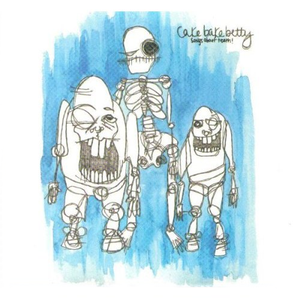 Backbones (Dead Dead Sounds)
CBB is Lindsay Powell, a multi-instrumental singer-songwriter from Millstone Township, New Jersey. Her other musical projects include Festival (with her sister Lex on Language of Stone Records) and Skyblazer (with the boys of JEFF on Infinity Cat Recordings). CBB uses piano, violins, synthesizers, and everything in-between to craft original songs which are sometimes quirky, sometimes deeply emotional, but all with an undeniable endearing quality.
Read Full Bio
CBB is Lindsay Powell, a multi-instrumental singer-songwriter from Millstone Township, New Jersey. Her other musical projects include Festival (with her sister Lex on Language of Stone Records) and Skyblazer (with the boys of JEFF on Infinity Cat Recordings). CBB uses piano, violins, synthesizers, and everything in-between to craft original songs which are sometimes quirky, sometimes deeply emotional, but all with an undeniable endearing quality. The debut album Songs About Teeth was released in 2006, the follow-up release To The Dark Tower in 2008, both on Infinity Cat Recordings.

http://www.myspace.com/cakebakeb
Genre not found
Artist not found
Album not found
Search results not found
Song not found