I can't, I can't hear
I see, I see your nose
Baby said when the poison's in the river
We will know, know our home
I wanted to chew on this
I wanted to trace your list
These days we are too rough and
I lost him too
We walked in black and blue black and blue
I can, I can feel it
I call, called your name
Baby said when the carpet gets the better
We will know know the same
When you are not too sturdy
I haunt you, oh, you hurt me
When you are not too dusty
I'll grant you right to touch me
Go, go now
Go, go now
Go, go now
Go, go now
Why I'm counting I don't know
Perhaps my markings show
And so it goes
Until I can't see over balconies
In the maple tree
The mariners are good to me
They bring me honey goo
And my arms are sleeping
Yes it's leaving me
So let us breathe in deep
And the lock is not forgotten
No the lock does not devour souls
And oh, I'm taking her home
She's sick as a dog
Her arms may fall off
And inside the box, I'm dreaming of loss
I've nothing of him, I wait for his soul
The hills are below, the filter does know
And when this hole dries
We'll shut both our eyes
For in my heart I am trying to lie
Lie still as I wake you up
Her grandmother sleeps in the bedroom now
And when it's all done, I am giving
I am giving, I am giving up
Cause I never loved you
And you never loved me
That's just how you struck me
Cause I never loved you
And you never loved me
That's just how you struck me
And I'm not going to wait
For the sun to pick me up at night
Oh lord is,
Oh lord is this my ship coming in?
I'm not ready
I'm not ready for this
Contributed by Cooper G. Suggest a correction in the comments below.
To comment on specific lyrics,
highlight them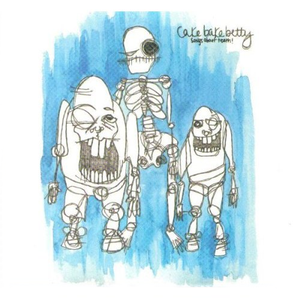 CBB is Lindsay Powell, a multi-instrumental singer-songwriter from Millstone Township, New Jersey. Her other musical projects include Festival (with her sister Lex on Language of Stone Records) and Skyblazer (with the boys of JEFF on Infinity Cat Recordings). CBB uses piano, violins, synthesizers, and everything in-between to craft original songs which are sometimes quirky, sometimes deeply emotional, but all with an undeniable endearing quality.
Read Full Bio
CBB is Lindsay Powell, a multi-instrumental singer-songwriter from Millstone Township, New Jersey. Her other musical projects include Festival (with her sister Lex on Language of Stone Records) and Skyblazer (with the boys of JEFF on Infinity Cat Recordings). CBB uses piano, violins, synthesizers, and everything in-between to craft original songs which are sometimes quirky, sometimes deeply emotional, but all with an undeniable endearing quality. The debut album Songs About Teeth was released in 2006, the follow-up release To The Dark Tower in 2008, both on Infinity Cat Recordings.

http://www.myspace.com/cakebakeb
Genre not found
Artist not found
Album not found
Search results not found
Song not found