there is too much that is ugly
there is too much that i cant stand to sink my teeth into everyday
anger is behind it
its what we believe
and the systems that guide it are here and to stay
make and match promises with every little slut that comes your way
its just your way and thats my way of telling you
that i dont care about your friends or family or anything you hold so dear
i am just what i am
and i'll take just what i give
burn out the bastards
burn out the whores
take what you can because they will take yours
take everything left at your feet
take everything and then it is complete
burn out the coffins
burn out the graves
let all that is dead be a memorial to hate
there are greater hells than this
what are you without me
what am i without you
we are forever
Lyrics © O/B/O APRA AMCOS

Lyrics Licensed & Provided by LyricFind
To comment on specific lyrics,
highlight them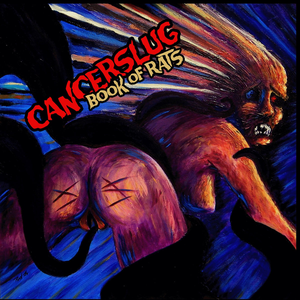 Cancerslug are a band from Huntsville, Alabama, prominent in the Horror Punk and Gothic/Death Rock scenes. The band has gone through many line-up changes since its inception in 1996, with frontman Alex Story being the only consistent member. The band has had the 'Cancerslug' name since 1999.

Lyrical subjects often include things such misanthropy, depression, the occult, necrophilia, rape, murder, lycanthropy, violence, inhumanity, love, hate, anger, and the end of the world. Shows often end with band members bloody and bruised.
Read Full Bio
Cancerslug are a band from Huntsville, Alabama, prominent in the Horror Punk and Gothic/Death Rock scenes. The band has gone through many line-up changes since its inception in 1996, with frontman Alex Story being the only consistent member. The band has had the 'Cancerslug' name since 1999.

Lyrical subjects often include things such misanthropy, depression, the occult, necrophilia, rape, murder, lycanthropy, violence, inhumanity, love, hate, anger, and the end of the world. Shows often end with band members bloody and bruised.

Cancerslug sites bands such as : Danzig, The Misfits, Minor Threat, Neurosis, Black Flag, GG Allin, Amon Amarth, Deadboy and the Elephantmen/Dax Riggs, Filth, Blatz, Morrissey, His Hero Is Gone, The Damned, Mr. Bungle, At The Gates, Doom, Black Sabbath, The Dwarves and others as influences.

The band completed their first full US tour in the fall of 2007.

In the winter of 2011, Cancerslug began asking fans for help in booking their second national tour, entitled The SlugCult Rising Tour. Official dates were announced in the beginning of 2012.

2013 saw the next full national tour. The RAPE THE NATION Tour took place in September/October 2013, in support of the band's latest album, SEASONS OF SICKNESS.

In 2013, the band announced an official acoustic CD entitled PULL THE PLUG, as well as a follow-up to Seasons entitled ROOTWORK, which was later released in limited download form in November, 2014, with an expected official CD release in January 2015.

Current Members:
Alex Story (Vocals)
Cassie Baher (Bass)

Official Releases:

Fuck The Bullshit, This Is Cancerslug (Whore) (1999)
The Midnight Dejection Sessions (2000)
In The Dumpster Behind The Clinic (2000)
The Three Days Demos EP (2001)
Alabama Bloodbath (2002)
Soulless (2002)
The Beast With Two Backs (2003)
Curse Arcanum (2003)
A Book of Rats (2004)
Battle Hymns Vols. 1 & 2 (2004)
Fist of Fury/Fist of Love (Greatest Hits Collection) (2007)
The Unnameable (2007)
The Ancient Enemy (2008)
Tales of a Butcher (2009)
A Decade of Decay - Phase One: Blood Magick (2009)
By Spirits Unclean (2011)
Pussytalk (2012)
The Unkindest Cut (2000-2013)
Seasons of Sickness (2013)
Alex Story: Pull The Plug (2013)

www.officialcancerslug.com
http://www.facebook.com/Cancerslug
http://www.reverbnation.com/cancerslug
http://www.punkopedia.com/content/Cancerslug
Genre not found
Artist not found
Album not found
Search results not found
Song not found