Eu sô lora, eu sô burra.
Sempre gostei de uma curra.
Por favor, me dê uma surra.
ELA É LORA, ELA É BURRA!
Estudei em escola de freira.
Dei o cu pra rua inteira.
O meu fim vai ser na feira.
ELA É LORA, ELA É BURRA!
Sô casada com um playboy.
Ele é tão feio que até dói.
Mas mesmo assim é meu herói.
ELA É LORA, ELA É BURRA!
PÁAARA!...
Que eu tenho hora no salão, né.
Lyrics © O/B/O APRA AMCOS

Lyrics Licensed & Provided by LyricFind
To comment on specific lyrics,
highlight them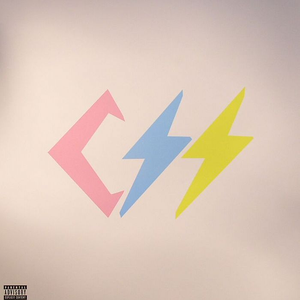 Cansei de Ser Sexy (commonly known as CSS) is a band from São Paulo, Brazil, formed in 2003.

The band name is Portuguese for "Tired of Being Sexy" (taken from something Beyoncé once commented to the press: "I am tired of being sexy").

The members are: Lovefoxxx (vocals), Luiza Sá (guitar, drums and keys), Ana Rezende (guitar and harmonica) and Carolina Parra (guitar and drums). Former members are Iracema Trevisan (bass) and Adriano Cintra (drums, guitar, vocals and production).
Read Full Bio
Cansei de Ser Sexy (commonly known as CSS) is a band from São Paulo, Brazil, formed in 2003.

The band name is Portuguese for "Tired of Being Sexy" (taken from something Beyoncé once commented to the press: "I am tired of being sexy").

The members are: Lovefoxxx (vocals), Luiza Sá (guitar, drums and keys), Ana Rezende (guitar and harmonica) and Carolina Parra (guitar and drums). Former members are Iracema Trevisan (bass) and Adriano Cintra (drums, guitar, vocals and production).

In an interview, guitarist/harmonica player Ana Rezende explains the band's name: "[...] we heard that Beyoncé had said that she was really tired of being sexy, which is a really retarded thing to say. It's like saying, "Oh, I'm tired of being rich." So "tired of being sexy" in Portuguese is cansei de ser sexy, so we put it on the flyer to promote the show that we were playing and we kind of got stuck with that name. It was just the stupidest name that we could have ever come up with, but it's funny and I love it. But sometimes people think that we're serious and we're tired of being recognized for our bodies or something like that, and it's nothing like that at all.."

CSS owes a lot of its success to word-of-mouth promotion on the internet, starting with the Trama Virtual website, a kind of Brazilian MySpace. A live performance in 2004 at Tim Festival on the same stage as 2 Many DJs and Kraftwerk increased their fanbase.

In 2005, they signed with Trama Virtual and in October of the same year their first album was released in Brazil.

At the beginning of 2006, CSS signed with Sub Pop to release their first international album and in July they made a thirty-gig tour through USA and Canada along with DJ Diplo and Bonde do Rolê.

The live performance CSS offers is uniquely energetic and entertaining. Lovefoxxx dodges among her bandmates and involves the audience in virtually every song. Sá, Cintra, and Parra switch instruments so often it's easy to forget where they started.

Tours of the US and Europe with Ladytron and Basement Jaxx in 2006 were followed by gigs in Australia, New Zealand and Japan.

In 2007 18 year old student and Apple fan Nick Haley created a home made iPod Touch commercial by piecing together various clips found at apple.com and adding the fast paced and catchy CSS song "Music Is My Hot Hot Sex" as the soundtrack.

After uploading the home made commercial to YouTube Haley was contacted by Apple agency TBWA/Chiat/Day who was allowed to create a TV commercial based on his original spot, claiming instant fame for the CSS tune as well as for the user generated commercial.

Website
MySpace
Genre not found
Artist not found
Album not found
Search results not found
Song not found