Shake Your Body
Cappella Lyrics
Everybody shake your body
Everybody shake your body
Everybody shake your body
Ufufuf, do it again
Everybody shake your body
Everybody shake your body
Everybody shake your body
Ufufuf, do it again
Ufufuf, do it again
See'mon haha, ooh tata
See'mon haha, ooh well
Everybody shake your body
Everybody shake your body
Everybody shake your body
We don't feel to chill the pumpbeat
Everybody shake your body
Everybody shake your body
Everybody shake your body
Ufufuf, do it again
See'mon haha, ooh tata
See'mon haha, ooh well
Everybody shake your body
Lyrics © Warner Chappell Music, Inc.
Written by: KEVIN DEANE, ROBERT GRAHAM, MONICA FAYE PAYNE, TERRI E ROBINSON

Lyrics Licensed & Provided by LyricFind
To comment on specific lyrics,
highlight them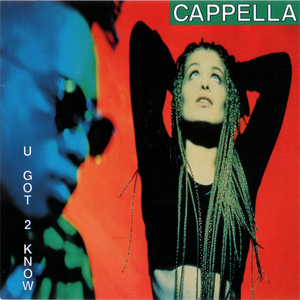 Cappella were an Italian/English eurodance group that found international success mainly in the early 1990s.

The name Cappella was first used in the year 1987. The main man behind Cappella was the Italian producer Gianfranco Bortolotti of Media Records, with contributions from the likes of Diego Leoni, Max Persona and Mauro Picotto. In 1988 the act debuted on the British charts with the song "Bauhaus (Push The Beat)" - and the following year with Helyom Halib which peaked at #11.
Read Full Bio
Cappella were an Italian/English eurodance group that found international success mainly in the early 1990s.

The name Cappella was first used in the year 1987. The main man behind Cappella was the Italian producer Gianfranco Bortolotti of Media Records, with contributions from the likes of Diego Leoni, Max Persona and Mauro Picotto. In 1988 the act debuted on the British charts with the song "Bauhaus (Push The Beat)" - and the following year with Helyom Halib which peaked at #11.

Some three years later Cappella returned with Take Me Away, sung by Loleatta Holloway who had also been the uncredited vocalist on the #1 hit Ride On Time by Black Box in 1989.

It wasn't until 1993 when Cappella managed to really gain momentum. After U Got 2 Know got to the heady heights of #6 in the UK, two permanent members were drafted in - Rodney Bishop (rap) and Kelly Overett as the lead 'vocalist', although it has since emerged that Kelly did not actually perform on any of the records.

Nevertheless, Cappella fronted by Kelly and Rodney managed to score three European-wide top ten singles from the U Got 2 Know album: U Got 2 Let the Music, U & Me and Move On Baby.

When in 1996 the long-awaited follow-up album War in Heaven was released, singer Alison Jordan replaced Kelly Overett. Tell Me the Way was the first single but it only received marginal success.

The act continued to have minor hits in Europe for a while, Be My Baby being the most noticeable in 1998, before resorting to remixes of previous big hits. The third (self-titled) studio album, which included Be My Baby, was only released in Japan but failed to sell huge.

In 2004, the act - now once again faceless, released a brand new track called Angel which failed to trouble the German or Italian charts but it is rumoured that new singers are being looked for to front a new Cappella in the near future. A best-of CD/DVD was released in August 2005.

Italy
Genre not found
Artist not found
Album not found
Search results not found
Song not found