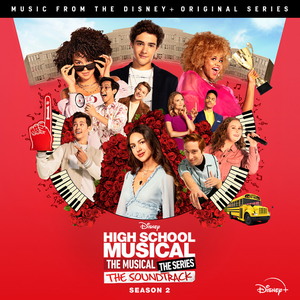 High School Musical Medley
Jump to: Overall Meaning ↴ Line by Line Meaning ↴
It's out with the old and in with the new
Goodbye clouds of grey, hello skies of blue
A dip in the pool, a trip to the spa
Endless days in my chaise
The whole world according to moi
I want fabulous, that is my simple request
All things fabulous
Bigger and better and best
I need something inspiring to
Help me get along
I need a little fabulous, is that so wrong?
Take it, Ash
Na na na na na na na na, yeah
You are the music in me
You know the words "Once upon a time"
Make you listen, there's a reason
Come on, roomie
When you drеam, there's a chance you'll find
A littlе laughter, or happy ever after
You're harmony to the melody
Echoin' inside my head
A single voice (Single voice)
Above the noise like a common thread
Ooh, you're pullin' me
When I hear my favorite song
I know that we belong
Oh, you are the music in me
Yeah, it's livin' in all of us
It's brought us here because
You are the music in me
Na na na na na na na na, yeah, yeah, yeah
You are the music in me na na na na, oh
Na na na na, yeah, yeah, yeah
You are the music in me
Everybody, all for one
Our real summer has just begun
Let's rock and roll and just let go
Feel the rhythm of the drums
We're gonna have fun in the sun
Now that all the hard work, work is done
Everybody, one for all and all for one
All for
Overall Meaning
The lyrics to "High School Musical 2 Medley" from the series "High School Musical: The Musical: The Series" encapsulate the sense of excitement and jubilation that comes with the start of something new. The opening lines, "It's out with the old and in with the new, goodbye clouds of gray, hello skies of blue," signify a fresh beginning and a departure from previous limitations or negativity. The singer expresses their desire for a fabulous and inspiring life, free from constraints, and acknowledges that they need a little fabulousness to help them along.
The song then transitions into a duet between two characters, emphasizing the power of music and its ability to bring joy and inspire hope. The lyrics convey that music is not only a background accompaniment but also a personal connection, representing the relationship between the characters. The line "You are the music in me" signifies the emotional and harmonious bond they share. It suggests that music has the power to bring people together, unite them, and provide a sense of purpose and happiness.
Overall, the song celebrates the transformative and unifying force of music while capturing the characters' ambitions for a brighter future. It conveys the idea that music can uplift, inspire, and create lasting connections.

Line by Line Meaning
It's out with the old and in with the new
Saying goodbye to the past and embracing a fresh start
Goodbye clouds of grey, hello skies of blue
Leaving behind sadness and embracing happiness
A dip in the pool, a trip to the spa
Enjoying luxurious and relaxing activities
Endless days in my chaise
Relishing in leisure and comfort
The whole world according to moi
Feeling like the center of attention and importance
I want fabulous, that is my simple request
Desiring something extraordinary and exceptional
All things fabulous
Seeking only the best and most impressive things
Bigger and better and best
Striving for greatness and superiority
I need something inspiring to help me get along
In search of motivation and encouragement
I need a little fabulous, is that so wrong?
Wanting a touch of glamour and splendor isn't a bad thing
Take it, Ash
Passing the spotlight to Ash
Na na na na na na na na, yeah
Expressing joy and enthusiasm
You are the music in me
You bring inspiration and harmony into my life
You know the words 'Once upon a time'
Reminding that stories have a deeper meaning
Make you listen, there's a reason
Encouraging attention and understanding
Come on, roomie
Cheering on and inviting a friend
When you dream, there's a chance you'll find
Dreaming holds the potential for happiness
A little laughter, or happy ever after
Discovering joy and a happily-ever-after ending
You're harmony to the melody
Your presence complements and enhances my life
Echoin' inside my head
Your voice resonates in my thoughts
A single voice (Single voice)
One voice, but with great significance
Above the noise like a common thread
Standing out amidst the chaos and connecting us
Ooh, you're pullin' me
You're drawing me closer and captivating me
When I hear my favorite song
My favorite song brings me joy
I know that we belong
I feel a deep connection with you
Oh, you are the music in me
You are the source of inspiration and harmony
Yeah it's livin' in all of us
Everyone has music within them
It's brought us here because
Music has played a part in our journey
Everybody, all for one
We're all in this together
Our real summer has just begun
We're ready to fully enjoy and embrace the season
Let's rock and roll and just let go
Let's have fun and be free-spirited
Feel the rhythm of the drums
Let the beat move you
We're gonna have fun in the sun
We're going to enjoy ourselves under the sun
Now that all the hard work, work is done
After putting in effort, it's time to relax and enjoy
Everybody, one for all and all for one
We support and stand together as a team
All for
United in purpose and solidarity
Lyrics © O/B/O APRA AMCOS

Lyrics Licensed & Provided by LyricFind
To comment on or correct specific content,
highlight it
Genre not found
Artist not found
Album not found
Search results not found
Song not found