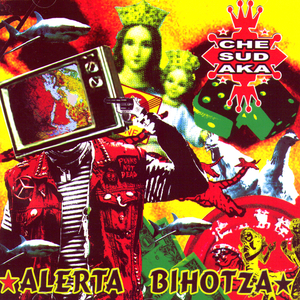 Che Sudaka combines Argentinian and Colombian musicians which were known in Barcelona's Old Town, meeting point for buskers from all over the world and source of inspiration for a fusion of various styles.
Right from the start, the band has shown their protest nature which lead the band to reflect social issues in their lyrics. Most of their songs look at immigration, social inequality and the conflict of interests that look down on human being. In 2002 the band began to play in Barcelona: the streets
Read Full Bio
Che Sudaka combines Argentinian and Colombian musicians which were known in Barcelona's Old Town, meeting point for buskers from all over the world and source of inspiration for a fusion of various styles.
Right from the start, the band has shown their protest nature which lead the band to reflect social issues in their lyrics. Most of their songs look at immigration, social inequality and the conflict of interests that look down on human being. In 2002 the band began to play in Barcelona: the streets, the bars, the tube and the suburban trains were their first stages. The band was first noticed internationally through their contribution SIN PAPELES on the sampler LA COLIFATA, which represents the mestizo scene of Barcelona.
They dedicated their debut TRIPPI TOWN (2003) to the Plaza del Trippi (George Orwell Square), the place where they met. The album is a product of many different musical influences: a journey through reggae, ragga, punk-latin and argentinian folklore. A subsequent tour followed through Europe (France, Belgium, Italy, Spain). Lots of shows and lots of friends from all over the world… a great influence for their second album: ALERTA BIHOTZA!!! (2005)
It is a multicultural album that takes the listener to the reggae-punk energy the band irradiates in their live shows. For the production, the band enlisted Gambeat, Radio Bemba's bassist, who is the responsible both for the harder sound and for the elaboration of their extreme energetic live show. The album also counts on some special guests appearances: Fermin Muguruza (Kortatu, Negu Gorriak), Yacine (Cheb Balowski, Nour), Dede Trake (Cannabistro), Gambeat (Radio Bemba, French Lovers, Piratas Urbanos) and Lina (Azaiza).
More than 2 years and 300 gigs... A tour through Germany, Switzerland, Austria, Denmark, Italy, Spain, France, Holland and Argentina... Now, CHE SUDAKA comes back with MIRANDO EL MUNDO AL REVÉS (2007), a new acoustic cd which is released together with a dvd including a documentary about the band, an interview and some other extra files. The album features some special friends appearances: Amparo Sánchez (Amparanoïa), Un Kuartito and Karamelo Santo (both bands from Argentina).
As when they played in the streets of Barcelona, their positive energy and the willingness to give it all to the audience are the most remarkable attributes of CHE SUDAKA.
Genre not found
Artist not found
Album not found
Search results not found
Song not found
We have lyrics for 'Cosmopolitan' by these artists:



Blueboy I have often wondered why why there is no love…
DELERM Vincent Des horoscopes et puis des tests Supplément minceur les bons…
Joe Jackson I'm okay, you're okay Why remember when it wasn't this way …
Kid British There's a warm summers breeze not a cloud in the…
Nine Black Alps You're not pretty enough You're not skinny enough You're n…
Pash Flipping through the pages The reaffirmation of what I alre…
Vincent Delerm Des horoscopes et puis des tests Supplément minceur les bons…
Vincent Delerm (avec Irène Jacob) Des horoscopes et puis des tests Supplément minceur les bon…
Vincent Delerm/Irene Jacob Des horoscopes et puis des tests Supplément minceur les bon…
Nine Black Alps You're not pretty enough You're not skinny enough You're n…



We have lyrics for these tracks by Che Sudaka:



10 diez años ya se fueron diez años de pasion diez años y…
Alerta Bihotza Escucha tu corazon... Y siente la vibracion... Escucha tu co…
Amores Amores - Trenecillo (feat. Yacine Belahcene) This train i…
Bam*Bam Bam bam, bam bam yeah, bam bam. Babylon, babylon, babylon,…
Bihotza Gorrotoa telebista... petrolioarengatik odola... egunkarieta…
C'est Plus Beau Si crees en el amor Nada te puede afectar Si crees en…
Calle Luna la calle sera siempre la escuela de la vida, la…
C'est plus beau Si crees en el amor Nada te puede afectar Si crees en…
Desearía Desearia ser un carnaval asi nunca te aburriria desearia ser…
El libro de los abrazos Me desprendo del abrazo salgo a la calle y en el cielo…
Inmigrant Soul INMIGRANT, INMIGRANT, SOUL (x2) Cuando estés cansada de llor…
La Cacerola Voy escuchando a mi gente decir Que el puto sistema se…
La Guerra La guerra es por dentro La guerra es por dentro Sigue a…
Menino Da Rua Menino da rua sou Ninguem se lembra de mim O ministerio do…
Mentira politika El unico que sonrie en la calle es el politico…
Mirando el mundo al revés Mirando el horizonte Cada noche se va Siento alguna guitarra…
Que natural Subliminal prejuicio desde la mañana Manda el reloj a la ho…
Que Víva la Gente Nos dijeron que pensaban en nosotros nos dijeron que nos iba…
Salta Galera Sobran palabras para lo que siento Matando almas que estan s…
Sin Papeles "...hace 100 años, mi bisabuelo de Galicia salio... y al lle…
Soberbia Te preguntas cada manana pa' que seguir? Te preguntas cada …
Sólo Uno Mismo Shooting and killing And you don't got feelings You killing …
Todo vuelve Todo vuelve si fue cierto Siempre vuelve la verdad Si hubo…
Usted Que no me deja soñar Que no me deja volar Dinosaurio solo…

The lyrics can frequently be found in the comments below, by filtering for lyric videos or browsing the comments in the different videos below.