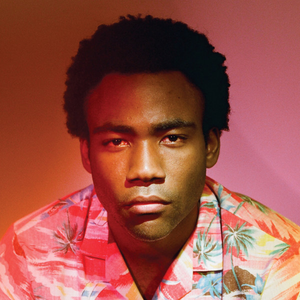 III. Telegraph Ave. ("Oakland" by Lloyd)
Donald McKinley Glover (/ˈɡlʌvər/; born September 25, 1983) is an American actor, comedian and musician. As a recording artist, he usually performs with the stage name Childish Gambino. While a disk jockey, he performs as mcDJ. He first came to attention for his work with Derrick Comedy and with the help of Tina Fey, was hired at the age of 21 to become a writer for the NBC comedy series 30 Rock. He later played college student Troy Barnes on the NBC sitcom Community.
Read Full Bio
Donald McKinley Glover (/ˈɡlʌvər/; born September 25, 1983) is an American actor, comedian and musician. As a recording artist, he usually performs with the stage name Childish Gambino. While a disk jockey, he performs as mcDJ. He first came to attention for his work with Derrick Comedy and with the help of Tina Fey, was hired at the age of 21 to become a writer for the NBC comedy series 30 Rock. He later played college student Troy Barnes on the NBC sitcom Community. After several self-released albums and mixtapes, Glover signed to Glassnote Records in 2011 as Childish Gambino. He released Camp on Glassnote on November 15, 2011. His second studio album, Because the Internet, was released on December 10, 2013. Glover was nominated for two Grammy Awards in 2015, Best Rap Album for Because the Internet and Best Rap Performance for his single "3005".

Glover was born at Edwards Air Force Base, California and raised in Stone Mountain, Georgia. His mother, Beverly (Smith, is a retired daycare provider, and his father, Donald, Sr., is a retired postal worker. His parents also served as DeKalb County foster parents for 14 years. He was raised a Jehovah's Witness. He was voted "Most Likely to Write for The Simpsons" in his High School yearbook. Glover graduated from New York University's Tisch School of the Arts with a degree in dramatic writing in 2006.

From 2006 to 2009, Glover was a writer for the NBC series 30 Rock where he also had occasional cameo appearances. He was presented the Writers Guild of America Award for Best Comedy Series at the February 2009 ceremony for his work on the third season. Glover's stage name, Childish Gambino, came from the Wu-Tang Clan's name generator. On June 5, 2008, he released an independent album, titled Sick Boi. Glover would then become a member of the sketch comedy group Derrick Comedy, along with Dominic Dierkes, Meggie McFadden, DC Pierson, and Dan Eckman. The group wrote and starred in a feature-length film, Mystery Team, released in theaters in 2009.

On September 17, 2009, Childish Gambino released the independent album Poindexter. A pair of mixtapes, titled I Am Just a Rapper and I Am Just A Rapper 2 were released, in close succession in 2010. Robert Scahill added his producing expertise helping with the majority of the tracks. The track listings for those mixtapes consist of the name of the song "he" raps, followed by the song he raps over. His second album, Culdesac, was set to be released on July 2, 2010, but a couple of last minute additions caused the album to be delayed for a day. The album was made available on July 3. Glover has stated in interviews that on Sick Boi and Poindexter he felt he had to hide behind gimmicks, such as pink hoodies, but with his subsequent projects, he has touched on more personal subject matter, including family, schoolyard bullying, troubled romantic relationships, suicidal thoughts and alcoholism. He has disowned his 2005 album, The Younger I Get, as the too-raw ramblings of what he calls a "decrepit Drake."

Glover's stand-up special aired on Comedy Central on March 19, 2010. In May 2010, a fan suggested Glover for the role of Peter Parker in the then-upcoming The Amazing Spider-Man film, encouraging his supporters to retweet the hashtag "#donald4spiderman". The campaign, originally started to see how far social networking could carry a message, quickly gained a large following. The call for Glover to be allowed to audition for the role was supported by Spider-Man creator Stan Lee. Glover was not awarded an audition and the role instead went to Andrew Garfield. He would later reveal that he was never contacted by anyone from Sony Pictures for the role. Comics writer Brian Michael Bendis, who announced an African-American version of Spider-Man a year later, said he had conceived of the character before Glover's campaign went viral. Bendis gave credit to Glover for influencing the new hero's looks for Spider-man after seeing him dressed as Spider-Man on Community (a nod to the campaign), Bendis said, "I saw him in the costume and thought, 'I would like to read that book.'" Glover would later voice this incarnation of Spider-Man on the Ultimate Spider-Man animated series.

Glover received the Rising Comedy Star award at the Just for Laughs festival in July 2010. Glover was featured in Gap's 2010 Holiday ad campaign. He DJs and produces electronic music under the moniker "mcDJ" (pronounced "M-C-D-J"). His music is often made available for free download via his website.[citation needed]

On December 1, 2010, Glover released the first track off of his EP titled "Be Alone". He released the next track, "Freaks and Geeks", as well as a five-song track list, on February 11, 2011. On February 25, Glover released the dates for the IAMDONALD tour and also his very first music video for "Freaks and Geeks". The music video was shot by Dan Eckman, the director of the Derrick Comedy troupe. This song was later used in an Adidas commercial featuring Dwight Howard. On March 8, 2011 Glover released the EP via his official website.

On March 16, 2011, Glover hosted the mtvU Woodie Awards held live at South By Southwest. On March 24, 2011, Glover taped his one-hour comedy special Weirdo for Comedy Central; it aired on November 19.

Glover appeared at the 2011 Bonnaroo Music Festival on June 9 in the 'This Tent' as Childish Gambino and June 11 at 'The Comedy Theater' with Bill Bailey performing stand up. Comedy Central streamed the comedy live on their website.

On May 4, 2011, in an interview with TheHipHopUpdate, Glover revealed that he was working on an LP, to be released in September. On July 25, 2011, Glover announced that his new album would be titled Camp. On October 8, during his Orlando, Florida concert, he announced Camp would be released on November 15, 2011. Glover worked with friend and film composer Ludwig Göransson on the debut album.[28] On August 20, 2011, at the Los Angeles Rock The Bells concert, he gave an interview to AllHipHop.com, and he announced to the crowd that he had signed with Glassnote Records. On September 20, his first official single, "Bonfire", was released.

The IAMDONALD tour made 24 stops in 34 days, beginning with Ames, Iowa, on April 16, and finishing with Minneapolis on May 19. In between, this included stops at music venues in Las Vegas, Houston, Washington, and Atlanta. The tour was a one-man live show that consisted of rap, comedy, and video segments.

The Sign-Up Tour was Glover's next pre-album tour. He visited 11 cities over the course of 38 days in October and November 2011. Glover made a website for the tour called Camp Gambino on November 19, four days after his album released. The tour featured special guest Danny Brown and made 20 stops during the course of 32 days along a dates in California in December. On March 14, 2012, several dates on the CAMP tour were postponed due to a fractured foot Glover suffered on March 10, while performing in Tampa, Florida. The tour began in Austin, Texas on April 5 and ended August 10 in Hollywood, California.

On January 11, 2012, Childish Gambino announced on his website that a new mixtape would be coming out soon. On April 2, he released a new song, "Eat Your Vegetables", through his website. On May 14, Funkmaster Flex premiered "Unnecessary," featuring Schoolboy Q. On May 16, Gambino released "We Ain't Them" through his website, produced by himself and frequent collaborator Ludwig. On May 22, Glover appeared on Das Racist's radio show "Chillin' Island" where he premiered a new song, "Tell Me," which featured Himanshu Suri, aka Heems from Das Racist. On May 26, Glover released "Black Faces", featuring Nipsey Hussle and produced by Boi-1da. On May 30, he released a third track, "Silk Pillow," featuring Beck and produced by both Glover and Beck. On June 25, Glover revealed that the mixtape was to be released on July 4, 2012. On June 26, Glover premiered another new track, on Sway in the Morning (on Shade 45), entitled "One Up," featuring his brother, Steve G. Lover. That same day, Glover stated that the mixtape would be titled Royalty despite previous statements that it would not be called that. On July 4, 2012, Glover released Royalty for free via digital download. On July 7, 2012, Gambino released the track, "Body," featuring Prodigy, which did not make the cut for the mixtape. On July 24, 2012, he released the music video for "Fire Fly" through his VEVO account on YouTube.

On August 21, 2012, BBC Radio 1 premiered Leona Lewis' new song, "Trouble" off her upcoming album Glassheart, which features Childish Gambino. The song was available for purchase via iTunes on October 7, and peaked at #7 on the UK Singles Chart the following week, making it his first UK top 10 single.] On November 4, 2012 Ludwig Göransson said in an interview with Portable that he and Glover were in his studio coming up with new ideas for the next album which was to be "bigger" and "with more people involved."

In 2013, Glover signed on to create a music-themed show for FX titled Atlanta in which he will star, write, and executive produce. Consequently, Glover decided to reduce his work for NBC, and only appears in the first five episodes of Community's 13-episode fifth season. Although many TV stations were interested in picking up his half-hour comedy, he ultimately picked FX due to their willingness to work around his touring schedule.

On October 6, 2013, Glover announced on Twitter that his second studio album was completed. He further announced this at Homecoming Week at Penn State University, stating "I got a new album coming out soon, so this is the last time we're gonna play a lot of this shit." On October 8, 2013, he announced its title as Because the Internet and revealed that it would be released in December 2013. On October 21, 2013, Glover released the first single "3005", and announced a release date for the album as December 10, 2013. On February 15, 2014, the rapper launched his Deep Web Tour in the UK. On February 27, Childish Gambino was scheduled to begin the United States portion of his tour with a gig at the Fox Theater in Oakland, California. On June 6, 2014, RIAA certified Heartbeat Gold - making it Glover's first certification, and then on July 18, 2014, RIAA also certified 3005 Gold, making it Glover's second certification.

On October 2, 2014, he released a new mixtape titled STN MTN, and the next day he released an EP titled Kauai. The mixtape and the EP follow the story that was last told in Because The Internet and are meant to be a joint project instead of separate projects.

On October 10, 2014, Ubisoft revealed that they had collaborated with Glover to incorporate his song, "Crawl" into Far Cry 4.

On December 5, 2014 Glover was nominated for two Grammy Awards. He was a contender for Best Rap Album for Because The Internet (Glassnote Records) and Best Rap Performance for his single, "3005."

On March 21, 2015 Glover won an mtvU Woodies Award for Best Video Woodie for the song "Sober" from the Kauai EP.

As of February 2016, Because The Internet has been certified gold by the Recording Industry Association of America for shipping over 500,000 copies.
Genre not found
Artist not found
Album not found
Search results not found
Song not found
III. Telegraph Ave.
by
Childish Gambino
Power 106!
LA, it's ya girl, Yesi Ortiz
Got some brand-new music
I need y'all to turn it up and let me know what you think
It's Lloyd called "Oakland" on Power 106
I was making Japanese
And she's watching DVDs
In Oakland, in Oakland
Now I'm driving up the 5
And she waits till I arrive
In Oakland, in Oakland
Everything, that I wanted
Only gotta drive for the moment
If you tell me "turn around," then I'm on it
For the moment, but you know me
You know how I get when I'm lonely
I think about you and the moments
But everything you do is so Oakland, so Oakland
Foot on the gas
I'm just trying to pass
All the red lights
And the stop signs
I'm ready to go
Before I get to The Bay
Babe, that's a problem
Because I'm way too scared to call
And you might get me to stay, no
I don't really want to drive
But I think I'd rather die
In Oakland, in Oakland
With my hands on two and ten
So I guess it all depends
On Oakland, on Oakland
And I'm nervous, truth be told
I never saw me growing old
In Oakland, in Oakland
And if I married you tonight
It would probably start a riot
In Oakland, in Oakland
Everything, that I needed
Now I finally got you in your feelings
Everything you won't say, you tweet it
And a nigga don't like that shit at all
So retreating
Can we just roll with the feeling?
Can we just roll for a minute?
Wait a minute
Foot on the gas
I'm just tryna pass
All the red lights
And the stop signs
I'm ready to go
But I'm really not ready girl
That's a problem
'Cause I'm way too scared to fall
And I know that you choose to stay, no
All the girlfriends saying "here we go again"
Rich kid but he act like a gentleman
Last one didn't end like it should've been
Two dates and he still wanna get it in
And you're saying it's because of the Internet
Try once and it's on to the next chick
X-O the O face on your exes right?
And we can do the same thing if you wanna have better
When your thoughts can't breathe and you thinking asthmatic
And you wanna be a mom and I wasn't mad at her
I was thinking 'bout me, I'd be really bad at it
'Cause I'm thinking 'bout me, weeks in Dubai
Fourth of July, house in Kauai, yeah we can try
So let's try
Whoa
I took off my nine to five
But you still don't have the time to kiss me (just hit me)
And if I left you all alone, would you still pick up the phone
It's iffy, you miss me
I got furniture to move, and we'll both be thirty soon
In Oakland, in Oakland
The only one I know is you, so the fuck I'm supposed to do?
In Oakland, in Oakland
Lyrics © Warner/Chappell Music, Inc., Universal Music Publishing Group
Written by: LUDWIG EMIL TOMAS GORANSSON, DONALD MCKINLEY GLOVER, ROCHELLE JORDAN

Lyrics Licensed & Provided by LyricFind
To comment on specific lyrics,
highlight them