Move your body, out on the floor
Put your troubles aside
Start living anybody can let go
Throw away all your problems
'Cause right now it's party time
Girl don't feel outta place
'Cause I, I'm in love with this feeling now
And I, I, hope that this will last a while
We should make it last a while
You like to drink, so do we
Get more bottles, bring 'em to me
Hold your glasses up, people everywhere
Now everybody put your hands in the air say
Yeah, yeah, yeah
Girl I wanna yeah, yeah, yeah
I wanna see you tonight yeah, yeah, yeah
Girl I gotta yeah, yeah, yeah
I gotta see you tonight
Oh oh, oh whoa, let me see your hands
Oh oh, oh whoa oh oh, tonight is the night
Lost in the moment
Can't believe, you're so beautiful
Feels like I'm in a dream
Baby we're going
Somewhere you've never been before
So take my hand and come with me
Girl don't feel outta place
'Cause I, I'm in love with this feeling now
And I, I, hope that this will last a while
We should make it last a while
You like to drink, so do we
Get more bottles, bring 'em to me
Hold your glasses up, people everywhere
Now everybody put your hands in the air say
Yeah, yeah, yeah
Girl I wanna yeah, yeah, yeah
I wanna see you tonight yeah, yeah, yeah
Girl I gotta yeah, yeah, yeah
I gotta see you tonight
Oh oh, oh whoa oh oh
Oh oh, let me see your hands
Oh oh, oh whoa oh oh
Oh oh, tonight is the night
All the pretty young things in the party
Let me see your hands up
And if they mad and they don't wanna party
Tell 'em to shut the fuck up
So D.J. turn it loud
And watch me turn it up
Don't worry 'bout it we here to party
So jump, jump, jump, jump
Girl I wanna I wanna see you tonight yeah, yeah
Girl I gotta, I gotta, I gotta I gotta see you tonight
Yeah, yeah, yeah, yeah, yeah, yeah
I wanna see you tonight
Yeah, yeah, yeah, yeah, yeah, yeah
Tonight is the night
Tonight is the night, tonight is the night
Lyrics © Universal Music Publishing Group, Sony/ATV Music Publishing LLC, Kobalt Music Publishing Ltd.
Written by: AMBER STREETER, CALVIN HARRIS, KEVIN MCCALL, CHRIS BROWN, JUSTIN FRANKS

Lyrics Licensed & Provided by LyricFind
To comment on specific lyrics,
highlight them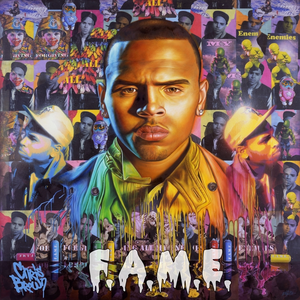 According to the Yeah 3x Songfacts, Brown wrote all the song's lyrics in about 15 minutes.

Platinum-selling singer/actor Chris Brown returned to the UK top ten for the first time since summer 2008 with 'Yeah 3X', the lead single from his fourth studio album 'F.A.M.E'. The feelgood track was co-written by Chris with production from DJ Frank E and scored him a No.6 hit in the UK chart.
Genre not found
Artist not found
Album not found
Search results not found
Song not found