Frankenstein
Cibelle Lyrics
You
Conclude I'm functioning correctly
So rest your heart
Caus' only you can stop me
From falling apart
And now I need to feel
The missing beat
The missing beat of my heart
For life
For life
I do, I do
I do, I do
Under neon disco ligths
We pogo through the night
In the dry ice I catch a stare
I feel the fingers through my hair
Love like science, alchemy
Tonight the nightclubs are laboratory
I need a lightning bolt to this heart
To kick start my Frankenstein soul
For life
I do, I do
I do, I do
Under neon disco ligths
We pogo through the night
In the dry ice I catch a stare
I feel the fingers through my hair
Love like science, alchemy
Tonight the nightclubs are laboratory
I need a lightning bolt to this heart
To kick start my Frankenstein soul
For life
I do
Contributed by Lucas B. Suggest a correction in the comments below.
To comment on specific lyrics,
highlight them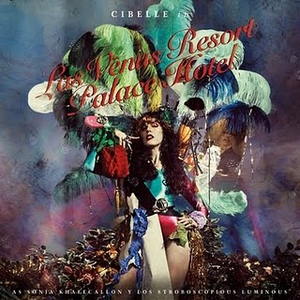 Cibelle is a mononym of Brazilia singer Cibelle Cavalli, (São Paulo, 1978) who was five-years-old, in São Paulo, when she told her mother she wanted to start guitar lessons. Her mother agreed, and Cibelle moved around from instrument to instrument, trying her hand at the piano, percussion, and voice. As a teenager she was more interested in acting, appearing in commercials and promotional spots on MTV Brazil, but eventually realized that singing was her true passion and started performing at jam sessions around the city.
Read Full Bio
Cibelle is a mononym of Brazilia singer Cibelle Cavalli, (São Paulo, 1978) who was five-years-old, in São Paulo, when she told her mother she wanted to start guitar lessons. Her mother agreed, and Cibelle moved around from instrument to instrument, trying her hand at the piano, percussion, and voice. As a teenager she was more interested in acting, appearing in commercials and promotional spots on MTV Brazil, but eventually realized that singing was her true passion and started performing at jam sessions around the city. It was at one of these sessions that she met Mitar Subotić (a then-unknown Yugoslavian DJ, Suba), who performed his version of synth-heavy samba for the crowd. Cibelle was intrigued by his interpretation of Brazilian music and, at a friend's urging, got up on-stage to sing with him. Suba was so impressed that he invited her to come to his home recording studio to work on an album, what would later become the seminal São Paulo Confessions. Though the producer died tragically shortly after the record's release, Cibelle continued on, appearing on guitarist and singer/songwriter Celso Fonseca's 2003 album, Natural, and releasing her own self-titled debut album on Six Degrees/Ziriguiboom. She followed up in 2004 with her EP About a Girl, and two years later Shine of Dried Electric Leaves, which featured duets with Seu Jorge and Devendra Banhart, came out.

http://www.cibelle.net/
Genre not found
Artist not found
Album not found
Search results not found
Song not found