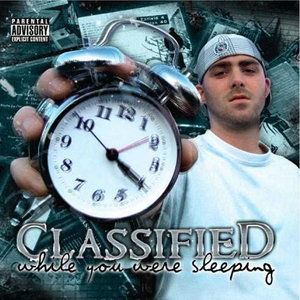 Classified attended Hants East Rural High in Milford, Nova Scotia. He started his own production label, Half Life Records, and released his first full length LP called Time's Up, Kid in 1995. After years of working on music and sorting through label contracts, Classified produced, recorded and released his ninth album, Trial & Error, and signed a nationwide distribution deal with Toronto-based, URBNET Records. Containing collaborations with up-and-coming Canadian artists like Eternia and DL Incognito
Read Full Bio
Classified attended Hants East Rural High in Milford, Nova Scotia. He started his own production label, Half Life Records, and released his first full length LP called Time's Up, Kid in 1995. After years of working on music and sorting through label contracts, Classified produced, recorded and released his ninth album, Trial & Error, and signed a nationwide distribution deal with Toronto-based, URBNET Records. Containing collaborations with up-and-coming Canadian artists like Eternia and DL Incognito, as well as Canadian rap veteran, Maestro, the album was one of the highest selling independent rap albums in Canada in 2004.
In addition to the release of Trial & Error, 2003 and 2004 were busy and evolutionary years for Classified. With the continuous support of VideoFACT, he was able to release two additional music videos for the singles "Just the Way It Is" and "Unexpected". Classified also continued to master his production skills and joined forces with some of Canada's most prominent emcees, including Choclair and Maestro Fresh Wes. He also teamed up with Shady Records recording artist, Royce Da 5'9" and opened for Ludacris, Snoop dogg, Busta Rhymes, The Game, Nelly, MC Grizzly, Captain Capota, Nas, The Black Eyed Peas and Black Moon.

Classified's tenth album, Boy-Cott-In the Industry, was a high point in his career. The album includes guest appearances by Choclair, Royce Da 5'9", Jay Bizzy, J-Bru, A-Wall, Spesh K, and Mic Boyd (Classified's younger brother and fellow MC). He has said he enjoys doing music with other people: "It keeps things exciting and there are tons of talented people in Halifax so you make connections 'cause it's not a huge scene." The album reached #46 on SoundScan's Canadian R&B/Hip-Hop albums chart. The singles "The Maritimes", "5th Element", "No Mistakes", and "Find Out", which is the lead single of his 11th studio album, Hitch Hikin' Music, were all Top 20 hits on MuchMusic and MTV Canada that year. The music video for "No Mistakes" won him an MMVA for MuchVibe Best Rap Video. Boy-Cott-In the Industry also earned Classified a Juno Award nomination for Rap Recording of the Year in 2006.

Riding high off of Boy-Cott-In the Industry, Classified released his eleventh album Hitch Hikin' Music. Produced like previous albums by Classified himself, it is arguably some of Classified's finest work. On "Fall From Paradise", Classified reflects on the difficulty of staying fresh and on top. In the hip-hop meets classic rock song "All About U", featuring singer Chad Hatcher, Classified shows the extent of his growth from his early releases. In "Hip Hop Star", he eschews the current bling-bling culture of popular hip hop to remind people that life is not about trying to impress others. The rest of the album includes guest appearances by Jay Bizzy, Mic Boyd, Jordan Croucher, Preacher K, White Mic and more. Four singles have been released off the album: "Find Out" (which won the 2007 East Coast Music Award for Best Rap/Hip-Hop Single), "Feelin' Fine Remix", "All About U", and "Hard to Be Hip Hop". Hitch Hikin' Music also received a Juno Award nomination for Rap Recording of the Year in 2007.

Classified enlisted the help of fellow Nova Scotia native Joel Roy to beatbox during some of his songs. The actual singles that Roy beatboxed for are unknown but it is believed that he can be heard in the single "The Maritimes".

In early 2009, the hit single "Anybody Listening" brought Classified to mainstream success as it peaked at #52 on the Canadian Hot 100 and the music video received heavy rotation on MuchMusic. Classified's thirteenth studio album, Self Explanatory received highly positive reviews from the critics and debuted on the Canadian Albums Chart at #25 making it Classified's first album on that chart. At the 2009 MuchMusic Video Awards on May 21, 2009, Classified won the MuchVibe "Best Hip-Hop Video of the Year" award for "Anybody Listening" directed by Harv Glazer and produced by Robert Wilson of TwoThreeFiveFilms. Off Self Explanatory, Classified would enjoy more mainstream success in early 2010 with another hit single, "Oh...Canada" peaking at #14 on the Canadian Hot 100 and was certified platinum in digital downloads by the CRIA. Also in early 2010, Classified received three Juno Award nominations, which was for Rap Recording of the Year, Single of the Year, and Video of the Year. In early 2011, "Oh...Canada" received a Juno nomination for "Single of the Year".

On March 22, 2011, Classified released his fourteenth album, though it was only his second major studio album, Handshakes and Middle Fingers. The first single off the album, "That Ain't Classy" reached #45 on the Canadian Hot 100. The album debuted at #7 on the Canadian Albums Chart, making it his highest charting album to date.
Genre not found
Artist not found
Album not found
Search results not found
Song not found
We have lyrics for 'It Ain't Over' by these artists:



5.13 - The Rival Something are better left unsaid This ain't the bottle, this…
6. Southpaw It ain't safe, it ain't safe Get them bills up out…
9th Wonder What up to Finn the human What up to Jake the…
Anzeo [Verse 1:] Listen! I thought I told you from the get go I…
BLACKFIRE All of us victim, with the choice but not the…
CAROMAX & M.I.K.E. Let me take the time to tell you I already know…
Cee feat. Hezekiah Yeah Yeah it's over All my life feeling pain I am tryna mov…
Clit 45 Kickin it with your friends and a 40 oz. Always have…
Colin James It seems the clock is always stuck at ten to…
DJ Khaled feat. Mary J. Blige Fabolous & Jadakiss I said we the best at making this green I swear…
G.A.N. Ain't it fun when you're always on the run Ain't it…
Graffiti Ghosts How many times can you take it How many shots are…
Heather Myles It ain't over till it's over and honey, I ain't…
J. Angel I said we the best at making this green I swear…
James Fortune It's not over, It's not finished. It's not ending, It's only…
Jamie O'Hara Life can be so hard to understand Things don't always go…
Jon Young [JON YOUNG] When the road gets rough And you had about eno…
Jonathan Emile (Hook) It ain't die And I ain't Tired And I ain't died So I'…
Lil Wayne Feat Busta Rhymes & Slim Thug The Surgeon General, of the Flipmode Squad Has determined, t…
M.I.K.E Pres Caromax Let me take the time to tell you I already know…
M.I.K.E. pres. Caromax Have you ever heard a Fine Boy sing I know I…
Maurette Brown Clark I know the odds look stacked against you And it seems…
Mc Syze Could lose it all I'm fighting more I'm finding hard to see …
Meja Right, out of my life Out of this house Out of our…
Miss Li I was thinking me and you, not you and her My…
MONSTA X It ain't over, until it's over 날 잡아줘 (잡아줘) 알아봐 줘 (gotta…
Mr. Jo [Mr. Shadow] Shadow and Trigonom Killin' that ass like anthr…
Outlawz I can see like the calm in the air tonight... So…
Paul Carrack It's not too late to bring about a change It's…
Paul Carrack / The Royal Philharmonic Orchestra There is freedom within there is freedom without Try to catc…
Ragged Watch me bounce through the night I′m feeling all this love…
Southpaw Swagger The commander and chief, Who's sees through the glamor and g…
T-Baby Though folks with good intentions Tell me to save my tears …
tanu You want me to say I do? I L-O-V-E Y-O-U You love…
The Rival We won't stop till you tell us so We won't end,…
Tom Principato It don't mean a thing If it ain't got that swing (doo…
Too $hort Feat. Tanu You want me to say I do? I L-O-V-E Y-O-U You love…
Young Dro Extreme-aai This system x2 (hey...) Street my x2 Classic x3 …
~ 5.13 ~ The Rival [Chorus] Girl (It's all over) This time (It's all over) I…



We have lyrics for these tracks by Classified:



3 Foot Tall When you're alone life can be a little rough It makes…
5th Element And it's the 5th element (uh huh) Never repetitive (nah) Hig…
Addicted Check, Check yo [Chorus:] What's it all about, hip hop what…
Ain't Hard To Find yeah, i know never took it serious but then what we…
All About U Life's not what you take It's not about the promises you…
Anybody Listening Hello, hello, hello Anybody listenin'? Yeah No reply at all…
Anything Goes Anything goes (yeah) Anything goes (yeah) Look (anything go…
Average MC [Verse One] Yo Eh Yo I ain't what y'all expect, ain't ya ave…
Beatin' It Jus gimme a sec I gotta make some beats Yo, plug…
Breaking Up [Intro: Sample with Female Singer] How can I give you, what…
Choose Your Own Adventure 6 Yeah They might say I lead a simple life, the type…
Danger Bay It Goes Welcome to Danger Bay Where everybody acts up in t…
Desensitized [Intro] To fully enjoy this recording do not, I repeat do…
Fall From Paradise [Chorus] [Verse 1:] I know that everything that goes up,…
Feeling Fine (feat. Jay BIzzy, Jordan Crouche) [Jordan Croucher:] I, …
Find Out [Classified:] [Chorus: X2] What's Goin On? (You Gonna Find O…
Flash Backs Chorus: Memories in the corner of my mind Flash backs, I was…
Freezin' in the Cold Now ever since I took my wife's hand for my…
Get Out of the Way Turn me up a little more.. yeah.. yeah.. I'm a…
Gossip Walk in a room with my hands on my side,…
Got Luv Yeah, yo... Listen Now I've got love for somethings that…
Growing Pains [Hook] Getting all these thoughts in my head Cause I know …
Hard To Be Hip Hop (I love it) (I love it) (I love it) (Yeah, yeah) Yo Class, …
Heavy Artillary (I Live For The Moment) (Class Got You Open) Yo, Is You…
Hi-dea's Yeah, yeah Sometimes it feels like All I do is make beats,…
High Maintenance I'm so highhhhh,flying saucer racing on vacation in the sky…
Higher Ladies and Gentlemen Boys and Girls You need to turn it up C…
Hold Your Own Yeah [Verse: Classified] They might say I lead a simple lif…
I Only Say It Cause It's True Chef man Let's go nigga, let's go You know what it is…
Information Bringing information It's all a thinking process kid My …
Inner Ninja I read the rules before I broke 'em I broke the…
Inspiration I made this beat, 2003ish Wrote to it but never got…
Intro Intro (Here We Go)" I used to hitch hike everywhere man …
It's Sickening Oh another one of those songs huh? Beautiful day! I smok…
Life's A Bitch Chorus [x4]: (Life is a bitch) It's a bitch, girl But it's…
Listen Listen, Listen, Listen Class Ya, Ya, Yo [Verse 1: Classifie…
Live It Up Yo woke up Rolled out of bed Then I rolled up Thought about…
Loonie (feat. D-Sisive, Shad K, DL Incognito & Buck 65) ["loonie…
Loonie Ft D-Sisive Shad K Dl Incognito and Buck 65 ["loonie" repeated throughout the song] [Verse 1: Classifie…
Love The One You're With [Mic Boyd] All I can do is watch while friends move…
Maybe It's Just Me [Intro - Classified - talking] Hey, let me spit something …
No Mistakes Just keep it goin'; yeah, yo Now, I made many decisions…
Oh Canada (Oh Canada we stand on guard, for thee) I told this…
On Tha Brink I'm a very bad daddy i am i am I'm a…
One Track Mind One track mind, focused on important shit, Eyes on the priz…
Passion Classified! (Classified) Where you at?! (Where you at) I…
Past Out (Yawn) 2 o'clock woke up breath smelling awful like somebody…
Pay Day Don't act surprised, I got soul like Jackson 5 Class get…
Politics Yo It's all about politics Yo hmmm Yo Check, check Steady, s…
Problemz [Chorus] We don't mean to be a problem But every time we…
Put It All In Perspective [verse 1] Yeah Listen Emcees don't sleep, wake up check t…
Questions (Intro) Yeah, oh yeah (2x) [Verse 1] Now from the words I v…
Quit While You're Ahead [Chorus:] You better quit while you're ahead Ah that's wha…
Run With Me Back on my day shift, I got my tools and…
See The Truth (INTRO) Yea Let me talk to the women for a second You see…
Self Explanatory Uh.. they call me class the mc refresh the memory.…
Separate The Music From The Gimmicks Class Class Class Class Class [x3] Ya, turn, turn the heat…
Sound Check Check One, Two Ya lets do a quick sound check Ya just…
Sound Off [Verse 1] Ay Yo I March To The Mic With My…
Stay Cool Ahhh, damn it's hot in here...but ya know what? I stay…
Still Got It *"hey" repeated throughout the Intro and Chorus*" [Intro …
Talking Shit things about to hit the fan, hit the floor (classified)…
That Ain You want it you need it, I got it, you…
The Day Doesn't Die This day doesn't die til [Repeat x9] Forgive. Forget. That's…
The Hangover [Kayo] Yeah I'd like to purpose a toast.. Uh Dark rum,…
The Maritimes Yo, Let's take it back to the Maritimes Man You cant…
Things Are Looking Up (Intro: Classified - talking) Yo C, give me a little bass …
This Is For (for the hip hop heads) (for the MC's, for the Dj's) (graf…
Trial & Error I keep on steppin' with class (with class) N-n-n-n-n-now W…
Trouble [Intro - Classified - talking] (Troubleeeee) ("Hypocritica…
Unexpected I'm the type of kid who wears jogging pants to…
Unpredictable When I react on tracks I make necks snap with…
Unusual (Chorus) It's raining inside But that's not unusual But…
Up All Night [Intro - Classified - talking] (I've been up all night) Ye…
Used To Be [Intro] Classified: Man, remember tape cassettes? Mic Boyd…
Where Are You [feat. Saukrates] [Chorus - Saukrates] - w/ ad libs
Where…
Why [Chorus:] Why's this always happen, ay yo, looking in the f…
Wicked Ain't no rest for the wicked Ain't no rest for the…
Yuh Ded Now (feat. Dan-e-o and D-sisive) T-Dot, we be comin' to blow the spot Hal-Town, we be…

The lyrics can frequently be found in the comments below or by filtering for lyric videos.