You take what you can, without asking first
And then you drink what's left, to quench your own thirst
You always fill your plate with more than you can eat
And then you make sure, that you get the best seat
I'VE TOLD YOU A THOUSAND TIMES BUT YOU STILL WON'T LISTEN
I'VE GIVEN YOU A THOUSAND CHANCES BUT YOU STILL WON'T LEARN
AND I'VE SEEN A THOUSAND SIGNS THAT YOU'VE BEEN MISSIN'
I'VE TOLD YOU A THOUSAND TIMES WAIT UNTIL YOUR TURN
You always help yourself, to what you can find
But sharing what there is, it doesn't cross your mind
You find a place in the sun and wait until you're served
To make sure that you get, more than you deserve
[Chorus]
Stop breathing my air, you're all over my face
Just give me some room, stop stealing my space
Take one step back and then one step more
Until' you reach the door...
[Chorus]
Lyrics © Universal Music Publishing Group
Written by: BARD SVERRE TORSTENSEN, ERLEND OTTEM, JOCKE SKOG, ZAK NIKOLAS TELL

Lyrics Licensed & Provided by LyricFind
To comment on specific lyrics,
highlight them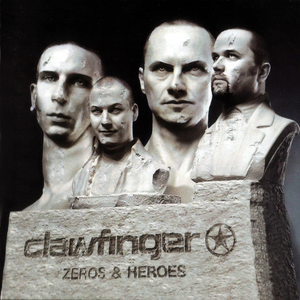 Clawfinger is a rapcore or rap metal band from Stockholm, Sweden formed in 1989 and was one of the earliest bands to adopt this sound. Clawfinger is known for aggressive but melodic music and tackling political and anti-racist themes in their songs. As good friends of Rammstein, they often toured together during their careers. In the Rammstein Mutter tour they performed the Ramones classic Pet Sematary together at a few dates, dedicating it to Joey Ramone.
Read Full Bio
Clawfinger is a rapcore or rap metal band from Stockholm, Sweden formed in 1989 and was one of the earliest bands to adopt this sound. Clawfinger is known for aggressive but melodic music and tackling political and anti-racist themes in their songs. As good friends of Rammstein, they often toured together during their careers. In the Rammstein Mutter tour they performed the Ramones classic Pet Sematary together at a few dates, dedicating it to Joey Ramone. One of these performances was released on the Ich Will single. Both bands also share the same producer for their albums, Swedish producer Jacob Hellner

The band's origin dates back to the summer of 1989 when Zak Tell and Jocke Skog met while working together at the Rosenlund Hospital somewhere in the vicinity of Stockholm. In 1990 they were joined by the Norwegian guitarists Bård Torstensen and Erlend Ottem who were also working at the same hospital. Soon the four realized their similar interests in music. Bård and Erlend previously played in a band called Theo in their hometown Arendal back in Norway. Their free time was invested in exploring the musical world, composing and writing songs while evolving into a band.

Their original demo comprising three tracks (Waste of Time, Nigger and Profit Preacher) quickly secured them local radio airplay and consequently brought them to the attention of the MVG label. "Nigger" is an anti-racism statement that caused quite a stir and was a massive success; it was also released as a single. By the beginning of the 1990s, Clawfinger self-released their debut Deaf Dumb Blind. This sold in over 600,000 copies worldwide and was critically acclaimed in Swedish press. With the addition of André Skaug and drummer Morten Skaug, Clawfinger went on tour and played at countless European festivals including major support slots with Anthrax and Alice in Chains.

The band received many awards, including two home Grammies at the Swedish Grammy Awards in 1994 for best hard rock band and best music video. After touring, they went straight back in the studio to record their second album, Use Your Brain. After the release of this album they went on yet another touring campaign, most notably participating at Ozzy Osbourne's Monsters of Rock Festival in Brazil and Chile, rocking alongside American metal counterparts like Megadeth, Faith No More, and Alice Cooper. Back in Europe they continued their touring campaign by participating at festivals and countless gigs.

Their self-titled album Clawfinger was released in 1997. The first song on the album is Two Sides, which expanded the band's reach by using female choir vocals and a Middle Eastern sound. The rest of the album continues with the band's typical aggressive voice and socio-political lyrics.

A Whole Lot of Nothing was the fourth album released on 23 July 2001. The music showcases the same aggressive guitars, with more distortion effects and sounds, adding a whole new level of diversification. As for the synthesizers, on this particular album they're more present than on any other of Clawfinger's works.

Zeros & Heroes was released in 2003 and it caused controversy in America because the song Step Aside did not sit well with most American audiences due to the fact it slams George W. Bush and the post 9/11 (and not only) military politics of the US. It offers yet another style change for the ears of the listener. The electronic sound and synthesizers from A Whole Lot of Nothing are gone and replaced by a more complex and melodic guitar riffing.

Hate Yourself With Style was released in 2005. The album continued the path entered on Zeros & Heroes and is characterized by hardrock style melodic speedy guitar riffs. The keyboards which particularly characterized A Whole Lot of Nothing have completely disappeared.

Life Will Kill You was released in 2007. It has spawned three singles: Prisoners, The Price We Pay, and Little Baby.

The band officially disbanded in 23 August 2013.

Current members:
Zak Tell — vocals
Jocke Skog — keyboards
Bard Torstensen — guitar

Henka Johansson — drums
Andre Skaug — bass
Genre not found
Artist not found
Album not found
Search results not found
Song not found