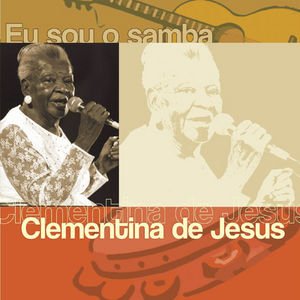 The low voice of the partido-alto singer Clementina de Jesus was only discovered outside her community when she was 62. Immediately acknowledged both nationally and internationally as a highly expressive singer, she still had time to participate in historic events like the Rosa de Ouro, Zicartola (at the Teatro Opinião), Noitada de Samba, and others. She has recorded and performed with artists of stature such as Nelson Cavaquinho, Turíbio Santos, Pixinguinha, João da Baiana, and many others. As a child, Clementina de Jesus listened to folkloric and religious music (jongo, partido-alto, ladainhas, etc.) sung by her mother. She remained an
Read Full Bio
The low voice of the partido-alto singer Clementina de Jesus was only discovered outside her community when she was 62. Immediately acknowledged both nationally and internationally as a highly expressive singer, she still had time to participate in historic events like the Rosa de Ouro, Zicartola (at the Teatro Opinião), Noitada de Samba, and others. She has recorded and performed with artists of stature such as Nelson Cavaquinho, Turíbio Santos, Pixinguinha, João da Baiana, and many others. As a child, Clementina de Jesus listened to folkloric and religious music (jongo, partido-alto, ladainhas, etc.) sung by her mother. She remained an amateur for decades, participating in Carnaval blocos, and singing in church choirs and rodas de samba (samba get-togethers). After 20 years working as a maid, her career was launched in December 1964 by the classical guitarist Turíbio Santos at Kleber Santos' Teatro Jovem (Rio de Janeiro) in the show O Menestrel. A few months later, in 1965 when she was 63, Clementina de Jesus had her definitive public consecration after being featured in Hermínio Bello de Carvalho's musical Rosa de Ouro at the same theater. Performances, which also featured Araci Cortes, Paulinho da Viola, and Elton Medeiros, followed in Bahia and São Paulo. De Carvalho's first album was this live show, released in the same year as Rosa de Ouro, Vol. 1, followed by a second volume released two years later. On this album, Clementina de Jesus presented the virtually unknown genre of jongo with songs like "Benguelê" (Pixinguinha/Gastão Vianna) and "Boi Não Berra." She also performed sambas like "Sementes do Samba" (Hélio Cabral) and "Nasceste de Uma Semente" (José Ramos), and the lundu "Bate Canela." In August 1983 she was paid tribute by the Brazilian state government at Rio de Janeiro's Teatro Municipal. The gala event attracted many artists like Elizeth Cardoso, Beth Carvalho, Orquestra Sinfônica Brasileira, João Nogueira, Paulinho da Viola, Gilberto Gil, Dona Zica, Dona Neuma, accompanied by the bateria (percussion section) of the Mangueira samba school. In 1985 de Jesus was decorated by the French government. Also known as Quelé (a corrupted use of her name) and as Rainha Ginga (Ginga Queen), she had her majesty truly expressed through this award.

In 1966 she represented Brazil together with Paulinho da Viola, Elizeth Cardoso, and Elton Medeiros at the Black Arts Festival in Dakar and Senegal. In the same year she performed at the Cecília Meireles Hall (in Rio) José Maria Neves' Missa de São Benedito, for tamba (Hélcio Milito) and voice. Also in that year she recorded her first individual LP, Clementina de Jesus. Together with Pixinguinha and João da Baiana, she participated in the album Gente da Antiga, produced by Odeon in 1968. In the same year she also appeared on the LP Mudando de Conversa, a recording of the show of the same name, along with Ciro Monteiro and Nora Ney, produced at the Teatro Santa Rosa (Rio de Janeiro). In 1970 she had another LP released, Clementina Cadê Você?, edited by the Museu da Imagem e do Som (Sound and Image Museum, Rio de Janeiro), with corimás, jongos, modas, and sambas. In 1973 she had thrombosis, but five months later recorded the LP Marinheiro Só, which had songs by Paulinho da Viola and adaptations of popular songs like "Fui Pedir Às Almas Santas," "Atraca, Atraca," and "Incelença." In that year she also participated in Milton Nascimento's Milagre dos Peixes, recording "Escravo de Jó" (Milton Nascimento/Fernando Brant). In 1982 she was paid tribute by the Lins Imperial samba school, with the play Clementina -- Uma Rainha Negra. In the next year she recorded with Doca and Geraldo Filme the LP Canto dos Escravos, in which she interpreted slave songs from Minas Gerais collected by the researcher Aires da Mata Machado Filho. In 1985 she recorded Clementina e Convidados, which had her composition "Laçador" (co-written by Catoni). The album also had as guests Clara Nunes, João Bosco, Roberto Ribeiro, Martinho da Vila, Ivone Lara, Adoniram Barbosa, and Carlinhos Vergueiro. De Jesus also performed live with Nelson Cavaquinho in São Paulo, upstate Rio de Janeiro, and in Curitiba, Paraná. Her last live performance was in 1987 at the Teatro Carlos Gomes (Rio de Janeiro).
Genre not found
Artist not found
Album not found
Search results not found
Song not found
We have lyrics for these tracks by Clementina De Jesus:



Ajoelha Joelha, joelha, joelha e me peça perdão, joelha (x2) Eu t…
Defesa Se você chegasse a tal conclusão dos fatos Não abria a…
Embala eu Embala eu, embala eu Menininha do Gantois Embala pra lá, e…
Garças Pardas Ouvi falar nas garças pardas Mas pensei que era brinquedo …
Incompatibilidade De Gênio Dotô Jogava o Flamengo, eu queria escutar Chegou Mudou de…
Ingenuidade Não Eu não podia me enganar assim Com uma criança…
Madrugada Madrugada foi embora (láiá laiá) E eu fiquei sozinho sem ni…
Marinheiro Só Eu não sou daqui - marinheiro só Eu não tenho amor…
Moro na Roça Eu moro na roça, iaiá Eu nunca morei na cidade Eu compro…
Na Hora Da Sede Na hora da sede você pensa em mim Lá,laiá Pois eu sou…
Na Linha do Mar Galo cantou às quatro da manhã Céu azulou na linha do…
Olhar Assim Olhar assim com desdém prara mim Representa apunhalar sem t…
Olhos De Azeviche Aonde estão Os olhos de azeviche Que me olham tanto Que d…
Papel Reclame Assim também já é demais Eu não consigo viver em paz Ainda…
Pergunte Ao João Quem quiser ver é só subir no morro O samba mora…
Piedade Piedade, ôôô (piedade) Tem piedade, oh mãe de Deus (piedade…
Sai De Baixo Sai de baixo Senão eu vou passar por cima Sai da frente S…
Sonho Meu Sonho meu, sonho meu Vai buscar que mora longe Sonho meu …
Tava Dormindo Tava dormindo Acordei aborrecido pensando ai Se meu sonh…
Torresmo A Milanesa O enxadão da obra Bateu onze hora Vamo se embora, João! V…

The lyrics can frequently be found in the comments below, by filtering for lyric videos or browsing the comments in the different videos below.