White Rabbit
Collide Lyrics
One pill makes you larger
And one pill makes you small
And the ones that mother gives you
Don't do anything at all
Go ask Alice
When she's ten feet tall
And if you go chasing rabbits
And you know you're going to fall
Tell 'em a hookah smoking caterpillar
Has given you the call
Call Alice
When she was just small
When the men on the chessboard
Get up and tell you where to go
And you've just had some kind of mushroom
And your mind is moving low
Go ask Alice
I think she'll know.
When logic and proportion
Have fallen sloppy dead
And the White Knight is talking backwards
And the Red Queen's "off with her head!"
Remember what the dormouse said:
"Feed your head. Feed your head. Feed your head"
Lyrics © Universal Music Publishing Group
Written by: Grace Wing Slick

Lyrics Licensed & Provided by LyricFind
To comment on specific lyrics,
highlight them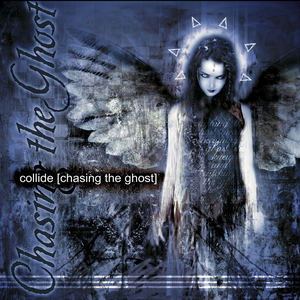 There are three bands using this name: a Californian electrogoth/industrial rock band, a Latvian thrash metal band and the band that Canadian artists Tara S'Appart (Elevator) and Ron Bates (Orange Glass) were in during the early 90s.

COLLIDE: The Electrogoth/Industrial Rock Band

An Electrogoth/Industrial Rock band founded in the early nineties, in Los Angeles. The name comes from the collision of musical styles – ethereal vocals provided by kaRIN, industrial music provided by Statik.
Read Full Bio
There are three bands using this name: a Californian electrogoth/industrial rock band, a Latvian thrash metal band and the band that Canadian artists Tara S'Appart (Elevator) and Ron Bates (Orange Glass) were in during the early 90s.

COLLIDE: The Electrogoth/Industrial Rock Band

An Electrogoth/Industrial Rock band founded in the early nineties, in Los Angeles. The name comes from the collision of musical styles – ethereal vocals provided by kaRIN, industrial music provided by Statik.

The Story of COLLIDE
"We just wanted to make the kind of music that we wanted to hear."

Once upon a time, somewhere around 1992, two people met at an industrial dance club. One was very thirsty, so they asked the other to get them some water. After the liquid reached the glass, the two began a conversation, which became a friendship, and then formed a creative union.

The creative union became what is known as COLLIDE. The primary core of the Los Angeles based duo is Statik and kaRIN. Statik is responsible for the sound orchestrations and overall production. kaRIN takes care of the vocals and lyrics.

"We never thought of starting a band, we just wanted to make the kind of music we wanted to hear. After the first few songs were finished, we thought the collaboration sounded like something special. A few songs later, we realized that the music we were making was really important to us. It would need a name. We thought long and hard and then COLLIDE came to us. We knew it was right, as it described what we were doing and the feeling of the music perfectly."

The essence of COLLIDE is the coming together of two opposing entities to form a symbiotic whole… combined the female and masculine energies, the cognitive and the subliminal, the strength and the mystery.

Meaningful lyrics and alluring hypnotic vocals combine with an aural sculpture, to form an experience in listening that manages to defy categorization. "I think the reason why our sound is different is because we do not approach music in a traditional way. We don't play music, we try to create soundscapes—layers of depth and sound."

To date, the duo have released six full length CDs—Beneath the Skin, Distort, Chasing the Ghost, Some Kind of Strange, Vortex, and Live at the El Rey.

- Beneath the Skin examines feelings of the internal depth of emotion.
- Distort presents remixes from Beneath the Skin, as well as some cover songs… giving a different twist on things.
- Chasing the Ghost, says kaRIN, is named to capture that feeling of searching for essence… the feeling of yearning like a space you can't fill, or a haunting that you can't quite put your finger on".
- Some Kind of Strange continues on to explore one's place within themselves and the universe. "I always write from the heart" says kaRIN. "Music allows me to exist in a world of my own creation."
- Vortex is a double CD that further explores the diverse sound of COLLIDE and includes remixes from both Some Kind of Strange and Chasing the Ghost, as well as some new cover songs.
- Like the Hunted is a DVD which includes COLLIDE's live performance in 2005 at the El Rey in Los Angeles. It also includes an interview as well as other acoustic and tour performances.
- Live at the El Rey accompanies is the live performance from the Like the Hunted DVD.
- Ultrashiver is the new release by COLLIDE's side project The Secret Meeting with kaRIN and Statik and Dean Garcia of Curve. Beside the album Ultrashiver, the group released two singles,Shiver X and Shooting Laser Beams.
- Two Headed Monster, was released in 2008.
- These Eyes Before, was released in 2009. It's comprised of ten classics songs, each one completely reimagined.

Due to dissatisfaction with the music industry, COLLIDE began their own record label, Noiseplus Music. COLLIDE decided to self-release, this was a decision we had to make, as so much energy and life goes into each song in layers and levels. We never let go of it until we are sure that it is the best that we can make, and we are ultimately satisfied with it. We see so many things in the music industry that are not in the artist's favor, where it becomes all about business. It is our hope to help make that change, while making music that we believe in, and to set a path for ourselves, as well as other artists."

"Our eternal thanks to those who seek out and expose new music." — kaRIN and Statik

(content quoted in its entirety from Collide and Noiseplus Music)

==============================================

COLLIDE - Latvian Thrash Metal band
COLLIDE - Extreme Thrash Metal band which declares war to everything that oppresses ! Overcoming values, finding your inner-self and becoming insane - that's the source of inspiration behind band's music and lyrics.
Band has been started in late 2003 and still lives on.
Power, passion and energy is a huge part of the band's live shows. Collide has played many small and large shows in Latvia and in
other countries. Despite many lineup and stylistic changes through the years, band still caries the same spirit as in the beginning.

==============================================
Genre not found
Artist not found
Album not found
Search results not found
Song not found