Well they wrote it nice and clearly son
Something easy you could read good
And they shaved your head
Now quickly man
All that salt went pouring in
It gets harder as you get older
Something deep inside your chest
And, my god, there's nothing wrong here
Just the innocence and the bliss
And i said to him
What a demon man you have conquered
Cause every man has a different plan of what he wants
Deep down in the seas of what you had and what you do not know
Every man has got a different plan of where he goes
And i said, i've got nothing
This evil body never tried
With all them rattling bones
Yeah i guess i sleep alright
My mind, my body
Were made for good and evil too
Well i got an eye for an eye if you gotta a tooth to use
I have nothing
Your hands of time
Ripped off a soft rewind
I'll rip them off the spine
Of all your hands of human kind
Well some may see it this way when the devil's got his armies marching in
Even in the summer where the day it ends and night begins
Thought you see it this way the king has got it's own way back
Aw yeah, i want it easier than anyone
I have nothing to prove
I have nothing
Ripped off a soft rewind
Well i'll rip them off the spine of all your hands of human kind
My mind, my body
Were made for good and evil too
Well i got an eye for eye
If you got a tooth to use
I have nothing
Your hands of time ripped off a soft rewind
Well i'll rip them off the spine of all your hands of mankind
Contributed by Evelyn C. Suggest a correction in the comments below.
To comment on specific lyrics,
highlight them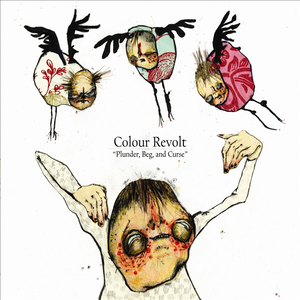 Colour Revolt is an American indie rock band from Jackson, Mississippi.

Colour Revolt's members first played together while they were high school students at Jackson Academy in Jackson, MS under the name Foxxe, then changing to Fletcher and releasing a full length entitled "Friends Don't Speak". They then moved on to become college students at the University of Mississippi in Oxford, Mississippi. They take their current name from Edwin Abbott's mathematical novel, Flatland.
Read Full Bio
Colour Revolt is an American indie rock band from Jackson, Mississippi.

Colour Revolt's members first played together while they were high school students at Jackson Academy in Jackson, MS under the name Foxxe, then changing to Fletcher and releasing a full length entitled "Friends Don't Speak". They then moved on to become college students at the University of Mississippi in Oxford, Mississippi. They take their current name from Edwin Abbott's mathematical novel, Flatland.

The group had intended to record their first EP in Mississippi in August of 2005, but Hurricane Katrina interrupted the recording session, and so they recorded it in the house of local label Esperanza Plantation's owner. The self-titled EP came out in December of 2005; following this the group toured with Brand New and signed to Interscope Records, who re-released the EP on their subsidiary Tiny Evil in October 2006.

The group has also performed at SXSW and toured with Dinosaur Jr., Black Lips, Okkervil River, Menomena, Paper Rival, Explosions in the Sky, Malajube, Anathallo, and Manchester Orchestra.

They then signed with Fat Possum Records; their full-length debut, produced by Clay Jones, was released on April 1, 2008. In 2008, Boston newspaper The Phoenix named them the Best New Band from Mississippi.


Jesse Coppenbarger - vocals, guitar, keyboard
Sean Kirkpatrick. - vocals, guitar, keyboards

Former
Len Clark - drums, vocals
Drew Mellon - bass
Patrick Addison - bass
Jimmy Cajoleas - guitar
Genre not found
Artist not found
Album not found
Search results not found
Song not found