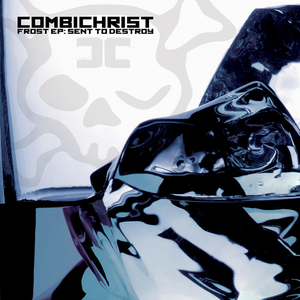 Combichrist is an aggrotech group, formed in Norway and currently based in the U…
Read Full Bio ↴
Combichrist is an aggrotech group, formed in Norway and currently based in the United States.

In 2003 Andy LaPlegua of "Icon of Coil" wrote a few power noise/techno cross over tracks under the name of "D.R.I.V.E.". This was changed to "Combichrist" when the debut album, "The Joy of Gunz" was set to be released on Out Of Line. The name Combichrist originates from a hardcore fanzine LaPlegua made during the late 90s, with "JR Ewing" guitarist Håkon Mella.

The follow up EPs, and the clamour for live shows, sent Combichrist out on the road where they would become known for their strong and energetic performances.

Their second EP, "Sex, Drogen und Industrial", spent 7 weeks at number one in the DAC charts.

In March of 2007 they released their third album "What The Fuck Is Wrong With You People?". "Today We Are All Demons", was released on January 20th, 2009.

The band had been selected to support industrial metal band "Rammstein" for their 2009 European tour and continued to support them during the 2010 part of the tour.

August 2010 saw the release of "Making Monsters", which had full tracks available for streaming on the website, each track being rolled out for a new one. Combichrist undertook a tour in support of the new album in late 2010, with "Aesthetic Perfection" and "iVardensphere" as the support bands.

Their most recent album, "No Redemption", was released in January of 2013 in both single and 2CD versions. This album was the official soundtrack album for the video game "Devil May Cry". The limited edition bonus CD was essentially a greatest hits compilation.

March 2014 will see the release of a new album titled "We Love You", with an accompanying tour of North America starting in April. "William Control" and "New Years Day" have been announced as the support bands.


Combichrist have had much more success than many of the other acts emerging from the electronic underground and the band have become one of the dark electro scene's most popular live acts.


The roster of live members is currently Joe Letz (ex "Genitorturers"), Mr Petersen, Z_Marr (ex "Hell Trash"), Kourtney Klein (who also played drums for the reformed "Nitzer Ebb") and Trevor Friedrich who was the drummer for "Eighteen Visions" and "Imperative Reaction". Past live members include Håkon Mella, Bjoern Petersen, Syn M, Shaun Frandsen & Jon H.


The band's website is at: www.combichrist.com
Jump to: Overall Meaning ↴ Interesting Facts ↴ Line by Line Meaning ↴
Iron boots, we're walking tall
With pride we'll walk all over you
Steel grip, we'll hold you down
On a leash, we're coming through
Metal teeth, a diamond smile
Mechanical jaws, a two ton bite
With winter frost, an atomic pile
We stand the ground where the big dog's fight
Divine inferno, hell on ice
Heaven's burning, sacrifice
Divine inferno, hell on ice
Heaven's burning, sacrifice
Your God sent us to destroy
Your God sent us to destroy
Your God sent us to destroy
Your God sent us to destroy
You
Nuclear war, behind glass walls
We long for the storm, we stray from our path
Feel the walls, closing in
Chasing our trails, we're feeding our wrath
Metal teeth, a diamond smile
Mechanical jaws, a two ton bite
With winter frost, an atomic pile
We stand the ground where the big dog's fight
Divine inferno, hell on ice
Heaven's burning, sacrifice
Divine inferno, hell on ice
Heaven's burning, sacrifice
Your God sent us to destroy
Your God sent us to destroy
Your God sent us to destroy
Your God sent us to destroy
You
You
You
Your God sent us to destroy
Your God sent us to destroy
Your God sent us to destroy
Your God sent us to destroy
Your God sent us to destroy
Your God sent us to destroy
Overall Meaning
The lyrics of Combichrist's song Sent to Destroy portrays a sense of arrogance, power and a mission to destroy everything in their path, possibly referring to a group of people who are strong and unstoppable. The phrase "Iron boots, we're walking tall" introduces the dominating demeanor of the group. With "steel grip", they are able to hold others "down on a leash", suggesting control over their prey. Accompanied by "metal teeth, a diamond smile, and mechanical jaws", they are described as possessing a strong and unstoppable force, "an atomic pile," standing ground in the face of any obstacle, even where the "big dogs fight".
The chorus, "Your God sent us to destroy", implies a religious motive behind their actions. This could suggest that the group is on a sanctioned mission from God to rid the earth of impurities or those who do not share the group's beliefs. The line "Nuclear war, behind glass walls" could also suggest that they have access to powerful weapons, indicating the destructive nature of their mission.
Overall, the lyrics present a dangerous and threatening side of humanity which is willing to destroy all in the name of religion or other beliefs, while feeling invincible and in control.
Interesting facts about Sent to Destroy:
Interesting Facts
Note: This section uses generative AI, which can be inaccurate.


Line by Line Meaning
Iron boots, we're walking tall
We feel powerful and unstoppable
With pride we'll walk all over you
We have no respect for you and will dominate you
Steel grip, we'll hold you down
We'll keep you trapped and powerless
On a leash, we're coming through
We're in control and you will bow to us
Metal teeth, a diamond smile
Our appearance is manufactured and deceptive
Mechanical jaws, a two ton bite
We have the capability to cause immense damage
With winter frost, an atomic pile
We are cold and heartless, like a nuclear reactor
We stand the ground where the big dog's fight
We are ruthless and willing to engage in conflict
Divine inferno, hell on ice
We are dangerous and uncontrollable
Heaven's burning, sacrifice
We will cause destruction and harm in the name of our beliefs
Your God sent us to destroy
We believe that our actions are sanctioned by a higher power
Nuclear war, behind glass walls
We want to unleash devastation without fear of the consequences
We long for the storm, we stray from our path
We are drawn to chaos and destruction
Feel the walls, closing in
We feel trapped and desperate
Chasing our trails, we're feeding our wrath
We are driven by anger and hate
Your God sent us to destroy
We are convinced that our actions are justified
Lyrics © BMG Rights Management
Written by: OLE ANDERS OLSEN

Lyrics Licensed & Provided by LyricFind
To comment on or correct specific content,
highlight it
Genre not found
Artist not found
Album not found
Search results not found
Song not found