So she married a bastard from Fulham
And she loved him even when he was rotten
And that bastard could really be rotten
I don't wanna be alone
But I swear I'm better off
Just can't stand the breaking up, see
Is this the better life
To love the children but leave the wife?
Days spent in heaven seem more like hell
(?)
Just can't stand the breaking up, see
So my old man, the villain
Said don't say I don't give you nothing
So I'll give a little force and a kicking
'Cos you drive me crazy, you drive me insane
With your blah blah blah blah blah
I just can't stand the breaking up, see
Contributed by Charlie M. Suggest a correction in the comments below.
To comment on specific lyrics,
highlight them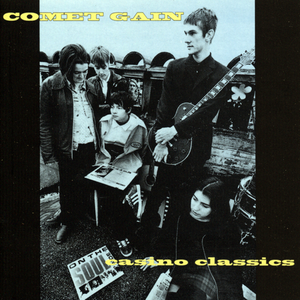 Comet Gain is a British indie rock band with heavy influences from Dexys Midnight Runners and northern soul. The band includes ex-Huggy Bear bass player Jon Slade and included future Velocette members Sarah Bleach and Jax Coombes.


Comet Gain was started in David Feck's bedroom in Oxford, United Kingdom in 1992. He roped in housemate Phil Sutton, (The Soft City) to play drums, and then persuaded Sarah Bleach and Jax Coombes, who lived round the corner to join.
Read Full Bio
Comet Gain is a British indie rock band with heavy influences from Dexys Midnight Runners and northern soul. The band includes ex-Huggy Bear bass player Jon Slade and included future Velocette members Sarah Bleach and Jax Coombes.


Comet Gain was started in David Feck's bedroom in Oxford, United Kingdom in 1992. He roped in housemate Phil Sutton, (The Soft City) to play drums, and then persuaded Sarah Bleach and Jax Coombes, who lived round the corner to join. He found guitarist Sam Pluck, little fella with a nice anorak, looked a bit like a girl...er... in London and thus was born the first stage of the ..er...Latest Soul Vision! Yes! They all met and played for the first time at the Monarch pub in Camden in 1993. You could do that then. Incidently Feck also met future CG singer Rachel Evans that same night. Foresight and planning!

Mr Wiiija, Gary Walker, saw them and signed them up, and before you could say 'You know' three times, they had put out a single 'Aliens at War'/'A Kind of Loving", which single handedly sounded like the TVPs, a bit. They then released the original version of 'Kids at the Club', backed with a song ruined by Feck and Phil's awful rythm section, called 'Goodbye Song', for which at least one of them is still sorry.

But then, came a record beloved by Twee pop fans everywhere - though in those days they were called Cuties (well they were younger then!) that was also championed by DJ Danny Rampling at his club...no that's not right...'Casino Classics' ladies and gentlemen!! What Saint Etienne nicked off'em a bit later on. the cheeky beggars!...Spread out across two sides of an album, as is traditional, this album was even a hit in California, where it was released by Xmas records. Christmas in the sun. Funny that...

This was followed by Peel sessions and...you know...the other. Looked a bit like a shrew...very thin! Though I'm not surprised, the state of food in the BBC canteen. I'd be thin! I never liked sago pudding. What is it? Then there was a couple of EP's, 'Baby's Allright'/'Charlie' and 'Say Yes'/'Hideaway' - two angry shouty rockers and two northern soul infatuated pop songs and a scuppered album, "Sneaky' (which came out with only Feck's songs) which some people said was quite long. But good. I've got it somewhere. Oh no somebody else has...

Any road, the first line-up split in 1997, after they started heckling themselves on stage at the legendary club 'The Beat Happening'. That was ten years ago ladies and gentlemen. In 1998, a second line-up, that didn't get on each others nerves all-the-bloody-time...was started. But that's another story.

The post-1997 line-up of Comet Gain featured the following:

David Charlie Christian Feck (vocals, guitar, keys)
Rachel Evans (vocals)
Jon Slade (a.k.a Jon The Slade) (guitar, keys)
Kay Ishikawa (bass)
Blair Cowl (guitar, bass) (1997-1999)
Erik Brunulf (guitar, bass) (2001)
Darren Smyth (drums) (1997-2001)
Chris Apelgren (drums) (2002)
M.J. Taylor (percussion) (2001-)
Genre not found
Artist not found
Album not found
Search results not found
Song not found