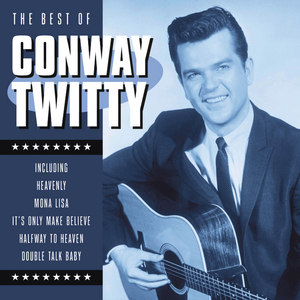 You've Never Been This Far Before
Conway Twitty (1 September 1933 – 5 June 1993), born Harold Lloyd Jenkins, was…
Read Full Bio ↴
Conway Twitty (1 September 1933 – 5 June 1993), born Harold Lloyd Jenkins, was one of the United States' most successful artists of the 20th century. Twitty had the most singles (55) reach Number 1 on various national music charts. Conway Twitty's across the board totals were greater than that of Elvis Presley, Frank Sinatra, the Beatles, and Garth Brooks. Most notably known as a country music singer, Twitty also enjoyed success in early Rock and Roll, R&B, and Pop music (among other genres). He teamed up with Loretta Lynn to form one of country music's most successful business partnerships.


Origin of Jenkins Stage Name--------- Jenkins felt that his real name wasn't marketable, and he changed his show business name in 1957. (Harold Lloyd Jenkins would always remain his legal name, however). Looking at a road map, he spotted Conway, Arkansas and Twitty, Texas. Thus, he went with the professional name of "Conway Twitty".[citation needed]

Alternatively, Jenkins met a Richmond, VA, man named W. Conway Twitty Jr. through Jenkins' manager in a New York City restaurant. The manager served in the army with the real Conway Twitty. Later, the manager suggested to Jenkins that he take the name as his stage name because it had a ring to it. The Richmond Conway Twitty subsequently recorded the song, "What's in a Name But Trouble," in the mid-1960s, lamenting the loss of his name to Jenkins. The flip side of the 45 RPM record was "The Purple, Purple People Eater, Eater." (The more well known version of Purple People Eater, however, now having sold over 100,000,000 copies, was recorded by Sheb Wooley.)
You've Never Been This Far Before
Conway Twitty Lyrics
Jump to: Overall Meaning ↴ Line by Line Meaning ↴
I can almost hear the stillness
As it yields to the sound of your heart beating
I can almost hear the echo
Of the thoughts that I know you must be thinking
And I can feel your body tremble
As you wonder what this moment holds in store
And as I put my arms around you
I can tell you've never been this far before
I don't know what I'm saying
As my trembling fingers touch forbidden places
I only know that I've waited
For so long for the chance that we are taking
Well I don't know and I don't care
What made you tell him you don't love him anymore
And as I taste your tender kisses
I can tell you've never been this far before
And as I take the love you're giveing
I can feel the tension building in your mind
And you're wondering if tomorrow
I'll still love you like I'm loving you tonight
You have no way of knowing
Tonight will only make me love you more
And I hope that you'll believe me
'Cause I know you've never been this far before
Overall Meaning
The song "You've Never Been This Far Before" by Conway Twitty is a sensual ballad that narrates the moment of a couple's sexual encounter for the first time. The singer describes the feeling of anticipation and excitement before the physical act of love. The first stanza sets a romantic and intimate mood where he describes the moment of complete stillness before their hearts start beating fast. He understands the thoughts that might be rushing through her mind in this intimate moment. In the next stanza, he expresses the feeling of being nervous before touching her in forbidden places.
Later, Conway Twitty talks about the past of his lover and her previous relationship. He claims that he doesn't care about her past and loved her regardless of all. They exchange tender kisses, and he realizes that it is her first time being intimate to such an extent. He then assures her by saying that he will always love her tremendously, but she is skeptical about tomorrow. He reassures her by saying that tomorrow will only make him love her more than he already does.
Overall, the song deals with intense emotions of love, intimacy, and commitment towards each other despite the uncertainties and insecurities that come with a new relationship.

Line by Line Meaning
I can almost hear the stillness
I can feel the silence around us that's going to be replaced by the sound of our heartbeats.
As it yields to the sound of your heart beating
As the stillness fades, I can hear the sound of your heart beating.
I can almost hear the echo
I can sense the presence of unspoken thoughts that must be running through your mind.
Of the thoughts that I know you must be thinking
I know you're contemplating a lot of things right now, and I can feel your anxiety.
And I can feel your body tremble
I can sense the shivers running through your body due to the anticipation and nervousness.
As you wonder what this moment holds in store
You're unsure of what's going to happen next and are scared about this moment's outcome.
And as I put my arms around you
I'm holding you right now, trying to make you feel comfortable and safe.
I can tell you've never been this far before
I understand that you're experiencing something new, making you feel this way.
I don't know what I'm saying
I'm not entirely sure of what I'm telling you right now. I'm afraid to scare you off.
As my trembling fingers touch forbidden places
Though I'm nervous, I'm still trying to be intimate with you and explore new things.
I only know that I've waited
I've been looking forward to this moment for an extended period and want to enjoy it.
For so long for the chance that we are taking
I've been waiting for this opportunity to tell you how I feel and be with you.
Well, I don't know, and I don't care
Honestly, I'm not bothered about the reason you gave someone else for breaking up, I'm just happy to be with you now.
What made you tell him you don't love him anymore
I'm curious to know why you broke up with your past lover, but it's not a concern at this point.
And as I taste your tender kisses
I'm trying to feel your emotions through your kiss, hoping to know what you're feeling right now.
I can tell you've never been this far before
The way you're kissing me tells me that you're feeling new emotions, and this is new to you.
And as I take the love you're giving
I'm enjoying the feeling of your love, accepting your affection and giving it back to you.
I can feel the tension building in your mind
I'm aware that you're worried about what's going to happen next, and you're unsure of everything.
And you're wondering if tomorrow, I'll still love you like I'm loving you tonight
You're thinking about the possibility that I'll not love you the same way, as you're experiencing new emotions.
You have no way of knowing
You don't know what's going to happen next, and you're scared of the outcome.
Tonight will only make me love you more
This night and the way you're making me feel right now is only going to make me love you more.
And I hope that you'll believe me
I'm trying to make you understand that my love for you is genuine.
'Cause I know you've never been this far before
I understand that you're experiencing something new, and I'm here to support you through the process.
Lyrics © Sony/ATV Music Publishing LLC
Written by: CONWAY TWITTY

Lyrics Licensed & Provided by LyricFind
To comment on or correct specific content,
highlight it
Genre not found
Artist not found
Album not found
Search results not found
Song not found