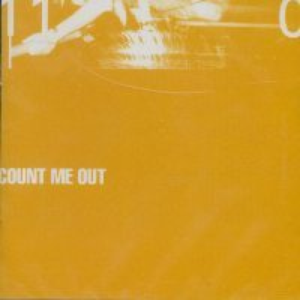 From Richmond, Virginia, Count Me Out were a straight edge hardcore punk band formed in 1997. They released one extended player on Ambassador Records (CD)/Malfunction Records (US vinyl)/Crapchord Records (EU vinyl) and two long players on Indecision Records. The band toured extensively throughout the United States and Europe. The first two records, Few and Far Between (1999) and 110 (2000), were reminiscent of the youth crew subgenre of hardcore akin to early Revelation Records releases
Read Full Bio
From Richmond, Virginia, Count Me Out were a straight edge hardcore punk band formed in 1997. They released one extended player on Ambassador Records (CD)/Malfunction Records (US vinyl)/Crapchord Records (EU vinyl) and two long players on Indecision Records. The band toured extensively throughout the United States and Europe. The first two records, Few and Far Between (1999) and 110 (2000), were reminiscent of the youth crew subgenre of hardcore akin to early Revelation Records releases, with a sound comparable to Chain of Strength and Turning Point. The band's third release, Permanent (2002), was darker and more brooding. The band broke up in early 2003.
Genre not found
Artist not found
Album not found
Search results not found
Song not found
We have lyrics for these tracks by Count Me Out:



Against the World So they can't understand I can't understand myself So caug…
Always Have Are you trough feeling sorry for yourself? now tell me…
Another Year "Those were the days" that's just a lie, to make…
Best Of Me Can't take back what's said and done. time to take…
Betrayed What was it that we used to say? Was it that…
Confusion I, I never thought that I'd see the day that you…
Dear You I wanted so much more for us Than what I…
Disconnect Holding on so tight To something that's not there It's…
Far From Close Leaving the past behind... another day apart with the distan…
Few and Far Between Thinking of those days we thought would never end Take…
How Much it Meant Now you're back from the past after all those wasted…
My Regret Take everything away from me There's the one thing you can…
No Control Ahh.. We use see the same things Now I see…
Not This Time Depend on me to be there when you're left on…
Nothing Left Was it all for nothing? the effort that i gave.…
On My Own Did you even care about the promise that you made…
One More Reason Why This has always been The only way out I'm not…
Past Mistakes Looking back on all the lies and promises you broke…
Permanent One last time I took a look at what I once…
Right For You Look at how different things are now, from what they…
South Street When they say, I've watched them break It happens to…
Stakes Is High Running from yourself Afraid of what you're gonna find Fac…
What we Built We're tearing down all that we built with all our…
Where We Started You have gone and done it to yourself. thrown away…

The lyrics can frequently be found in the comments below, by filtering for lyric videos or browsing the comments in the different videos below.