You're always hanging around my place
Not much to do, not much to say
I don't usually mind, most of the time
No I don't mind
Then you start with your blah blah this
Oh my God, I can't believe you said that
That's when I just kick back and laugh
I got to laugh yeah yeah yeah
Funny way
You got a funny way
Funny way
About you
Then I pick up the telephone
Right then I knew I should of said I wasn't home
Cause are you talking to me
Or just watching your TV yeah yeah yeah
Funny way
You've got a funny way
Funny way about you
You've got a funny way
With all those funny things you do
Yeah yeah yeah
Tag along on a Saturday night
Right away the vibes shot to wrong from right
By two a.m I just can't wait to get you...
Out of my sight!
Funny way
You've got a funny way
Funny way about you
With all those funny things you do
Yeah yeah yeah
Contributed by Nolan S. Suggest a correction in the comments below.
To comment on specific lyrics,
highlight them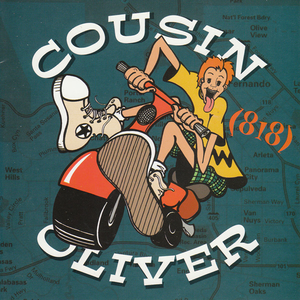 Cousin Oliver was a ska band from California, USA. They were signed to Drive-Thru Records and released their first album (818) in 1997. A second album was recorded but never officially released. The band split up shortly after that.
In the early 2000s, Drive-Thru re-released (818) together with the unreleased songs as bonus tracks.
Genre not found
Artist not found
Album not found
Search results not found
Song not found