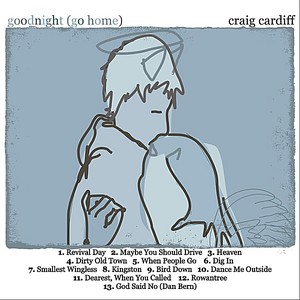 Craig Cardiff (born 9 July 1976 in Waterloo, Ontario) is a Canadian folk singer …
Read Full Bio ↴
Craig Cardiff (born 9 July 1976 in Waterloo, Ontario) is a Canadian folk singer who is known for his soft voice and digital vocal and guitar loops and for the connections he makes with his fans. In 2012, he was nominated for a Juno Award for "Roots and Traditional Album of the Year: Solo" and for a Canadian Folk Music Award as "Contemporary Singer of the Year". His first release was in 1997.

With guitar in hand, Craig can turn any setting into an intimate affair, infusing his music and lyrics with an uncompromising humanism rarely seen in today's production-heavy climate.

Craig makes it a point to keep the relationship with his fans personal, inviting and accepting any opportunity to make his audience as much a part of the performance as he is. Don't be surprised if one day you find yourself enjoying one of Craig's renowned shows in the comfort of your own living room.

In 2012, Cardiff was nominated for a Juno Award for Roots and Traditional Album of the Year: Solo, and for a Canadian Folk Music Award as Contemporary Singer of the Year.

For more information, tour dates, and music, please visit the official Craig Cardiff site.


Partick Artists

Craig Cardiff's Bandcamp page
Jump to: Overall Meaning ↴ Interesting Facts ↴ Line by Line Meaning ↴
Dear son, we've been waiting for you
Thrilled beside ourselves that you've arrived
White coats came in, heads held low
Talked for a bit, shuffled outside
We closed the curtains
And held each other
And cried
We said hello
At the same time
That we said goodbye
And smallest and wingless
Leaving as soon as you'd arrived
But sadness is just love wasted
With no little heart to place it inside
We closed the curtains
And held each other
And cried
We said hello
At the same time
That we said goodbye
We closed the curtains
Held on to one another
And cried
We said hello
At the same time
That we said goodbye
Overall Meaning
The lyrics of Craig Cardiff's song Smallest Wingless are about the experience of a couple who have had a miscarriage. They were thrilled to receive news of the pregnancy but unfortunately, the pregnancy abruptly ended in a miscarriage. The couple opens up about the emotional turmoil that came with having to say goodbye to their child just as they were saying hello. As soon as their child arrived, they left, as small and wingless as they were. The couple goes on to express their sadness at the love that they have for their child which will now go unfulfilled because their little heart never got to beat.
The somberness of the track imparts the complex emotions attached to such a miscarriage. The repeated choruses emphasize the importance of holding onto one another and not just in this moment of grief. The couple draws comfort from one another, strengthening their bond in such a difficult time. They are also hopeful in knowing that love, even if unfulfilled, is never wasted.
Interesting Facts:
Interesting Facts
Note: This section uses generative AI, which can be inaccurate.


Line by Line Meaning
Dear son, we've been waiting for you
Parents eagerly awaiting the birth of their child
Thrilled beside ourselves that you've arrived
The parents are elated and overjoyed upon seeing their baby for the first time
White coats came in, heads held low
The doctors arrived with a somber demeanor
Talked for a bit, shuffled outside
The doctors spoke briefly and hurriedly left the room
And smallest and wingless
The baby was small and did not have the ability to fly
Leaving as soon as you'd arrived
The baby passed away shortly after birth
But sadness is just love wasted
The parents' sorrow is a reflection of how much they had come to love their child, despite the brief time they had with them
With no little heart to place it inside
The parents have nowhere to direct their feelings of love now that their baby is gone
We closed the curtains
The parents are trying to find some privacy during this difficult moment
And held each other
The parents are comforting each other, finding solace in their shared grief
And cried
The parents are letting their emotions take over and expressing their sadness through tears
We said hello
The parents greeted their child for the first and final time
At the same time
The joy of seeing their baby was tempered by the realization that they would soon have to say goodbye
That we said goodbye
The parents had to say goodbye to their child much sooner than they ever imagined
Contributed by Cooper T. Suggest a correction in the comments below.
To comment on or correct specific content,
highlight it
Genre not found
Artist not found
Album not found
Search results not found
Song not found