Story About Chicopee
Craig Cardiff Lyrics
I wanted to, to take her someplace special.
I had no idea where I wanted to take her, I just didn't want to take her home.
On the way, for driving, she said "Do you have a place in mind? We've been driving for about half an hour now"
I said, "uh, yeah"
We stopped at what passes for a ski hill in south-western Ontario
Parked the Hyundai Pony and we walked up to the top of the observation deck,
where everyone who had a friend who worked at a ski hill who got stoned all the time and watched the skiiers from it in the winter time
But it was summer and so we practiced dancing on it
and we cha-cha'd, and fox-trotted, and we waltzed,
And he had his hand on her hip, and it felt like electricity
And he said "Mild weather we're having"
And she said "yeah, it's pretty mild for this time of year"
And they danced into the night
And it was velvet blue
And he said "so, your dad's a pretty avid hunter, hey?"
And she said "he doesn't own a gun at all"
He said "Oh"
Some kids came by
They were getting high
To this new band called Ben Folds... Five
Getting stoned on the ski hill
And they walked down and it was like electricity
They drove home in his beat-up Hyundai Pony
And he walked her to the door
And said "I, I've, I've had a great time tonight. Pretty mild weather we're having, lately"
And she said "I think it's ok for you to kiss me now"
And so they kissed
For a good, it must have been 15 minutes, it could have been an hour, he lost all track of time
In the kiss, and then the stroke started
He was having a stroke, he was sure it was a stroke
The lights were going on and off and on and off and it was amazing
And she pulled away and said "My dad is such an asshole"
He said "oh, I've had a great time. Let's do this again sometime soon"
She said "I've had a pretty good time, too"
He felt like he was floating 18 feet off the ground
And he floated back to the Hyundai Pony
And said goodnight and drove
Listening to Ben Folds on the radio
And singing this song
Contributed by Andrew F. Suggest a correction in the comments below.
To comment on specific lyrics,
highlight them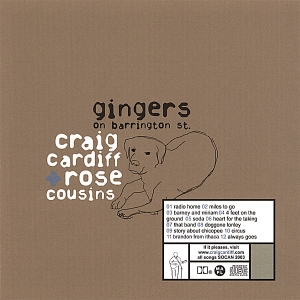 Craig Cardiff (born 9 July 1976 in Waterloo, Ontario) is a Canadian folk singer who is known for his soft voice and digital vocal and guitar loops and for the connections he makes with his fans. In 2012, he was nominated for a Juno Award for "Roots and Traditional Album of the Year: Solo" and for a Canadian Folk Music Award as "Contemporary Singer of the Year". His first release was in 1997.

With guitar in hand, Craig can turn any setting into an intimate affair
Read Full Bio
Craig Cardiff (born 9 July 1976 in Waterloo, Ontario) is a Canadian folk singer who is known for his soft voice and digital vocal and guitar loops and for the connections he makes with his fans. In 2012, he was nominated for a Juno Award for "Roots and Traditional Album of the Year: Solo" and for a Canadian Folk Music Award as "Contemporary Singer of the Year". His first release was in 1997.

With guitar in hand, Craig can turn any setting into an intimate affair, infusing his music and lyrics with an uncompromising humanism rarely seen in today's production-heavy climate.

Craig makes it a point to keep the relationship with his fans personal, inviting and accepting any opportunity to make his audience as much a part of the performance as he is. Don't be surprised if one day you find yourself enjoying one of Craig's renowned shows in the comfort of your own living room.

In 2012, Cardiff was nominated for a Juno Award for Roots and Traditional Album of the Year: Solo, and for a Canadian Folk Music Award as Contemporary Singer of the Year.

For more information, tour dates, and music, please visit the official Craig Cardiff site.


Partick Artists

Craig Cardiff's Bandcamp page
Genre not found
Artist not found
Album not found
Search results not found
Song not found