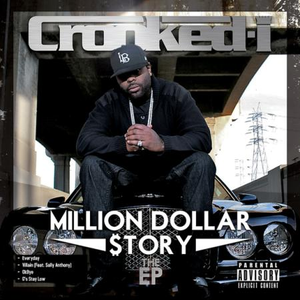 Dominick Wickliffe, better known by his stage name Crooked I is an American rapper from Long Beach, California. The name "Crooked I" comes from a shortened version of his original moniker, Crooked Intriago. It has nothing to do with the malt liquor. He is 1/4th of rap supergroup Slaughterhouse (with Joe Budden, Royce da 5'9" & Joell Ortiz), and is currently regarded as the best rapper on the west coast (because you know, Kendrick Lamar totally does not exist)
Read Full Bio
Dominick Wickliffe, better known by his stage name Crooked I is an American rapper from Long Beach, California. The name "Crooked I" comes from a shortened version of his original moniker, Crooked Intriago. It has nothing to do with the malt liquor. He is 1/4th of rap supergroup Slaughterhouse (with Joe Budden, Royce da 5'9" & Joell Ortiz), and is currently regarded as the best rapper on the west coast (because you know, Kendrick Lamar totally does not exist), after rising to hip-hop prominence with his freestyle series 'Hip-Hop Weekly', which he released a new freestyle over popular industry beats every week for 52 weeks. His first album 'Say Hi to the Bad Guy', originally intended to be released on Death Row Records recently leaked on the internet, and he plans to release his first official album 'B.O.S.S. (Beginning Of Something Serious)' as a free digital download in 2009. Crooked I is CEO of his own record label, Dynasty Entertainment, and Senior Vice President of Treacherous Records. Before he became his own boss, he was also signed to Virgin Records, and most notably, Death Row Records, where he spent four years working under the infamous Suge Knight.
Genre not found
Artist not found
Album not found
Search results not found
Song not found
G's Stay Low
Crooked I Lyrics
We have lyrics for these tracks by Crooked I:



A Lady Fell In Love Fuck man. Damn man, I was fucking a lot of…
Apex Predator C.O.B in this bAnnotateitch, wave the black flag Different k…
BBBB [Hook:] Still led a thug life I'm still an outlaw Me and God…
Circle Gang Anthem I pledge allegiance to the flag of the United States…
Crook n Porter Dominick Senior let me tell you what the maAnnotaten's about…
Crown This is crew love, move music or move drugs This is…
Dancin' On Your Grave We aint afraid to getting dirty round here Man in the…
Death Rizzo [Verse 1] Hold up... I'm just coming to blow ya mind with…
Diamond In The Back Ft. K-Young I got my whole hood rolling right behind me Dia…
Dream Big (feat. Akon) [Chorus: Akon (Crooked I)] See, I remember …
Everyday How many times I gotta tell you niggas? I'm not like…
Everythang Money from the trap house , beef pull the Macks out Stunti…
Fallen Rap Gods All the fallen rap gods, that's the influence I'm under My…
Gangsta [Crooked I] Yo, it's that untouchable gangsta Crooked in to …
Gangstas Cry So many memories I don't understand They got me weak in…
Girl [Yukmouth] Welcome Little boys and girls, listen A man can g…
Independent Put the paper in the paperwork [3x] We independent shawty We…
Intro You fucking with a nigga hot as a flamethrower Ready for…
Let Me Get It Predator shit, PREDATOR! ("You don't have the guts to be wh…
N.W.A. Where I am, what I am You're the only reason Held me…
Never Forget (Crooked I) I'm broker then a bitch and I'm sick and…
Nikki [Hook:] You out grown Nikki up You out grown Nikki up You ou…
No Competition Y'all know what it is, it's ya boy Crooked I December…
No Sleep Gang No sleep gangAnnotate, insomnia gang We out here traffickin…
Nobody Cares I got a question for you When you see another human…
OkBye California, you're now rocking with the motherfucking best …
One More Time Hey Bonnie, hand me my keys baby (Where you finna go?) Psh,…
Pocket Full Of Money (Go In) I send a 100 pounds out of town, still…
Praise GOD Real shit, to all my loved ones in the cemetery I′mma…
Ratchet Heauxs On the road to riches and diamond rings These ratchet heauxs…
Roll Call I resemble my people told me get in there So after…
Sickology Hey, now everybody sit down and shut the fuck up! Class…
So Damn Hood (Crooked I: repeat 2x) It feels so good, when you so…
Sumthin From Nuthin Yeah man, I remember back when a nigga ain't had…
Tell Them MF Now what the hell should I care about, nothing I'm Paramount…
Tell Them MF's We Made It Now what the hell should I care about, nothing I'm Paramoun…
Thinkin Out Loud When your legs don't work like they used to before And…
Uh Oh Uh-oh nigga Bring it This is what happens when you bring the…
Vegas On Biz Yeah, I'm feeling like Jay-Z Annotateon Reasonable Doubt My…
Villain I'm not gone be your villain anymore Don't think I'll live…
Yodo This is how it happens, somebody yell your name You turn…

The lyrics can frequently be found in the comments below or by filtering for lyric videos.