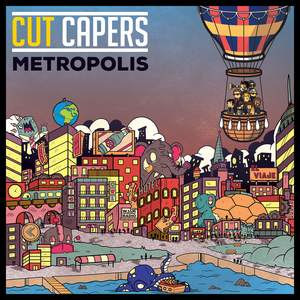 Cut Capers are a 9-piece Bristol band whose energetic live performance and infec…
Read Full Bio ↴
Cut Capers are a 9-piece Bristol band whose energetic live performance and infectious sound have won them a cult following on the British festival scene. Mixing a swinging vintage-style brass section (think Caro Emerald) with funk, soul and hip-hop.
Like all the best bands, (and many of those on Freshly Squeezed Music) their sound is hard to pin down but comparisons have been made to "Madness, The Streets and Lily Allen" among many others (The Bristol Magazine).

Cut Capers have established themselves as go-to festival favourites, playing headline shows and main stage performances at some of the UK's biggest festivals including Glastonbury Festival (official) and Boomtown Fair.
They have now performed in over 50 cities across 8 countries including Italy, Turkey and Bahrain.
To launch their new album METROPOLIS; Bristol's own Cut Capers now embark upon their first ever UK album tour playing some of the UK's finest venues!

"Inspirational" – Jimmy Cliff "

"Come on! That puts a wiggle in your walk!" – Craig Charles, BBC Radio 6

"Something really special and unique" – Dave Yabsley, BBC Radio Bristol
Jump to: Overall Meaning ↴ Interesting Facts ↴ Line by Line Meaning ↴
Secret summer escapades
From dusk to dawn unplanned
Night time lovers serenade
Each other on the Grand
I can feel it in the air
Magical and sweet
Drinks will flow, no one knows
Who they'll meet
I'm keeping my feet off the ground
Believing there's more to astound
I'm stealing the sights and the sounds
Yeah
Twisting through the cobbled streets
Where old and new collide
Bridges arch the waterways
That run and intertwine
Sun illuminates the scene
People smile and grin
Tipsy nights, heat ignites
The wild within
I'm keeping my feet off the ground
Believing there's more to astound
I'm stealing the sights and the sounds
Yeah
I'm keeping my feet off the ground
Believing there's more to astound
I'm stealing the sights and the sounds
Yeah
I'm keeping my feet off the ground
Believing there's more to astound
I'm stealing the sights and the sounds
Yeah
You know I'm keeping my feet off the ground
Believing there's more to astound
I'm keeping my feet off the ground
Yeah
Do do do, do do do
Do do do, do do do
Do do do, do do do
Do do do, do do do
Overall Meaning
The lyrics to "Elephant" by Cut Capers depict a sense of excitement and adventure, taking place during a secret summer escapade. The song captures the feeling of freedom and spontaneity as the singer indulges in unplanned nighttime affairs. The lovers in the song serenade each other on the Grand, an iconic location that adds to the allure and charm of the experience.
The atmosphere described in the lyrics is magical and sweet, with an air of mystery and anticipation. The lyrics suggest that drinks will flow and people will meet, hinting at the possibility of unexpected encounters and connections during this nighttime adventure. The sense of escapism is reinforced by the line "I'm stealing the sights and the sounds," emphasizing the desire to immerse oneself in the new and exciting surroundings.
As the singer twists through the cobbled streets where old and new collide, there is a feeling of vibrance and energy. Bridges arching the waterways further enhance the sense of movement and intertwining paths. The sun illuminates the scene, and the smiles and grins of the people create a lively atmosphere. The reference to "tipsy nights" and the ignition of heat within evoke a sense of the wild and passionate experiences had during this escapade.
Overall, "Elephant" by Cut Capers portrays a carefree and exhilarating journey through a summer night filled with unexpected encounters, beautiful scenery, and a sense of liberation.
Interesting facts about the song "Elephant":
Interesting Facts
Note: This section uses generative AI, which can be inaccurate.


Line by Line Meaning
Secret summer escapades
Hidden adventures during the summer
From dusk to dawn unplanned
Unplanned activities occurring from evening till morning
Night time lovers serenade
Romantic songs sung by lovers at night
Each other on the Grand
They express their love for each other in a grand manner
I can feel it in the air
There is an undeniable atmosphere or energy
Magical and sweet
Enchanting and delightful
Drinks will flow, no one knows
Alcoholic beverages will be consumed, uncertain of the outcomes
Who they'll meet
Unknown individuals they will encounter
I'm keeping my feet off the ground
I refuse to stay grounded or limited
Believing there's more to astound
Having faith that there are further amazing things to experience
I'm stealing the sights and the sounds
I am witnessing and absorbing the beauty and melodies
Twisting through the cobbled streets
Navigating through the uneven, stone-paved roads
Where old and new collide
A place where traditional and modern elements meet
Bridges arch the waterways
Structures spanning over rivers or canals
That run and intertwine
Streams or pathways that flow together and connect
Sun illuminates the scene
The sunlight enhances the beauty of the surroundings
People smile and grin
Individuals express happiness and joy on their faces
Tipsy nights, heat ignites
Intoxicated evenings filled with passion
The wild within
One's untamed and spontaneous nature
You know I'm keeping my feet off the ground
You are aware that I refuse to be constrained or limited
I'm keeping my feet off the ground
I persist in not being confined or restricted
Yeah
Expressing agreement or enthusiasm
Lyrics © O/B/O APRA AMCOS
Written by: Nick van Tinteren, Jane Thomas, Mark Pearce, Eloy Bandin, Tom Taylor, Matt Sunderland

Lyrics Licensed & Provided by LyricFind
To comment on or correct specific content,
highlight it
Genre not found
Artist not found
Album not found
Search results not found
Song not found