Large Tortoise
Cut Capers Lyrics
Kaleidoscope illusions pour out
And frighten us all
Temptation's falling into my eyes
You'll never know
Kaleidoscope illusions pour out
And frighten us all
Kaleidoscope illusions pour out
And frighten us all
Temptation's falling into my eyes
You'll never know
Kaleidoscope illusions pour out
And frighten us all
Open up your mind
Cos there's nothing left to find
Take it back unwind
Work it out keep going
Open up your mind
Cos there's nothing left to find
Take it back unwind
Work it out keep going
Open up your mind
Cos there's nothing left to find
Take it back unwind
Work it out keep going
Open up your mind
Cos there's nothing left to find
Take it back unwind
Work it out keep going
Writer(s): eloy bandin, jane thomas, mark pearce, matt sunderland, tom taylor, nick van tinteren

Contributed by Xavier K. Suggest a correction in the comments below.
To comment on specific lyrics,
highlight them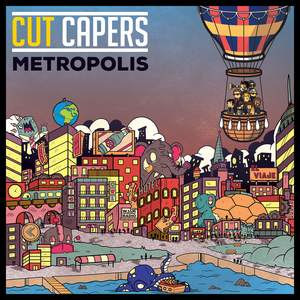 Cut Capers are a 9-piece Bristol band whose energetic live performance and infectious sound have won them a cult following on the British festival scene. Mixing a swinging vintage-style brass section (think Caro Emerald) with funk, soul and hip-hop.
Like all the best bands, (and many of those on Freshly Squeezed Music) their sound is hard to pin down but comparisons have been made to "Madness, The Streets and Lily Allen" among many others (The Bristol Magazine).
Read Full Bio
Cut Capers are a 9-piece Bristol band whose energetic live performance and infectious sound have won them a cult following on the British festival scene. Mixing a swinging vintage-style brass section (think Caro Emerald) with funk, soul and hip-hop.
Like all the best bands, (and many of those on Freshly Squeezed Music) their sound is hard to pin down but comparisons have been made to "Madness, The Streets and Lily Allen" among many others (The Bristol Magazine).

Cut Capers have established themselves as go-to festival favourites, playing headline shows and main stage performances at some of the UK's biggest festivals including Glastonbury Festival (official) and Boomtown Fair.
They have now performed in over 50 cities across 8 countries including Italy, Turkey and Bahrain.
To launch their new album METROPOLIS; Bristol's own Cut Capers now embark upon their first ever UK album tour playing some of the UK's finest venues!

"Inspirational" – Jimmy Cliff "

"Come on! That puts a wiggle in your walk!" – Craig Charles, BBC Radio 6

"Something really special and unique" – Dave Yabsley, BBC Radio Bristol
Genre not found
Artist not found
Album not found
Search results not found
Song not found