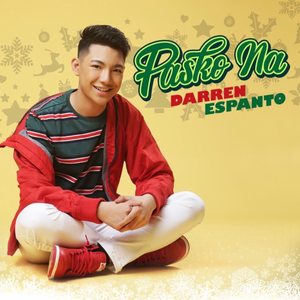 Darren Espanto is a top 6 contestant from YTV's The Next Star Season 5 from Calgary, Alberta, Canada. He is also a top 4 contestant from The Voice Kid Philippines.
Genre not found
Artist not found
Album not found
Search results not found
Song not found
We have lyrics for 'Pasko Na' by these artists:



Willy Garte Tunay na kay ganda ng pasko Nagbibigayan ang bawat tao Kay s…



We have lyrics for these tracks by Darren Espanto:



7 Minutes You push me away as you slam the door You're screamin…
Ah! Basta Gusto Kita Nang minsan kang matitigan ay Di na makalimutan Ang taglay m…
Alam Oh oh oh Iwas tingin at pilit na ngiti Parang ayaw akong…
Believe In Christmas We've all been hiding Time stopped turning And thought we co…
Build a Girl Hey girl with the pretty pink polka dot bikini I don't…
Diamonds Shine bright like a diamond Shine bright like a diamond Find…
Domino I'm feeling sexy and free Like glitter's raining on me You'r…
Dying Inside To Hold You It's turning out just another day I took a shower and…
Ewan Ko Tuwina pag naaalala ka'y nangingiti ako May kaba dito sa Pus…
Gotta Give a Little Extra You're my heart my love from the start correct? (yes) True…
Hanggang Hi Hello HANGGANG HI HELLO Hindi ko alam kung anong sasabihin sayo B…
Home Everyone sees such a strong voice in me But sometimes they…
I Believe In Me Like an island all alone In this ocean that is so…
In Love Ako Sa 'Yo Oh Mula nung makilala ka Lagi na lamang naiisip ka Ang yung …
Locked out of Heaven Oh yeah yeah Oh yeah yeah yeah Ooh! Oh yeah yeah Oh yeah yea…
Makin' Moves I took a look at your photograph The one you posted…
My Girl Di mo ba napansin Nagpapa-cute ako sa'yo't panay ang tingin …
Ngayon Ngayon ang simula ng hiram mong buhay Ngayon ang daigdig mo'…
One Moment In Time Each day I live I want to be a day to…
Parachute What if, my pattern was a prison cell What if, I…
Puppy Love And they called it puppy love Oh, I guess they'll never…
Shake Your Body I don't know what's going happen to you, baby But I…
Shake Your Body (Down to the Ground) I don't know what's going happen to you, baby But I…
Somebody To Love For you I'd write a symphony I'd tell the violin it's…
Starlight If you wanna fall in love, Then you gotta take a…
Stuck I was too dumb to notice That there's something about you Wh…
Talking Bout Love They don't think we've got What it takes for us to…
Wanna Be Startin Somethin I Said You Wanna Be Startin' Somethin' You Got To Be…
You Are the Only One Girl you are my number one You can never be undone You…

The lyrics can frequently be found in the comments below, by filtering for lyric videos or browsing the comments in the different videos below.