Been spending so much time underground
I guess my eyes adjusted
To the lack of light
I got
Covered in darkness
Covered in darkness
I have been waiting
Always waiting for something new
Happiness has always ended
In the blink of an eye
There was no one attending
No one attending
It doesn't really matter where it all began
All I know
I got covered in darkness
Covered in darkness
Ever wonder why I never really truly connect
Although my eyes are open
I can hold your gaze
But I am never connected
Never connected
I am famous for my generosity
They say I am the kindest
But it is easier to
Give than receive love
Give than receive love
It doesn't really matter where it all began
All I know
I was covered in darkness
Covered in darkness
Turning pages over
Run away to nowhere
And it's hard to take control
When your enemy's old and afraid of you
You'll discover that the monster you were running from
Is the monster in you
Better to hold on to love
Better to hold on to love
Change will come
It doesn't really matter where it all began
All I know
I was covered in darkness
Covered in darkness
It doesn't really matter where it all began
'cause all I know
I was lost
I was lost
No, no
It doesn't really matter where it all began no no
All I know
I was lost
I feel lost
Lost
No
Lyrics © Sony/ATV Music Publishing LLC, Songtrust Ave
Written by: DARREN HAYES, ROBERT CONELY

Lyrics Licensed & Provided by LyricFind
To comment on specific lyrics,
highlight them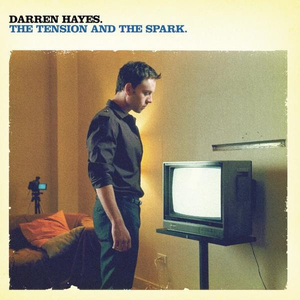 Darren Stanley Hayes (born 8 May 1972 in Brisbane, Queensland) is an Australian singer-songwriter. He's best known as the vocalist of the hugely popular 90s duo Savage Garden, whose international hits included "Truly Madly Deeply", " I Want You" and "I knew I loved you".

Hayes' first solo album Spin was released in 2002, carrying on in the same musical vein as Savage Garden, with a less soft rock sound and more edgy R&B vibe, although the first single Insatiable was a ballad, reaching Number 3 in Australia.
Read Full Bio
Darren Stanley Hayes (born 8 May 1972 in Brisbane, Queensland) is an Australian singer-songwriter. He's best known as the vocalist of the hugely popular 90s duo Savage Garden, whose international hits included "Truly Madly Deeply", " I Want You" and "I knew I loved you".

Hayes' first solo album Spin was released in 2002, carrying on in the same musical vein as Savage Garden, with a less soft rock sound and more edgy R&B vibe, although the first single Insatiable was a ballad, reaching Number 3 in Australia. Other singles "Strange Relationship", "Crush (1980 Me)" and "I Miss You" also performed well in charts.

Hayes spent two years working on his second solo album, The Tension And The Spark. Other than the track "I Forgive You" which was produced with Madonna collaborator Marius De Vries, the entire album was produced by Darren himself and Robert Conley (with whom he had previously toured and recorded Crush (1980 Me) for Spin). The album marked a bold change of direction from Hayes. Conley's production was almost entirely electronic, with acoustic instruments buried under walls of sequenced sounds. Although artistically this was a huge step forward and earned Hayes the strongest praise of his career, it seemed to alienate a large portion of his audience who were expecting another album of radio friendly pop songs. The first single Pop!ular was released on July 12, 2004. This single reached Number One on the US Dance Charts, and fared well in the UK. His follow up single, Darkness, failed to chart, leaving Dublin Sky - the planned third release - in limbo. Ironically, "Dublin Sky" was considered by many to be one of the strongest and most accessible songs on the album and the most likely to be a hit.

Truly Madly Completely, Savage Gardens greatest hits album was released in late 2005 and featured two new songs - So Beautiful and California. The tour, 'A Big Night In with Darren Hayes' followed in 2006. In July 2006, Hayes announced that he had married his boyfriend of two years, Richard Cullen, in a Civil Partnership Ceremony.

Hayes released a double album, This Delicate Thing We've Made, on 20 August 2007 on his newly formed independent label ''Powdered Sugar''. "The record features 25 songs recorded with the help of a Vintage 1983 Fairlight CMI syth - a cinematic, theatrical and epic Pop Opus." The first single to come from Hayes' third album was On the Verge of Something Wonderful to be followed by Me, Myself and (I) later in 2007.
In mid 2010, Hayes announced the completion of this fourth solo album. It is being mixed by Robert Orton. The album will be released in 2011.
The first single from Darren's new album Secret Codes and Battleships is called 'Talk Talk Talk' and will be released on iTunes worldwide on June 24 the same day it is delivered to radio and the music video is released online and debuts on T.V.
Darren wrote and recorded the song in Sweden with producer Carl Falk - it was mixed by Robert Orton and mastered by Bob Ludwig.
On iTunes there'll also be a b-side - Darren's cover version of Madonna's 'Angel'.
http://www.darrenhayes.com
http://www.myspace.com/darrenhayes
http://www.youtube.com/darrenhayes
Genre not found
Artist not found
Album not found
Search results not found
Song not found