Jump to: Overall Meaning | Line by Line Meaning
Like to take a cement fix
Be a standing cinema
Dress my friends up just for show
See them as they really are
Put a peephole in my brain
Two New Pence to have a go
I'd like to be a gallery
Put you all inside my show
Andy Warhol looks a scream
Hang him on my wall
Andy Warhol, Silver Screen
Can't tell them apart at all
Andy walking, Andy tired
Andy take a little snooze
Tie him up when he's fast asleep
Send him on a pleasant cruise
When he wake up on the sea
He sure to think of me and you
He'll think about paint and he'll think about glue
What a jolly boring thing to do
Andy Warhol looks a scream
Hang him on my wall
Andy Warhol, Silver Screen
Can't tell them apart at all
Andy Warhol looks a scream
Hang him on my wall
Andy Warhol, Silver Screen
Can't tell them apart at all
Overall Meaning
The song "Andy Warhol" by David Bowie is a tribute to the iconic pop artist of the 1960s and 1970s, and a reflection on the nature of fame and celebrity culture. The lyrics depict the desire to be like Warhol, to create art and put on a show, and to see people as they really are. The first stanza describes a desire to create a spectacle, to dress up friends and put them on display, and to look into one's own mind and try to understand it. The second stanza describes the image of Andy Warhol himself, how he is both a work of art and a representative of the silver screen, and how he embodies the idea of "famous for being famous". The third stanza takes a more lighthearted approach, imagining Warhol as a tired and sleepy figure who can be easily tied up and sent away on a cruise, and how this mundane activity would seem dull in comparison to his artistic work.
Overall, the song is a poignant commentary on the nature of art, fame, and identity, and captures the spirit of an entire era in American culture. The lyrics reflect Bowie's admiration for Warhol and his impact on contemporary art and society, while also acknowledging the superficiality and absurdity of the celebrity culture that surrounded him.

Line by Line Meaning
Like to take a cement fix
I enjoy the idea of becoming a part of a solid and unchanging structure, like cement.
Be a standing cinema
I want to be a permanent source of entertainment and art, like a movie theater that stands the test of time.
Dress my friends up just for show
I like to use my friends as examples of different styles and cultures, like a fashion statement.
See them as they really are
Despite using my friends to display different looks, I understand and appreciate their true identity.
Put a peephole in my brain
I want to have an open and unrestricted outlook on the world, to see everything without hindrance.
Two New Pence to have a go
I'm willing to spend a small amount of money for a new experience in life.
I'd like to be a gallery
I envision myself as a platform to showcase art and creativity, like a gallery.
Put you all inside my show
I want to involve others in my art and creativity, to create a community and exchange of ideas.
Andy Warhol looks a scream
Andy Warhol is a bold and exciting figure, and his impact on art is undeniable.
Hang him on my wall
I want to display a reminder of Warhol's influence in my personal space.
Andy Warhol, Silver Screen
Warhol's work as a filmmaker was just as influential and revolutionary as his artwork in other mediums.
Can't tell them apart at all
Warhol's art blurs the lines between reality and fiction, making it difficult to discern what is real and what is not.
Andy walking, Andy tired
Even someone as iconic as Warhol experiences exhaustion and vulnerability.
Andy take a little snooze
Warhol, like any other person, needs rest and rejuvenation.
Tie him up when he's fast asleep
I want to keep Warhol close and contained, even in his vulnerable state.
Send him on a pleasant cruise
I want to give Warhol a relaxing and enjoyable experience, even if it involves containing him.
When he wake up on the sea
Warhol will wake up in a new and unfamiliar environment.
He sure to think of me and you
Warhol will have memories and thoughts of those who orchestrated his experience.
He'll think about paint and he'll think about glue
Even during his leisure time, Warhol will still likely be thinking about his art and creative process.
What a jolly boring thing to do
Warhol's leisure activities may seem mundane or uneventful to others, but they still hold value and meaning to him.
Lyrics © Wixen Music Publishing, BMG Rights Management, Universal Music Publishing Group, Sony/ATV Music Publishing LLC
Written by: David Bowie

Lyrics Licensed & Provided by LyricFind
To comment on or correct specific content,
highlight it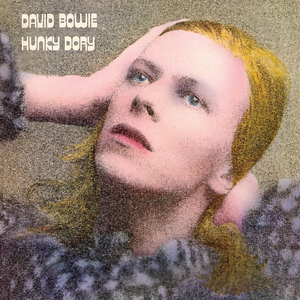 David Robert Jones (8 January 1947 – 10 January 2016), known professionally as David Bowie, was an English singer-songwriter and actor. A leading figure in the music industry, he is regarded as one of the most influential musicians of the 20th century. Bowie was acclaimed by critics and musicians, particularly for his innovative work during the 1970s. His career was marked by reinvention and visual presentation, and his music and stagecraft had a significant impact on popular music.
Read Full Bio
David Robert Jones (8 January 1947 – 10 January 2016), known professionally as David Bowie, was an English singer-songwriter and actor. A leading figure in the music industry, he is regarded as one of the most influential musicians of the 20th century. Bowie was acclaimed by critics and musicians, particularly for his innovative work during the 1970s. His career was marked by reinvention and visual presentation, and his music and stagecraft had a significant impact on popular music.

Bowie developed an interest in music from an early age. He studied art, music and design before embarking on a professional career as a musician in 1963. "Space Oddity", released in 1969, was his first top-five entry on the UK Singles Chart. After a period of experimentation, he re-emerged in 1972 during the glam rock era with his flamboyant and androgynous alter ego Ziggy Stardust. The character was spearheaded by the success of Bowie's single "Starman" and album The Rise and Fall of Ziggy Stardust and the Spiders from Mars, which won him widespread popularity. In 1975, Bowie's style shifted towards a sound he characterised as "plastic soul", initially alienating many of his UK fans but garnering him his first major US crossover success with the number-one single "Fame" and the album Young Americans. In 1976, Bowie starred in the cult film The Man Who Fell to Earth and released Station to Station. In 1977, he again changed direction with the electronic-inflected album Low, the first of three collaborations with Brian Eno that came to be known as the "Berlin Trilogy". "Heroes" (1977) and Lodger (1979) followed; each album reached the UK top five and received lasting critical praise.

After uneven commercial success in the late 1970s, Bowie had three number-one hits: the 1980 single "Ashes to Ashes", its album Scary Monsters (and Super Creeps), and "Under Pressure" (a 1981 collaboration with Queen). He achieved massive commercial success in the 1980s starting with Let's Dance (1983). Between 1988 and 1992, he fronted the hard rock band Tin Machine before resuming his solo career in 1993. Throughout the 1990s and 2000s, Bowie continued to experiment with musical styles, including industrial and jungle. He also continued acting; his roles included Major Jack Celliers in Merry Christmas, Mr. Lawrence (1983), Jareth the Goblin King in Labyrinth (1986), Pontius Pilate in The Last Temptation of Christ (1988), and Nikola Tesla in The Prestige (2006), among other film and television appearances and cameos. He stopped touring after 2004 and his last live performance was at a charity event in 2006. In 2013, Bowie returned from a decade-long recording hiatus with The Next Day. He remained musically active until his death from liver cancer at his home in New York City. He died two days after both his 69th birthday and the release of his final album, Blackstar (2016).

During his lifetime, his record sales, estimated at over 100 million records worldwide, made him one of the best-selling musicians of all time. In the UK, he was awarded ten platinum, eleven gold and eight silver album certifications, and released 11 number-one albums. In the US, he received five platinum and nine gold certifications. He was inducted into the Rock and Roll Hall of Fame in 1996. Rolling Stone ranked him among the greatest artists in history. As of 2022, Bowie was the best-selling vinyl artist of the 21st century.

Full Wikipedia article: https://en.wikipedia.org/wiki/David_Bowie

Studio albums
David Bowie (1967)
David Bowie/Space Oddity (1969)
The Man Who Sold the World (1970)
Hunky Dory (1971)
The Rise and Fall of Ziggy Stardust and the Spiders from Mars (1972)
Aladdin Sane (1973)
Pin Ups (1973)
Diamond Dogs (1974)
Young Americans (1975)
Station to Station (1976)
Low (1977)
"Heroes" (1977)
Lodger (1979)
Scary Monsters (and Super Creeps) (1980)
Let's Dance (1983)
Tonight (1984)
Never Let Me Down (1987)
Black Tie White Noise (1993)
The Buddha of Suburbia (1993)
Outside (1995)
Earthling (1997)
Hours (1999)
Heathen (2002)
Reality (2003)
The Next Day (2013)
Blackstar (2016)
Genre not found
Artist not found
Album not found
Search results not found
Song not found