One
Two
One-two-two
Shiruetto ya kage ga kakumei o miteiru
Mo tengoku no giyu no kaidan wa nai
Silhouettes and shadows
Watch the revolution
No more free steps to heaven
It's no game
Ore genjitsu kara shime dasare
Nani ga okkote irunoka wakara nai
Doko ni kyokun wa arunoka
Hitobito wa yubi o orareteiru
Konna dokusaisha ni iyashime rareru nowa kanashii
I am bored from the event
I really don't understand the situation
And it's no game
Documentaries on refugees
Couples 'gainst the target
You throw a rock against the road
And it breaks into pieces
Draw the blinds on yesterday
And it's all so much scarier
Put a bullet in my brain
And it makes all the papers to
Nammin no kiroku eiga
Hyoteki o se ni shita koibito tachi
Michi ni ishi o nage reba
Kona gona ni kudake
Kino ni huta o sureba
Kyohu wa masu
Ore no atama ni tama o buchi kome ba
Shinbun wa kaki tateru
So where's the moral
When people have their fingers broken
To be insulted by these fascists
It's so degrading
And it's no game
Shut up!
Shut up!
Lyrics © O/B/O APRA AMCOS
Written by: DAVID BOWIE

Lyrics Licensed & Provided by LyricFind
To comment on specific lyrics,
highlight them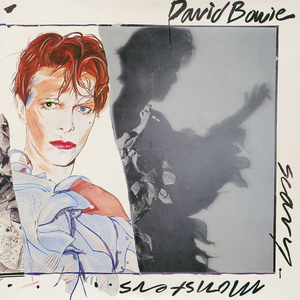 According to the It's No Game (Part 1) Songfacts, this song features a shouted Japanese female lyric by Japanese singer Michi Hirota who was at the time a member of Japan's Red Buddha Theatre, performing in London..
According to David Buckley's Strange Fascination - David Bowie: The Definitive Story, the English singer employed a strident female vocal, "to break down a particular kind of sexist attitude" regarding Japanese girls and women in general.
Genre not found
Artist not found
Album not found
Search results not found
Song not found