The Heart Is Not So Smart
DeBarge Lyrics
You know that she is just a heartbreak in disguise
You know that fallin? for the girl is not so wise
But every time your mind wants you to stay away
Your heart just looks the other way
Oh, oh, she's all that you want now
Oh, oh, she's nothin? you need
Oh, oh, but there you go, blame it all on love
You know you should know better
But the heart is not so smart
Can't always trust it, no
The heart is not so smart
Goes where it should not go
Always seems to find
Its way to trouble, no
The heart is not so smart
Oh, no, oh, no
The heart?s been broken
It?s been bruised and it's been burned
So after that you think a lesson might be learned
But it keeps fallin' for the same lines every time
Sometimes the heart can be so blind
Oh, oh, and when you discover
Oh, oh, she's tellin? you lies
Oh, oh, well, don't you know
That the heart is always last to realize
Because the heart is not so smart
Can't always trust it, no
The heart is not so smart
Goes where it should not go
Always seems to find
Its way to trouble, no
The heart is not so smart
Oh, no
Oh, they say trust your emotions
Oh, oh, your feelings inside
Oh, oh, but when it comes to love
Sometimes it's better that the heart is not your guide
Because the heart is not so smart
The heart is not so smart
The heart is not so smart
Can't always trust it, no
The heart is not so smart
Goes where it should not go
Always seems to find
Its way to trouble, no
The heart is not so smart
The heart is not so smart
Whoa, oh, whoa, oh, oh
The heart is not so smart
No, no, no, no
The heart is not so smart
Whoa, oh, whoa, oh, oh
The heart is not so smart, no, no
Oh, whoa, whoa, whoa
The heart is not so smart
You can't always trust it, no
The heart is not so smart
No, no, no, no
The heart is not so smart
Whoa, oh, whoa, oh, oh
The heart is not so smart, no, no
Oh, whoa, oh, whoa, whoa
The heart is not so smart
Can't always trust it, no
The heart is not so smart
No, no, no, no
The heart is not so smart
Whoa, oh, whoa, oh, oh
The heart is not so smart
Lyrics © Universal Music Publishing Group
Written by: DIANE WARREN

Lyrics Licensed & Provided by LyricFind
To comment on specific lyrics,
highlight them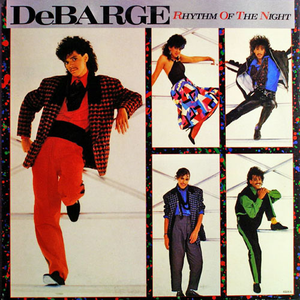 The Heart Is Not So Smart
DeBarge was an American R&B and soul music group. Hailing from Grand Rapids, Michigan, the group is named for their shared surname, and included the brothers Mark, James, Randy, and Eldra (or "El"), and their sister Bunny. Younger siblings Chico, Darryl, and Carol DeBarge were also singers (though not with the group), with Chico later becoming a solo star in his own right. The DeBarges, of African-American/French-Canadian descent, signed with the Motown label in the 1970s, and became one of their few successful acts during the 1980s.
Genre not found
Artist not found
Album not found
Search results not found
Song not found