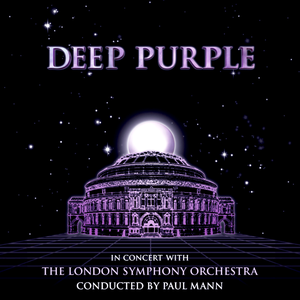 That's Why God Is Singing the Blues
Deep Purple is an English rock band formed in London in 1968. They are considere…
Read Full Bio ↴
Deep Purple is an English rock band formed in London in 1968. They are considered to be among the pioneers of heavy metal and modern hard rock music, but their musical style has changed over the course of its existence. Originally formed as a psychedelic and progressive rock band, they shifted to a heavier sound with their 1970 album Deep Purple in Rock. Deep Purple, together with Led Zeppelin and Black Sabbath, have been referred to as the "unholy trinity of British hard rock and heavy metal in the early to mid-seventies". They were listed in the 1975 Guinness Book of World Records as "the globe's loudest band" for a 1972 concert at London's Rainbow Theatre and have sold over 100 million records worldwide.

Deep Purple have had several line-up changes and an eight-year hiatus (1976–1984). The first four line-ups, which constituted the band's original 1968–1976 run, are officially indicated as Mark I (1968–1969), Mark II (1969–1973), Mark III (1973–1975) and Mark IV (1975–1976). Mark II was the most commercially successful line-up, with Ian Gillan (vocals) and Roger Glover (bass) joining Jon Lord (keyboards), Ian Paice (drums) and Ritchie Blackmore (guitar), the latter three having been members of Mark I with Rod Evans (vocals) and Nick Simper (bass). Mark III saw David Coverdale (vocals) and Glenn Hughes (bass and vocals) replace Gillan and Glover, while Mark IV featured Tommy Bolin (guitar) replacing Blackmore. Mark II was revived from 1984–1989 and again from 1992–1993, with Joe Lynn Turner (vocals) replacing Gillan in the intervening 1989–1992 period. Mark II definitively ended in 1993, when Blackmore left Deep Purple for the second and final time. He was replaced temporarily by Joe Satriani (guitar) and then permanently by Steve Morse (guitar). In 2002 Don Airey (keyboards) replaced Lord, which saw Deep Purple settle into it's longest running line-up, unchanged for the next twenty years, until Morse announced his departure from the band in 2022. His place was taken by Simon McBride (guitar). Ian Paice, Roger Glover, Ian Gillan, Don Airey and Simon McBride comprise the current line-up of Deep Purple.

Deep Purple were ranked number 22 on VH1's Greatest Artists of Hard Rock programme, and a poll on radio station Planet Rock ranked them 5th among the "most influential bands ever". The band received the Legend Award at the 2008 World Music Awards. Deep Purple (specifically Blackmore, Lord, Paice, Gillan, Glover, Coverdale, Evans, and Hughes) were inducted into the Rock and Roll Hall of Fame in 2016.

Full Wikipedia article: https://en.wikipedia.org/wiki/Deep_Purple

Studio albums
Shades of Deep Purple (1968)
The Book of Taliesyn (1968)
Deep Purple (1969)
Deep Purple in Rock (1970)
Fireball (1971)
Machine Head (1972)
Who Do We Think We Are (1973)
Burn (1974)
Stormbringer (1974)
Come Taste the Band (1975)
Perfect Strangers (1984)
The House of Blue Light (1987)
Slaves and Masters (1990)
The Battle Rages On... (1993)
Purpendicular (1996)
Abandon (1998)
Bananas (2003)
Rapture of the Deep (2005)
Now What?! (2013)
Infinite (2017)
Whoosh! (2020)
Turning to Crime (2021)
That's Why God Is Singing the Blues
Deep Purple Lyrics
Jump to: Overall Meaning ↴ Interesting Facts ↴ Line by Line Meaning ↴
We took the p out of paradise
just to produce this hell
And all we're going to leave behind is this decaying putrid smell
We've lived in this world
seen her used and abused
That's why god is singing the blues
They felled a great oak over there
they filled a duck pond over here
We've got a glass and concrete monster now that feeds and caters to
our fears
Maybe it's too late
to spoil another view
That's why god is singing the blues
Forgive us father
for we know not what we do
Blame it on each other
and in the name of you
Forgive us mother
for the pain we caused
we destroyed what's yours
That's why papa's singing the blues
Polluted all the oceans
pulped all the trees
Plagued by chronic boredom
we blew a hole in the atmosphere
We tore out her heart
left her battered and bruised
That's why god is singing the blues
Forgive us father
for we know not what we do
Blame it on each other
and in the name of you
Forgive us mother
for the pain we caused
we destroyed what's yours
That's why papa's singing the blues
You may believe in evolution
you may believe in god's great creation
The only thing we know for sure
we got a man made situation
We turned this whole world
into a dying zoo
That's why god is singing the blues
You better live on your feet
than die on your knees
I stole that from some graffiti
lord have mercy please
Living in this babylon
keeps us confused
That's why god is singing the blues
Overall Meaning
The song "That's Why God is Singing the Blues" by Deep Purple is a commentary about humanity's disregard for the environment and the destruction that has followed. The lyrics convey a sense of guilt and remorse for the actions of mankind, as expressed in the line "Forgive us father, for we know not what we do." The lyrics also touch on the idea that humanity has turned the world into a "dying zoo," filled with pollution, deforestation, and a lack of awareness about the impact of our actions on the world around us. The song suggests that the state of the world is so dire that even God is singing the blues.
The lyrics present a bleak picture of the world, with lines like "We tore out her heart, left her battered and bruised" and "all we're going to leave behind is this decaying putrid smell." The song is a call to action for individuals to take responsibility and live in a more environmentally conscious way. The final lines of the song, "You better live on your feet than die on your knees," suggest that it is better to take proactive steps towards creating positive change rather than waiting for disaster to strike.
Interesting facts:
Interesting Facts
Note: This section uses generative AI, which can be inaccurate.


Line by Line Meaning
We took the p out of paradise just to produce this hell
We've ruined our environment so much that we've destroyed the paradise we once had and made a living hell for ourselves.
And all we're going to leave behind is this decaying putrid smell
Our actions will lead to nothing but destruction and decay, which will become our legacy.
We've lived in this world seen her used and abused
We've been alive long enough to witness the irreversible damage we've done to our planet.
That's why god is singing the blues
Our destruction of the planet has made even God sad and disappointed, and he is mourning it through music.
They felled a great oak over there they filled a duck pond over here
We've destroyed nature for our own gains and whims, without thought for the consequences.
We've got a glass and concrete monster now that feeds and caters to our fears
We've created a world that is based on our fears and is devoid of nature, which will only lead to our ultimate demise.
Maybe it's too late to spoil another view
We've already done so much damage to the environment that it might be too late to stop it now.
Forgive us father for we know not what we do
We've acted without understanding or empathy, and we ask God for forgiveness for our ignorance.
Blame it on each other and in the name of you
We've blamed each other for our problems and invoked God to justify our actions instead of taking responsibility for them.
Forgive us mother for the pain we caused we destroyed what's yours
We've destroyed nature, which is symbolically represented as our mother, and we ask for forgiveness for the pain we've caused.
Polluted all the oceans pulped all the trees
We've destroyed the natural resources that were once abundant and have polluted the water and the air.
Plagued by chronic boredom we blew a hole in the atmosphere
We've been too focused on materialistic and superficial things, and as a result, we have destroyed the ozone layer.
We tore out her heart left her battered and bruised
Our destructive behavior has left the planet hurt and traumatized, just like a person who has been battered and bruised.
You may believe in evolution you may believe in god's great creation
The debate on whether God created the universe or it evolved naturally is irrelevant as both viewpoints recognize how dire the situation is.
The only thing we know for sure we got a man made situation
Regardless of what we believe or how we got here, we know that we're responsible for the destruction and chaos that we've brought upon ourselves.
We turned this whole world into a dying zoo
We've turned the planet into a place that is dying and hopeless, with only remnants of thriving wildlife and nature left.
You better live on your feet than die on your knees
It's better to take action and live with purpose than to remain stagnant and perish because of our own inaction.
I stole that from some graffiti lord have mercy please
The singer acknowledges that the quote they used is borrowed, with a plea to a higher power for help and mercy.
Living in this babylon keeps us confused
The chaos and destruction we've caused is like living in the biblical Tower of Babel - it's made us confused and disoriented.
That's why god is singing the blues
The chorus repeats again to emphasize how our actions have led to the ultimate destruction of the planet and how even God mourns our mistakes.
Contributed by Alice F. Suggest a correction in the comments below.
To comment on or correct specific content,
highlight it
Genre not found
Artist not found
Album not found
Search results not found
Song not found