Here we are
Sharing our lives
We made it through
The good and bad times
And still we stand
With hope in our hearts
No matter what
We will play our part
And now we've come so far
One chance to touch a star
Go higher and higher
Find your guiding inspiration
In a place where dreams are made
With a lifetime's preparation
It's no time to be afraid
Put our difference behind us
While we shine like the sun
See what we've all become
Together we are one
Deep inside your heart and soul
You've worked so hard
To reach your goal
With every step
With every breath
You gave it all
Till there was nothing left
Seek out the strength to win
No thoughts of giving in
Go higher and higher
Find your guiding inspiration
In a place where dreams are made
With a lifetime's preparation
It's no time to be afraid
Put our difference behind us
While we shine like the sun
See what we've all become
Together we are one
Find your guiding inspiration
In a place where dreams are made
With a lifetime's preparation
It's no time to be afraid
Put our difference behind us
While we shine like the sun
See what we've all become
Together we are one
Contributed by Michael P. Suggest a correction in the comments below.
To comment on specific lyrics,
highlight them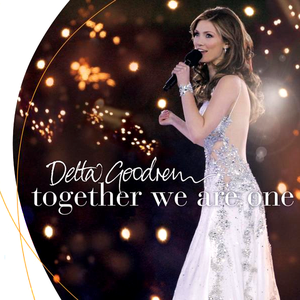 Delta Lea Goodrem (born in Sydney on November 9, 1984) is a multi-ARIA Award-winning Australian singer-songwriter, classically-trained pianist and Logie Award-winning actress. She was launched into popularity starring as Nina Tucker on the popular television soap opera Neighbours. She has released four number one albums, Innocent Eyes, Mistaken Identity, Delta, and Wings of the Wild enjoying the second highest number of weeks for an Australian album in the #1 position in Australia and has had nine #1 singles in Australia.
Read Full Bio
Delta Lea Goodrem (born in Sydney on November 9, 1984) is a multi-ARIA Award-winning Australian singer-songwriter, classically-trained pianist and Logie Award-winning actress. She was launched into popularity starring as Nina Tucker on the popular television soap opera Neighbours. She has released four number one albums, Innocent Eyes, Mistaken Identity, Delta, and Wings of the Wild enjoying the second highest number of weeks for an Australian album in the #1 position in Australia and has had nine #1 singles in Australia. Her third album, Delta was released in October 2007, and features the singles In This Life and Believe Again. It was described by Delta herself as "a lot lighter", and a departure from the dark days of Mistaken Identity.

Goodrem has to date achieved nine #1 ARIA singles and multiple UK Top 10 singles. Her debut album, 2003's Innocent Eyes, made her one of Australia's highest-selling female recording artists, spending 29 weeks at #1, and selling over a million copies in Australia and 2.5 million worldwide. While 2004's Mistaken Identity was unable to match the commercial success of its predecessor, it entered the ARIA charts at #1 and gained multi-platinum status. To date, Goodrem has sold 3.5 million albums worldwide. In 2005, she embarked on The Visualise Tour, her debut concert tour of Australia.

In 2003, at the age of 18 and amidst her blooming career, Goodrem was diagnosed with Hodgkin's Lymphoma, a form of cancer. She has since made a full recovery and now spends much of her time promoting cancer charities.

Goodrem was invited to write and sing the theme song of the 2006 Melbourne Commonwealth Games. Named 'Together We Are One', the track was co-written with her ex, Brian McFadden and long-time collaborator Guy Chambers. 'Together We Are One' was not originally planned for release as a single, but due to Australian public demand, it was released and peaked at #2 on the official ARIA charts. She was later also invited to perform the theme for the 2018 Gold Coast Commonwealth Games, with "Welcome to Earth".

Delta's official website:
www.deltagoodrem.com

Delta's official MySpace presence:
www.myspace.com/deltagoodrem
Genre not found
Artist not found
Album not found
Search results not found
Song not found