Is dit net ek, of is als tos?
Is dit net ek? Is-is dit net ek?
Jis jis, ek soek n fancy goose
Maar my sak's plat soos barbie se plastic poes
Wat die fok?
Fok die poes in die Corsa langs ons
Yo Ninja kook n tekkie
Laat ons gly
Drive! Drive fast!
Gly! Gly! Gly! Gly!
Drive fast!
Play kak music loud!
Wat kyk jy? Fokof!
Wat kyk jy? Poes!
Wat kyk jy? Fok jou!
Wat kyk jy? Jou naai!
Ninja rolling in a BMW
Sipping vitamiene B en C
Die brannewyn en coke slat weer n keer
Yo tjek daai sker in die pvc
Hot-pants lekker B.P.P.
'Binne-poes-pienk' aan die moerefokken brand
Net soos hierdie stainless steel
Rap-ster met n groot fokken stywe piel
Yo! Better listen to whatever she says
Ek's down met die moere fokken Wedding DJ's
Pump up the volume! Haal pips uit die zol uit
Hol skud morsig! Laat die fokken jol ruk
Fok die bewe koppe! Yo raas is baas
The richest bitch with the nicest arse
Oppie mikrofoon yo uh! Moerefokkit! Tjekkie
Yo Ninja! Kook n fokken tekkie
Hier gat ons weer! O here! Warra! Warra! Warra!
It's that brother from another mother's gwarra
Jislaaik! How did I get so fancy?
Al die ander rappers is net ou panties
Ninja! Die real fokken deal
Jy lyk so mooi met my piel in jou keel
Ag siestog! Now try say my name
Man-botter binne in jou slym-konyn
Zik my blaar! Swaai daai zaan
Twee Savannas en my vibes aan
Skop n dop en fokkit op
Ek maak duk zak
Cause I grab the microphone and fuck shit up
Ek's zef! Zars
Baby and my whole crew's fre$! Vars
If I don't know you get lost, you not on my level
Yo put the pedal to the metal
Yoh! Dis net soos n gynecologist se office
Net n klomp poese hierso
Naai man!
Kom ons fokof na die 'Wat Kyk Jy?' jol toe
Yoh! Die queues daar by die 'Wat Kyk Jy?' jols
Is langer as die queues by home affairs
Naai my broe die queues is langer daar
Dis tough kak gets you lekker fucked up
Soos jou eerste spliff
Ek's down met die fokken Zef Meester Griff
On the microphone I'm like the evilest ruler
Mind control many stupid people like Zuma
Wat? Fuck you poepol!
Say what you like but you can't do fokol
Deal with it! You can't fuck with my game
Charf my poef ek buckle jou frame.
Yo what the fuck are you saying?
I'm not wise with your street lingo
Show me the money this is not a free freak-show
Ek smaak goud soos C3PO
Here maar hierdie fokken jols kwaai
Niks soos n lekker bietjie hol swaai
Niks soos n lekker bietjie hol naai
Don't worry everything will be alright!
Die fokken Antwoord
Weer aan die moere fokken brand my blaar
Vra vir die flying dutchman aka Neo SA.
Jy maak n meisie sommer jags
Deel met jou vriende
Lyrics © Kobalt Music Publishing Ltd., Warner Chappell Music, Inc.
Written by: ANRI DU TOIT, ANRI VISSER, JUSTIN DE NOBREGA, WATKIN JONES, WATKIN TUDOR JONES

Lyrics Licensed & Provided by LyricFind
To comment on specific lyrics,
highlight them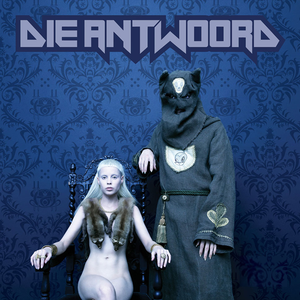 Die Antwoord (Afrikaans for "The Answer") is a South African rap-rave group formed in Cape Town in 2008. The group was formed by rappers Ninja and Yolandi Visser (stylized as ¥O-LANDI VI$$ER), and God (formerly referred to as DJ Hi-Tek). Die Antwoord's image is based on a counterculture movement known as zef in South Africa.
Genre not found
Artist not found
Album not found
Search results not found
Song not found