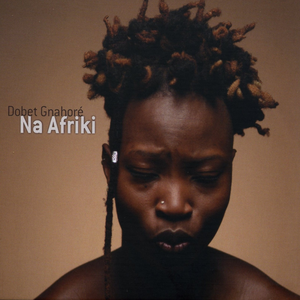 Dobet Gnahoré, a singer, dancer and percussionist from the Ivory Coast, inherited the force of the "Bété" tradition from her father, Boni Gnahoré, a master percussionist who plays with the Abidjan-based Ki-Yi Mbock Company, directed by Werewere Liking.

It was within this Ivory Coast-based company that Dobet met French guitarist Colin Laroche de Féline. Having spent some time in the well-known Tché Tché dance company, Dobet decided with Colin (in 1999) to form a duo
Read Full Bio
Dobet Gnahoré, a singer, dancer and percussionist from the Ivory Coast, inherited the force of the "Bété" tradition from her father, Boni Gnahoré, a master percussionist who plays with the Abidjan-based Ki-Yi Mbock Company, directed by Werewere Liking.

It was within this Ivory Coast-based company that Dobet met French guitarist Colin Laroche de Féline. Having spent some time in the well-known Tché Tché dance company, Dobet decided with Colin (in 1999) to form a duo, Ano Neko, which means "Let's create together" in Bété language. The duo toured widely in France (1999-2000) where they settled temporarily. They also worked together on the creation with Ba Cissoko of "Le Cabaret Nomade" and "L'Entre Deux Monde".

When they returned to Abidjan in 2001, they took part in the MASA Off festival and, while they were there, recorded eight songs under the supervision of the late Marcellin Yacé.

In 2003, their artistic project refocused on Dobet Gnahoré and expanded when a backup vocalist and a percussionist joined them. They produced her first album entitled "Ano Neko". This CD comprises songs recorded in Abidjan and others recorded in Belgium during the summer of 2003.

From Mandingue melodies to Congolese rumba, from Ivory Coast Ziglibiti to Cameroon Bikoutsi, from Ghanian High-Life to Zulu choirs, their compositions, carried along with jazz-like sounds, are varied and colourful. The sanza, the balafon, the calebasse and bongos are brought in to support the guitar, the vocal backup and Dobet's warm and powerful voice...

Dobet sings in a range of African languages including Bété, Fon, Baoule, Lingala, Malinke, Mina or Bambara, thereby reproducing the Pan-African tradition of the Ki Yi Mbock group.
Genre not found
Artist not found
Album not found
Search results not found
Song not found
We have lyrics for 'Massacre' by these artists:



Acrassicauda Change of evolution Sick joy of demolition Massacre a gene…
Antidemon (ef: 6:12) massacre, massacre massacre a todo mal de …
Bathory Down the vast hills in morning mist cold Into the peaceful…
Civet I saw you coming up, real fucking slow You've got nothing…
Dwarves It's a massacre, dastardly rhymes get thrown Oh no! - …
Elysia Cry out your heart again and again. Your so-called bleeding…
Escape the Fate Oh This is a problem That'll stay with me till I RIP This…
Government Issue It's late at night and my eyes are wide Flipping the…
Iron Maiden At a point below zero There's no place left to go Six…
Iron Maiden/02 At a point below zero There's no place left to go Six…
Kim Petras Who are you? It's gonna be a massacre, gonna be a…
la Muerte Show me how to hold The things I cannot control Sickening th…
Los Suaves Estoy cayendo bajo cero Y no sé a dónde voy 600 heroes…
minus.mensch Днём это детская бойня Ночью порочный блуд Молчи, ни слова- …
Pacewon & Mr. Green It's the Bayside (Massacre) The Bayside (Massacre) On and o…
Suicide Commando World of destruction Turn into hell Head for reduction You'r…
Swollen Members Prevail: Small pieces of metal get embedded in your skin A…
Taurus [Letra: Otávio – Música: Cláudio e Sérgio] Vou a gue…
The Berzerker Arms, legs, feet, hands all limbs are gone, flesh torn…
The Exploited Heavy street fighting Been going on for days Makeshift grave…
The Notorious B.I.G. If I get a label, I'm putting us all in…
Thin Lizzy At a point below zero There's no place left to go Six…
Thomston Can you see right through the silver? Heart is wrapped aroun…
Titãs Massacre! Massacre de uomo! Matança! Matança de donna! E…



We have lyrics for these tracks by Dobet Gnahoré:



Boudou Magnlon aglon ah boudou monglè Mon non on ka liè o…
Côte d'Ivoire J'suis ivoirien de père et de mère Te cache pas, viens…
Dala Wouè me non biako Kpata gbalé é Biako Enè Wouè me non Biako …
Deka Dialect wiyo edo gnin wiyo edo gnin teo mo kou…
Inyembezi Zam Ndiyeke ndife Ndikhalin yembezi zegazi Ndifunukufa ndidedwaj…
Issa Wéha Wééha Ikana djouya idjéréla Idissé kafra finyéla I d…
Palea Paléa Pkêhi nihaa goné Paléa missé Pkê-hi ni-ha goné ho Wôl…
Samahani Nisamehehe, kwa imani yangu mbaya Nisamehe, kwa kuwa mbali e…

The lyrics can frequently be found in the comments below or by filtering for lyric videos.