Where did you go, what did you do, late last night
Baby don't you know that, I don't want to fight
Oh baby why did you get up and leave
Don't you know woman, you're the roots of my tree
That's too bad
That's too bad
Your love ain't gonna make me sad no more, no more, no more, no more
Yesterday seems like a life ago
But today seems like it' movin' real slow
When I look into your big brown eyes
I don't care if tomorrow's ever gonna lie
That's too bad
That's too bad
Your love ain't gonna make me sad no more
That's too bad
That's too bad
Your love ain't gonna make me sad no more, no more, no more, no more
Contributed by Liam W. Suggest a correction in the comments below.
To comment on specific lyrics,
highlight them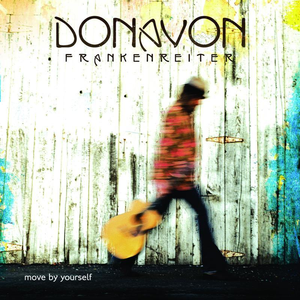 That's Too Bad (Byron Jam)
Donavon Frankenreiter (born December 10, 1972, Downey, California) is an American musician and surfer. A long-time friend of musician Jack Johnson, his debut self-titled album was released in 2004 on Johnson's Brushfire Records through Universal Music. It made the Australian ARIA Top-40 charts in April 2004. In live shows he has performed as the Donavon Frankenreiter Band.

Frankenreiter started playing in the group, Peanut Butter and Jam, at the age of 18.
Read Full Bio
Donavon Frankenreiter (born December 10, 1972, Downey, California) is an American musician and surfer. A long-time friend of musician Jack Johnson, his debut self-titled album was released in 2004 on Johnson's Brushfire Records through Universal Music. It made the Australian ARIA Top-40 charts in April 2004. In live shows he has performed as the Donavon Frankenreiter Band.

Frankenreiter started playing in the group, Peanut Butter and Jam, at the age of 18. In 1996 he began to seriously pursue a musical career when he formed the band Sunchild. In Sunchild, Frankenreiter was the lead guitar player but did not sing. The band had a 70s rock sound similar in style to The Black Crowes. They released their first CD, Barefoot & Live, on Surfdog Records in 1997. Produced by Gary Hoey, the live album featured covers of The Allman Brothers Band, The Marshall Tucker Band, The Rolling Stones, and Van Morrison, as well as several originals. California Honey followed in 2000 on their own Sunchild Records. This studio album is now out-of-print. Sunchild disbanded in 2001 and Frankenreiter went on to pursue a solo career.

In 2002, Frankenreiter signed with Brushfire Records. His self-titled solo album, Donavon Frankenreiter, was recorded with co-producers Jack Johnson and Mario Caldato Jr. Johnson appears on the album, as do G. Love and Eels member Koool G. Murder. The album was released in April 2004 in Australia due to his high profile in that country from his support gigs for Jack Johnson and from Frankenreiter's own surfing career. He toured Australia in April 2004, helping the album reach the top forty of the ARIA albums chart. Gary Jules was his support act on this tour. The album was released in the United States one month later, on 11 May 2004.

In 2006, Frankenreiter left Brushfire Records and signed with Lost Highway Records, home of such notable artists as Elvis Costello, Ryan Adams and Willie Nelson. His follow-up album, Move by Yourself, was released on June 6, 2006. Soon afterwards Donavon recorded a song called "Lovely Day" with Koool G., which was featured on the soundtracks to two films, Snakes on a Plane that same year and Georgia Rule in 2007.

In 2010 Donavon parted ways with Lost Highway Records and formed his own label, Liquid Tambourine Records. He subsequently recorded and released his fourth studio album of original material entitled "Glow", which was produced by Mark Weinberg.

In early 2012, Donavon cut ties with band mates Eric Brigmond, Craig Barnette, and Pete Winders, but maintained ties with original band member Matt Grundy.

www.donavonf.com
Genre not found
Artist not found
Album not found
Search results not found
Song not found