Nichts geschafft
Dritte Wahl Lyrics
Aufgewachsen im selben Ghetto
Vorstadtbeton Satelliten-Town
Gespielt zusammen auf dem selben Schuttberg
Und sich dabei nie auf's Maul gehauen
In der selben Schule die selben Qualen
Jeden Tag erlebt aus der selben Sicht
Von unten nach oben Blick in gähnende Leere
Die Typen da vorne verstehen sie nicht
Sie haben so viel Kraft und haben doch nichts geschafft
Im selben Hochhaus die Eltern wohnen
Eingesperrte Wesen zwischen Schrankwand und TV
"Mensch Bengel, sei doch leise! Bau nicht immer wieder Scheiße!"
Und kriegt Söhnchen nicht die Prügel, schlägt der Alte seine Frau
Sie haben so viel Kraft und haben doch nichts geschafft
Der selbe Frust baut sich auf Tag für Tag
In die selbe düstere Zukunft geht der selbe wilde Blick
Sie laufen nicht konform, wollen nicht die vorgegebene Norm
Nur was schockt ist gut, bricht es auch das Genick
Im selben Land die selbe Ödnis
Die selben schönen Worte der Politiker im Licht
Die selbe kleine Hoffnung auf eine Arbeit die auch Spaß macht
Und der eine kriegt einen Scheiß Job und der andre eben nicht
Sie haben so viel Kraft und haben doch nichts geschafft
Ihr Weg ging auseinander und er führte sie zusammen
Jahre später schwerbewaffnet beide durch die Straßen ziehen
Und der eine nennt sich Rechts und deshalb der andere Links
Doch der Tod kommt aus der Mitte, stinkt nach Eltern, Schule, Arbeit und Benzin
Contributed by Juliana A. Suggest a correction in the comments below.
To comment on specific lyrics,
highlight them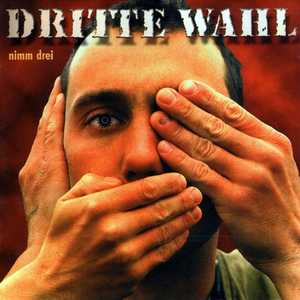 Dritte Wahl ("third choice") is a German punk band.

In 1988 Gunnar Gunnar (voc/g), Busch'n (voc/bg) und Krel (dr) played their first gig in their hometown Rostock (North/East Germany).

In January 2005 Busch'n died of cancer. Stefan (voc, bg) became his worthy replacement.

Dritte Wahl has released nine studio albums, three live-cds and 2 dvds.
Genre not found
Artist not found
Album not found
Search results not found
Song not found