Jump to: Overall Meaning | Line by Line Meaning
Feel this cage when that acid fade
Face the same but your mind has changed
You desire a stable home
I acquire fame at naming hoes
Contemplating ways of getting dome
Plotting on my neighbors
Asking God for favors
Guess he isn't home
Probably 'cause that fucking faith I didn't show
Skippin church, flip the work
Hit a dirt, like Tommy run it bitch
Grew up in a home that papa wasn't in
Came up of of work that my conscience wasn't in
Either way it goes, a lot is getting hit
And if it wasn't hoes, then it probably was a lick
Got burners on my soul, and my posse on my skin
Sweaty they ain't dollar top lotto picks
Promise that I am not the one to fucking plot against
Love him, but my father ain't my mother fucking friend
Trying to figure out how to start a mother fucking end
Trend dodging, keep a bitch by me
Back roll
Garbage bag full of sand
Place myself the rap stale
Cash is in hand
Packs get vac sealed
Like the Tin Man
Cardiac Stillness
Missing past real, in it, words make dentists
Don't know where I'm going, don't know where I been
Never trust these hoes, don't even trust my friends
Tell that bitch to roll up, fucking with some grown ups
Don't know where I'm going, don't know where I been
Never trust these hoes, don't even trust my friends
Tell that bitch to roll up, fucking with some grown ups
My mama wonder why it never seem to reach
See my Daddy in the way I'm acting
And my facial features
Just trying to put you on
Dog I came from teachers
Take the plate and clean it
Nigga I'm a dog
Tell her hit or miss me with the fucking monologue
Lord I can't fight it
Know I'm tryna brawl
Get a cop a hog dog chick
I'm the type of nigga that you cop your raw off
Popping hoes off
Grab the board and these niggas call charge
Chain switches jerseys like it's all star
Press the on star
Think it's all lost
Overall Meaning
In Earl Sweatshirt's "Grown Ups," the rapper dives headfirst into a world of uncertainty and angst. The lyrics reveal someone who is coming to terms with the fact that they are growing up and struggling to understand the changes that come with it. The opening lines set the tone for the rest of the song, as Earl talks about feeling trapped in a cage and noticing that his mind is changing. Throughout the song, he also grapples with themes of religion, family, and fame.
At the same time, Earl also seems to be struggling with his own identity. On one hand, he desires a stable home, but he also acquires fame by naming hoes. He's conflicted about his own behavior and trying to figure out what he really wants. He talks about plotting on his neighbors, asking God for favors, and skipping church, all while trying to reconcile his own beliefs with the reality of his life.

Line by Line Meaning
Feel this cage when that acid fade
When the effects of LSD wear off, I feel trapped and confined
Face the same but your mind has changed
I may appear the same, but my thoughts and desires have evolved
You desire a stable home
You yearn for a secure and comfortable living environment
I acquire fame at naming hoes
My notoriety comes from being able to creatively insult women
Contemplating ways of getting dome
I'm thinking of ways to receive oral sex from someone
Plotting on my neighbors
I'm devising plans to harm or exploit the people in my community
Asking God for favors
Praying to a higher power for assistance or special treatment
Guess he isn't home
God isn't responding to my requests
Probably 'cause that fucking faith I didn't show
My lack of faith has caused God to ignore me
Skippin church, flip the work
I'm neglecting religious obligations and focusing on selling drugs
Hit a dirt, like Tommy run it bitch
I'm speeding away quickly, like a scene from the TV show 'Power'
Grew up in a home that papa wasn't in
I was raised in a household without a father figure
Came up of of work that my conscience wasn't in
I made a living doing things that went against my moral code
Either way it goes, a lot is getting hit
In any situation, there's going to be a lot of violence or illegal activity involved
And if it wasn't hoes, then it probably was a lick
If it wasn't women, then it was most likely a robbery or other criminal activity
Got burners on my soul, and my posse on my skin
I have a lot of emotional scars and my friends are always with me
Sweaty they ain't dollar top lotto picks
My friends aren't wealthy or successful
Promise that I am not the one to fucking plot against
I'm warning people not to try and scheme against me
Love him, but my father ain't my mother fucking friend
I have love for my father, but we're not close friends
Trying to figure out how to start a mother fucking end
I'm contemplating how to instigate or begin a violent situation
Trend dodging, keep a bitch by me
I'm avoiding popular trends and always have a woman with me
Back roll
Rolling a blunt with the less desirable part of the marijuana plant
Garbage bag full of sand
I have a bag full of useless items
Place myself the rap stale
I'm setting a low standard for the quality of my music
Cash is in hand
I have money readily available
Packs get vac sealed
I'm packaging illegal substances for sale
Like the Tin Man
Doing something in a robotic or unemotional manner, like the character from 'The Wizard of Oz'
Cardiac Stillness
A sense of calmness or apathy regarding intense situations
Missing past real, in it, words make dentists
I'm indulging in drug use and the words I'm using have a harmful impact on those who hear them
Don't know where I'm going, don't know where I been
I lack direction and a sense of my past
Never trust these hoes, don't even trust my friends
I have a general distrust of most people, including women and close acquaintances
Tell that bitch to roll up, fucking with some grown ups
I'm telling a woman to smoke marijuana with me and my more mature friends
My mama wonder why it never seem to reach
My mother doesn't understand why I'm not achieving more
See my Daddy in the way I'm acting
My behavior is reminiscent of how my father acted
And my facial features
My physical appearance resembles my father's
Just trying to put you on
I'm trying to give you valuable advice or insight
Dog I came from teachers
I was raised in a household full of educators
Take the plate and clean it
I'm finishing all the food on my plate
Nigga I'm a dog
I'm an aggressive or dominant person
Tell her hit or miss me with the fucking monologue
Ask her to communicate directly without being too verbose
Lord I can't fight it
I'm having trouble resisting a certain temptation or desire
Know I'm tryna brawl
I'm trying to start a physical fight
Get a cop a hog dog chick
I want to acquire an attractive woman for a police officer
I'm the type of nigga that you cop your raw off
I'm the dealer you buy your illegal substances from
Popping hoes off
Having sex with women frequently
Grab the board and these niggas call charge
I'm taking control of the situation and people are following my lead
Chain switches jerseys like it's all star
I'm changing my appearance frequently, like NBA players do during the All-Star game
Press the on star
Activating the OnStar emergency response system in a vehicle
Think it's all lost
Feeling like everything is hopeless or beyond repair
Lyrics © Sony/ATV Music Publishing LLC
Written by: Thebe Kgositsile, Darien Dash

Lyrics Licensed & Provided by LyricFind
To comment on or correct specific content,
highlight it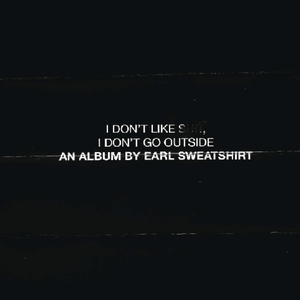 Track 6 off Earl Sweatshirt's album I Don't Like Shit, I Don't Go Outside featuring Da$H who is mostly known for being a member of the hip hop collective A$AP MOB and the nephew of Dame Dash.

The instrumental on this song bares similarity to Popsnot by Viktor Vaughn, one of MF DOOM's musical personas.
Genre not found
Artist not found
Album not found
Search results not found
Song not found