Feeling different
Don't know just what's happening to me
Reeling, burning
My skin it feels on fire
This odd sensation
Strangely familiar
A form of inspiration that I feel
I'm losing my skin
A regeneration within
New inside of life now begins
No need to seek out where I've been
Jaded, misguided
There are those who will crush your dreams
Driven, enlightened
A sense of new found power
I feel enraptured from this sensation
I ride the wave that is before me now
I'm losing my skin
A regeneration within
New inside of life now begins
No need to seek out where I've been
Feeling different
I welcome what's happening to me
Reeling, burning
My skin it feels on fire
This odd sensation
Now so familiar
A form of inspiration that I feel
I'm losing my skin
A regeneration within
New inside of life now begins
No need to seek out where I've been
Oh, I'm losing my skin
A regeneration within
New inside of life now begins
No need to seek out where I've been
[Spanish:]
Regeneracion
Me siento diferente
No sé exactamente lo que me está pasando
Impactado, ardiendo
Mi piel siente las llamas
Esta extraña sensación
Extrañamente familiar
Una forma de inspiración que siento
Estoy perdiendo mi piel
Una regeneración interior
Una nueva vida interior empieza ahora
No hay necesidad de buscar donde he estado
Hastiados, equivocados
Están aquéllos que destrozarán tus sueños
Conducido, iluminado
Un sentimiento de nuevo poder encontrado
Me siento cautivado por esta sensación
Surco el mar que está tras de mí
Estoy perdiendo mi piel
Una regeneraciÓn interior
Una nueva vida interior empieza ahora
No hay necesidad de buscar donde he estado
Me siento diferente
Doy la bienvenida a lo que me está pasando
Impactado, ardiendo
Mi piel siente las llamas
Esta extraña sensación
Ahora tan familiar
Una forma de inspiración que siento
Estoy perdiendo mi piel
Una regeneración interior
Una nueva vida interior empieza ahora
No hay necesidad de buscar donde he estado
Oh, estoy perdiendo mi piel
Una regeneración interior
Una nueva vida interior empieza ahora
No hay necesidad de buscar donde he estado
Contributed by Emma D. Suggest a correction in the comments below.
To comment on specific lyrics,
highlight them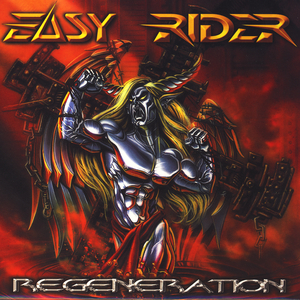 There appears to be more than one band that goes by the name 'Easy Rider'. Two of them are mentioned below.

I. New Brunswick punk band formed in 2011.

II.Easy Rider Band members:
Bass – Jacek Gazda
Drums – Jarosław Wodziński
Guitar, Vocals – Andrzej Wodziński

The Easy Rider Band was formed on Andrzej Wodzinski's initiative in 1980. Their music is rhythm and blues and similar styles. Originally the band was a classical rock quartet. Their very first public appearance took place at the Jarocin Festival in 1980.
Read Full Bio
There appears to be more than one band that goes by the name 'Easy Rider'. Two of them are mentioned below.

I. New Brunswick punk band formed in 2011.

II.Easy Rider Band members:
Bass – Jacek Gazda
Drums – Jarosław Wodziński
Guitar, Vocals – Andrzej Wodziński

The Easy Rider Band was formed on Andrzej Wodzinski's initiative in 1980. Their music is rhythm and blues and similar styles. Originally the band was a classical rock quartet. Their very first public appearance took place at the Jarocin Festival in 1980.

In 1981 they played at the first Rawa Blues Festival in Katowice and appeared to be the biggest discovery of the festival. After such a successful beginning their career developed quickly. The band was invited to every major music event throughout the country.

The band's full BIO can be read here: http://www.easyriderband.com/ang.html
More on their Website here: http://www.easyriderband.com/index.html
Genre not found
Artist not found
Album not found
Search results not found
Song not found