Jesse James was a lad that killed many a man
He robbed the Danville train
He stole from the rich and he gave to the poor
He'd a hand, a heart, and a brain
Jesse was a man, a friend to the poor
He couldn't see a brother suffer pain
And with his brother Frank he robbed the Springfield bank
And he stopped the Glendale train
Poor Jesse had a wife, a lady all her life
And three children, they were so brave
But that dirty little coward that shot Mr. Howard
Has laid ol' Jesse James in his grave
It was Robert Ford, the dirty little coward
And I wonder how he feels
For he slept in Jesse's bed and he ate o' Jesse's bread
But he laid Jesse James in his grave
It was with his brother Frank that he robbed the Gallatin Bank
An' carried the money from the town
It was at that very place that they had a little chase
For they shot ol' Captain Sheets to the ground
Poor Jesse had a wife to morn for his life
And three children, they were so brave
But that dirty lettle coward that shot Mr. Joward
Has laid ol' Jesse James in his grave
They went to a crossing, not very far from there
And there they did the same
For the agent on his knees delivered up the keys
To the outlaws, Frank an' Jesse James
It was on a Wednesday night, not a star was in sight
When they robbed the Glendale train
Those people, they did say for many miles away
It was robbed by Frank an' Jesse James
Poor Jesse had a wife to mourn for his life
And three children, they were so brave
But that dirty lettle coward that shot Mr. Joward
Has laid ol' Jesse James in his grave
Then on a Saturday night, Jesse was at home
Just talking with his family brave
When Robert Ford came along like a thief in the night
And laid poor Jesse in his grave
Now, the people held their breath when they heard of Jesse's death
They wondered how he came to die
It was one of his own gang called little Robert Ford
An' he shot Jesse James on the sly
Poor Jesse had a wife who mourned for his life
And three children, they were so brave
But that dirty lettle coward that shot Mr. Joward
Has laid ol' Jesse James in his grave
Jesse went to his rest with his hand upon his breast
And there are many who never saw his face
He was born one day in the County of Clay
And he came from a solitary race
This song was made by Billy Gashade
As soon as the news did arrive
He said there's no one man with the law in his hand
Could ever take ol' Jesse James alive
Poor Jesse had a wife to mourn his life
An' his children too, they were brave
But that dirty little coward shot Mr. Howard
An' laid Jesse James in his grave
Oh, they laid poor Jesse in his grave, yes, Lord
They laid Jesse James in his grave
Oh, he took from the rich and he gave to the poor
But, they laid Jesse James in his grave
Lyrics © Sony/ATV Music Publishing LLC
Written by: RY COODER

Lyrics Licensed & Provided by LyricFind
To comment on specific lyrics,
highlight them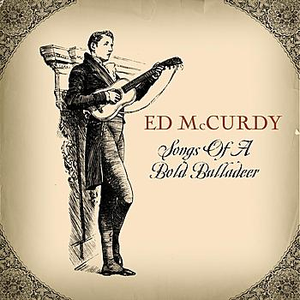 Ed McCurdy was born in 1919 in Willow Hill, Pennsylvania. His professional career started in 1937 as a Gospel singer over station SVKY in Oklahoma City, and he has since of worked as a niteclub and theatre performer (including a short stint in burlesque) and as a radio announcer.

In 1946, McCurdy began singing folksongs over the Canadian Broad casting Corporation radio system. In 1952, he began writing and performing for children's program's in radio and television, continuing to utilize folkmusic at every opportunity.
Read Full Bio
Ed McCurdy was born in 1919 in Willow Hill, Pennsylvania. His professional career started in 1937 as a Gospel singer over station SVKY in Oklahoma City, and he has since of worked as a niteclub and theatre performer (including a short stint in burlesque) and as a radio announcer.

In 1946, McCurdy began singing folksongs over the Canadian Broad casting Corporation radio system. In 1952, he began writing and performing for children's program's in radio and television, continuing to utilize folkmusic at every opportunity. Since late 1954, he has been living in New York City, and has appeared frequently in Televisions broadcasts for both adults and children originating from that city.

McCurdy is accompanied on second guitar, and banjo, by ERIK DARLING, an Upstate New Yorker who has been working out of New York City in recent years. Mr. Darling has made numerous recordings as a banjoist and singer, both as a solo performer and as an accompanist. He has performed extensively in concerts, and on television and radio, including several years on Oscar Brand's "Folksong Festival" over station WNYC. His most recent musical adventure has been performing as all integral part of an exciting new folksong trio, "The Tarriers", in whose success his instrumental and vocal talents have played an important role.

McCurdy died March 23, 2000
Genre not found
Artist not found
Album not found
Search results not found
Song not found