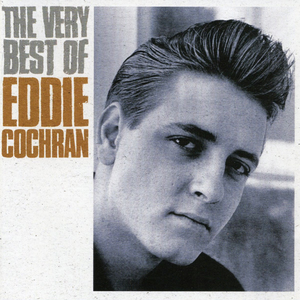 Ray Edward "Eddie" Cochran (October 3, 1938 - April 17, 1960) was an American si…
Read Full Bio ↴
Ray Edward "Eddie" Cochran (October 3, 1938 - April 17, 1960) was an American singer, songwriter, and musician. With a charismatic voice that could switch effortlessly between smooth ballads and raucous rockabilly, Cochran epitomized the rebellious '50s rocker. Although killed in a tragic accident at the age of 21, the influence of his brief career, and life, was immeasurable, having inspired many of the greatest artists of the '60s. Cochran's distinctively rough, bass-driven singles (such as "C'mon Everybody", "Somethin' Else", and "Summertime Blues") have granted him the title of "grandfather of punk" by luminaries of the genre.

Ray Edward Cochran was born in Albert Lea, Minnesota; however, as his parents were from Oklahoma, he considered himself an Oklahoman, and introduced himself as such in interviews. He took music lessons in school, but eventually quit the band to play drums. Rather than take piano lessons, Cochran began learning guitar, playing the country music he heard on the radio. As time went on, Cochran moved to Los Angeles, California in 1953. Together with Hank Cochran, Eddie formed The Cochran Brothers, though the two shared no relation.

Around the same time, Cochran worked as a session musician, but aspired to be a songwriter and artist in his own right, and recorded a demo with songwriting partner and future manager, Jerry Capeheart. Cochran's first notable foray into the public eye was as one of the many performing artists featured in the musical comedy film The Girl Can't Help It starring Jayne Mansfield, eventually resulting in a recording contract with Liberty. He would follow up on this appearance by appearing in several films of the same genre. He also performed as a support act for such stars as Gene Vincent and Little Richard, who were among Cochran's co-stars in the aforementioned film.

For his recordings, Cochran often used experimental techniques that would later become part and parcel for other recording artists, notably recording numerous overdubs in order to create the rich, distinctive guitar sound for "Summertime Blues" and "C'mon Everybody". "Twenty Flight Rock", the song Cochran performed in The Girl Can't Help It, was the very first song a young Paul McCartney played for John Lennon as his audition for Lennon's group, The Quarrymen, which would later metamorphose into The Beatles.

Cochran was killed in an automobile accident in Chippenham, Wiltshire, England during a tour of Britain with Gene Vincent. Vincent and Cochran's fiancee, who were both in the car, survived the crash. Scholars have noted that, somewhat eerily, Cochran's last single release in his lifetime was "Three Steps to Heaven", although the song's lyrical context has nothing to do with death. Cochran's death occurred little over a year after the plane crash that killed Buddy Holly, Ritchie Valens, and J.P. "The Big Bopper" Richardson, to whom he paid tribute in his recording of the song "Three Stars", which remained unreleased until 1966.

A majority of Cochran's recorded legacy would be released posthumously; in his lifetime, only one album, Singin' to My Baby (1957), was ever released. Perhaps owing to the brevity of his career, Cochran never attained the same star status as other rockers of the era; however, his lyrical themes of teenage desires and rebellion, being somewhat more morose and raucous than his contemporaries, had a profound influence on many of the greatest artists of the '60s and '70s, such as The Beatles, The Who, and The Rolling Stones.
Jump to: Overall Meaning ↴ Interesting Facts ↴ Line by Line Meaning ↴
Well c'mon everybody and let's get together tonight
I got some money in my jeans and I'm really gonna spend it right
Well been a-doin' my homework all week long
And now the house is empty and my folks have gone
Ooh, c'mon everybody
Well my baby's number one but I'm gonna dance with three or four
And the house'll be a-shakin' from the bare feet a-slappin' on the floor
When you hear that music you can't sit still
If your brother won't rock you then your sister will
Ooh, c'mon everybody
Well we'll really have a party but we gotta put a guard outside
If the folks come home I'm afraid they're gonna have my hide
They'll be no more movies for a week or two
No more runnin' round with the usual crew
Who cares, c'mon everybody
C'mon everybody
Overall Meaning
"C'mon Everybody" by Eddie Cochran is a fun and lively song that deals with the concept of rebellion and youthful exuberance. The lyrics encourage everyone to come together and enjoy the night, spending their money in a way that they won't regret. The singer indicates that he's been doing his homework all week, and he is looking forward to a night of exciting dancing and wild fun.
The opening lines suggest that the singer has some disposable income and is eager to spend it. He's looking forward to going out with his friends and breaking free from his responsibilities. The next few lines indicate that the singer's parents are out of town, leaving the house empty for him to use. This event is an excellent opportunity for him to have a wild party with his friends, where he can dance and let loose to some great music.
In the next verse, the singer indicates that he is going to have a great time dancing with his friends. Despite having a special person in his life, he plans to let loose and dance with multiple partners. The singer believes that the entire house will shake as everyone dances barefooted to the music. The singer insists that he can't sit still when he hears music, and he will dance no matter what.
Finally, the singer realizes that there is a chance his parents might return and discover the aftermath of the party. In the last few lines, he suggests that they would have to face the consequences of their actions if the parents find out, but he doesn't care. After all, he's had a great time and, in his mind, it's all worth it.
Interesting facts about "C'mon Everybody":
Interesting Facts
Note: This section uses generative AI, which can be inaccurate.


Line by Line Meaning
Well c'mon everybody and let's get together tonight
Let's come together tonight and hang out
I got some money in my jeans and I'm really gonna spend it right
I have money and I intend to spend it well
Well been a-doin' my homework all week long
I've been doing my homework all week long
And now the house is empty and my folks have gone
Now the house is empty and my parents are not around
Ooh, c'mon everybody
Come on everyone, let's have fun
Well my baby's number one but I'm gonna dance with three or four
Although my baby is my top priority, I still plan to dance with a few others
And the house'll be a-shakin' from the bare feet a-slappin' on the floor
The music will be so good that everyone will dance so hard that the house will shake
When you hear that music you can't sit still
The music will make you want to dance
If your brother won't rock you then your sister will
If one person won't dance with you, another person will
Ooh, c'mon everybody
Come on everyone, let's have fun
Well we'll really have a party but we gotta put a guard outside
We'll have a great party, but we need to have someone watch for parents coming home
If the folks come home I'm afraid they're gonna have my hide
If my parents come home, they might be really upset with me
They'll be no more movies for a week or two
If I get caught, I won't be able to go see movies for a while
No more runnin' round with the usual crew
If I get caught, I won't be able to hang out with my usual group of friends
Who cares, c'mon everybody
But who cares, let's have fun anyway
C'mon everybody
Come on everybody
Lyrics © Kanjian Music, BMG Rights Management, Sony/ATV Music Publishing LLC, Spirit Music Group, Warner Chappell Music, Inc.
Written by: JERRY CAPEHART, EDDIE COCHRAN

Lyrics Licensed & Provided by LyricFind
To comment on or correct specific content,
highlight it
Genre not found
Artist not found
Album not found
Search results not found
Song not found