I create the things that haunt me
The ghosts you see here came with me
I create my consequences
I have weaved my history
CHORUS:
Something in your bones calls you here
Something in your fabric ties you here
So take a breath and mend the wound
or pull the thread and disappear
I designed this institution
The lunatics are honored guests
And it was invitation-only
The murderers are here at my request
CHORUS
I don't wish distress upon you
or to be a dreadful host
But you'll likely get what you want the least
just when you need it most
Don't fall apart
This is a gift I promise you
A silken thread to mend your injury
But if it scars or not is up to you
CHORUS
Contributed by Jordan D. Suggest a correction in the comments below.
To comment on specific lyrics,
highlight them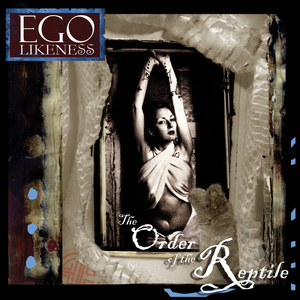 Ego Likeness was created in 1999 by artist Steven Archer, a DC native, and writer Donna Lynch in Baltimore, Maryland. Taking their name from Frank Herbert's classic science fiction novel Dune, the band began as an experimental/ dark trip hop project. A demo called 'Songs From a Dead City', recorded on a four track, was released in 1999.

By 2000, Archer and Lynch were moving the project in a darker electronic/dance direction, resulting in a self-released full length album entitled 'Dragonfly'.
Read Full Bio
Ego Likeness was created in 1999 by artist Steven Archer, a DC native, and writer Donna Lynch in Baltimore, Maryland. Taking their name from Frank Herbert's classic science fiction novel Dune, the band began as an experimental/ dark trip hop project. A demo called 'Songs From a Dead City', recorded on a four track, was released in 1999.

By 2000, Archer and Lynch were moving the project in a darker electronic/dance direction, resulting in a self-released full length album entitled 'Dragonfly'.

After a short hiatus from recording and a lengthy period of trial, error, and revision, and many regional live performances, Ego Likeness signed with Dancing Ferret Discs/ Noir Records for the release of 2004's 'Water to the Dead'. This album featured the band's electronic roots while exploring a bit of a heavier rock
sound.

2005 saw the band tour Germany, Luxembourg, and the continental US with label mates The Cruxshadows, as well as performing at several festivals on the east and west coast, including Convergence 11 (San Diego CA), Dracula's Ball (Philadelphia PA), Black Sun Festival I (New Haven CT), Freaks United (DC), Eccentrik Festival I (Raleigh NC), and others.

Their first album 'Dragonfly' was re-released on Dancing Ferret Discs in 2005.

In addition to The Cruxshadows, they have had the honour to share the stage with Voltaire, The Damned, Chris Connelly, Collide, Razed in Black, Bella Morte, Das Ich, Rasputina, The Start, Iris, Decoded Feedback, The Azoic, More Machine Than Man, In Strict Confidence, Combichrist, and many others.

They have also appeared on numerous compilation CDs, including several Asleep by Dawn releases and 'Where's Neil When You Need Him?' (a tribute to the work of author Neil Gaiman, DFD July 2006); released remixes for The Cruxshadows (Cassandra-Fortress in Flames), The Last Dance (Terribly When- Reflections of Rage), Thou Shalt Not (Inside of You, In Spite of You- The Projectionist), and Black Tape for a Blue
Girl (Tarnished- Scarecrow); and appeared on Voltaire's album Then and Again. EL has also been featured in publications such as Gothic Beauty, Outburn, ABD, Sideline and Sonic Seducer, to name a few.

Their third full length album, 'The Order of the Reptile' (release date July 4th 2006, Dancing Ferret Discs) ventures back into the realms of heavy electronica, a bit of trip hop, and darkwave.

Archer and Lynch have been married since October of 1999 and currently live in Baltimore. Steven is also the creator of the atmospheric electronica project Hopeful Machines, and performs with the industrial/ power noise act Blind Till Now. All three members of EL, along with Alexx Lackey of echomatrix make up the experimental/ spoken word outfit The Trinity Project.

Former band mate Justin 'Dingo' Sabe also lives in Baltimore with a lovely belly dancer and some rather large cats. When not performing with EL, he spends his time on fire and robots and knitting, and can often be found at festivals that involve fire, robots, and/or knitting. He also plays the tuba and hopes to form a marching band in the very near future.

Current line up:
Steven Archer - Guitar/ Programming/ Music & Words/ Vocals
Donna Lynch - Vocals/ Piano/ Words & Music
Mike K. Johnson - Drums

Former members:
Justin 'Dingo' Sabe - Keytar/ Synths/ Noise

Official Site: www.egolikeness.com/

Steven also works on a solo project at www.hopefulmachines.net
Genre not found
Artist not found
Album not found
Search results not found
Song not found