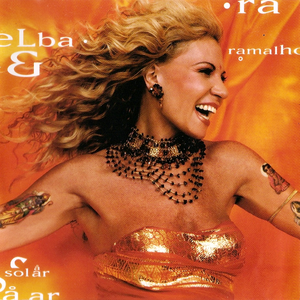 Elba Maria Nunes Ramalho (born August 17, 1951 in Conceição, Paraíba, Brazil)…
Read Full Bio ↴
Elba Maria Nunes Ramalho (born August 17, 1951 in Conceição, Paraíba, Brazil), best known as Elba Ramalho, is a Brazilian MPB singer, songwriter, performer, multi-instrumentalist and actress. Her musical style is characteristic for the traditional sounds of the Northeastern region of Brazil, such as baião, xote, xaxado, frevo, forró, and others.

Elba Ramalho was born in the rural area of Conceição, in Vale do Piancó. In 1962, the family moved to the city of Campina Grande, also in Paraíba. Her father became the owner of the local theater. Daughter of a musician, she became interested in music still as a teenager.

In 1966, she participated, for the first time, in a performance on stage, in the Choir of the Fundação Artística e Cultural Manuel Bandeira, of which she was a member, with "Evocação do Recife". The Manuel Bandeira and Cecília Meireles Talking Choirs gained fame and started to be seen all over the Northeast, and Elba, who made her first presentation on stage together with them, soon became the highlight in the presentations. She starred in the poetic montages of Castro Alves, Thiago de Mello, Lindolfo Bell, Carlos Pena Filho and Figueiredo Agra. He participated in the montages of the plays "Ministro do Supremo" and "Diálogo das Carmelitas."

In 1968, while attending college of Economics and Sociology at the Federal University of Paraíba, she formed the ensemble As Brasas, in which she acted as drummer, which later became a theater group. However, Elba never stopped singing, and performed in several festivals throughout the Northeast.

In 1979, she released her first album, "Ave de Prata", and since then she has consolidated her position as one of the main Brazilian singers in activity. On her father's side, she is a cousin of fellow singer Zé Ramalho.

She has two Latin Grammys for her albums: Qual o Assunto Que Mais Lhe importa?, released in 2008, and Balaio de Amor, 2009, in the category Best Brazilian Roots Album: Regional and Tropical. In over 35 years of career, Elba Ramalho has sold more than 10 million albums. She received from the Art Critics Association of São Paulo the award "Best Show of the Year" on two occasions: in 1989 for the show Popular Brasileira and in 1996 for the show Leão do Norte.
Jump to: Overall Meaning ↴ Line by Line Meaning ↴
Se você vier me perguntar por onde andei
No tempo em que você sonhava
De olhos abertos lhe direi
Amigo, eu me desesperava
Sei, que assim falando pensas
Que esse desespero é moda em 76
Mas ando mesmo descontente
Desesperadamente eu grito em português
Mas ando mesmo descontente
Desesperadamente eu grito em português
Tenho 25 anos de sonhos e de sangue
E de América do Sul
Por força desse destino
Um tango argentino
Me cai bem melhor que um blues
Sei, que assim falando pensas
Que esse desespero é moda em 76
Eu quero é que esse canto torto
Feito faca, corte a carne de vocês
Eu quero é que esse canto torto
Feito faca, corte a carne de vocês
Overall Meaning
The lyrics of Elba Ramalho's song "A Palo Seco" express the singer's discontent and despair towards the society she lives in. In the first verse, she responds to someone who asks where she's been by saying that she has been "desesperadamente" (desperately) unhappy. She acknowledges that the person listening may think that her despair is just a passing trend in the year 1976, but she insists that her unhappiness is sincere and ongoing. She then proclaims her frustration in Portuguese, saying that she is screaming out in desperation.
In the second verse, Ramalho describes her personal history and her affinity for South America, specifically Argentina. She claims that destiny has led her to appreciate a tango more than a blues song. Again, she acknowledges that her authentic feelings may be misunderstood as a trend. Ramalho concludes the song with a powerful assertion, declaring that she wants her "canto torto" (crooked singing) to cut the flesh of her listeners like a knife. This can be interpreted as a rebellious statement against a society that doesn't hear or register the voice of the marginalized.
Overall, "A Palo Seco" can be interpreted as a pointed statement of socio-political dissatisfaction and a rallying cry for change.

Line by Line Meaning
Se você vier me perguntar por onde andei
If you come to me and ask where I have been
No tempo em que você sonhava
In the time when you were dreaming
De olhos abertos lhe direi
With open eyes, I will tell you
Amigo, eu me desesperava
My friend, I was in despair
Sei, que assim falando pensas
I know that by saying this you might think
Que esse desespero é moda em 76
That this despair is typical of 1976
Mas ando mesmo descontente
But I am truly discontent
Desesperadamente eu grito em português
I desperately scream in Portuguese
Tenho 25 anos de sonhos e de sangue
I have 25 years of dreams and blood
E de América do Sul
And from South America
Por força desse destino
Due to the force of destiny
Um tango argentino
An Argentine tango
Me cai bem melhor que um blues
Fits me much better than a blues song
Eu quero é que esse canto torto
What I want is this crooked song
Feito faca, corte a carne de vocês
Like a knife, cut into your flesh
Lyrics © O/B/O APRA AMCOS
Written by: Antonio Carlos Belchior

Lyrics Licensed & Provided by LyricFind
To comment on or correct specific content,
highlight it
Genre not found
Artist not found
Album not found
Search results not found
Song not found