Baby, I'm not made of stone, it hurts
Loving you the way I do, it hurts
Hold tight, it's a sing-along
I'm alright, I'm alright, but I could be wrong, baby
I know you remember me
'53 in the back of the lavory, come on
You could at least try and look at me
Oh man, oh man, what a tragedy, haha
Bang, bang, there goes paradise
I chill why we always had to roll the dice, la la
Heartbeat in the regular
Two seats in the back of the cinema, hazy
Ah yeah, you're forgettin' it
And all the mad shit we did after that, crazy
Your heart, come on, baby
I swear you're giving me shivers, shivers
Baby, I'm not made of stone, it hurts
Loving you the way I do, it hurts
When all that's left to do is watch it burn
Oh baby, I'm not made of stone, it hurts
Hold on, it's a marathon
Run fast, run fast like the rivers run, goddamn
Never seen in the restaurant
I took a minute till the penny dropped, you know
My tears don't fall too often
But your knife is cuttin' me deep
Deep, deep, deep, deep, deep, deep, deep
Baby, I'm not made of stone, it hurts yeah
Loving you the way I do, it hurts
When all that's left to do is watch it burn
Oh yeah yeah baby, I'm not made of stone, it hurts
It hurts the way that you pretend you don't remember
It hurts the way that you forget our times together
Like the time laid in bed when you said it's forever, baby
I can't, I can't explain no more
Baby, I'm not made of stone, it hurts
Loving you the way I do, it hurts
When all that's left to do is watch it burn
Oh baby, I'm not made of stone, it hurts
Oh baby, I'm not made of stone, it hurts
And loving you the way I do, it hurts
Lyrics © Sony/ATV Music Publishing LLC
Written by: MATTHEW HOLMES, MUSTAFA OMER, JAMES MURRAY, PHILIP LEIGH, EMELI SANDE

Lyrics Licensed & Provided by LyricFind
To comment on specific lyrics,
highlight them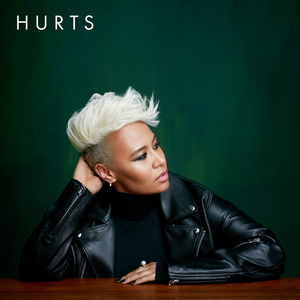 Adele Emeli Sandé (born 10 March 1987: Sunderland, England and raised in Alford, Aberdeenshire, Scotland) known by her stage name Emeli Sandé, is a soul and R&B recording artist and songwriter signed to Virgin Records.

Sandé made her singing career debut in 2009 after appearing on the track she wrote for Chipmunk's first debut single, "Diamond Rings". The single charted at No. 6 on the UK Singles Charts, making it Chipmunk and Sandé's first ever Top 10 Hit.
Read Full Bio
Adele Emeli Sandé (born 10 March 1987: Sunderland, England and raised in Alford, Aberdeenshire, Scotland) known by her stage name Emeli Sandé, is a soul and R&B recording artist and songwriter signed to Virgin Records.

Sandé made her singing career debut in 2009 after appearing on the track she wrote for Chipmunk's first debut single, "Diamond Rings". The single charted at No. 6 on the UK Singles Charts, making it Chipmunk and Sandé's first ever Top 10 Hit. She later appeared on another single singing guest vocals, after collaborating with Wiley on his comeback single "Never Be Your Woman", the single charted at number-eight on the UK Singles Charts becoming Sandé's second consecutive Top 10 Single.
Sandé decided against using the name Adele Sandé, due to Adele's growing success, so used her middle name instead. She revealed: "I changed it as soon as Adele came out. I just thought, 'You've kind of taken the [name] now', so I went with my middle name. She was just getting bigger and bigger, so I thought I just really need it."

A former medical student, Sandé appeared as a guest vocalist on Professor Green's 2011 UK #1 single Read All About It and soon went on to achieve her own chart success with her first solo release Heaven, which debuted in the UK Singles Chart at #2. Her debut album Our Version of Events was released on 12th February 2012. The album includes the singles Next To Me, Daddy and My Kind Of Love.

Before branching out on her own Sandé had already had a taste of chart success having collaborated with rapper Chipmunk on his song Diamond Rings, and then with Wiley on Never Be Your Woman. She has also written for or collaborated with artists including Let Go, Let It Rain, Susan Boyle and Cheryl Cole.

In a major feature in their Saturday Review paper, The Times declared Emeli Sandé "The Voice of 2012". The New York Times said "Ms. Sandé has a perspective-altering voice, clear and brassy and weapons-grade". Fellow artists have also proclaimed their admiration, including Alicia Keys, "I just love her style and her flow – super raw.", and Adele, "How incredible is she?".

Our Version of Events is the UK's biggest selling debut album of 2012.

Sandé appeared at the London 2012 Olympics opening ceremony. She performed Abide with Me

www.emelisande.com.
www.facebook.com/emelisande
www.twitter.com/emelisande
Genre not found
Artist not found
Album not found
Search results not found
Song not found