Jump to: Overall Meaning | Line by Line Meaning
(I, I wanna grow up, too)
Uncle Marshall
Will you tell us a bedtime story?
Here we go
Now, once upon a time not long ago
There was a little rapper about to blow
But his album came, and it was not good
I think it went lead or double copper-wood
So the silly little fans, they were misled
By a nerdy internet computer hip hop head
"Me and you, Clef, we're gonna make some cash"
"Grab this silver paint and just paint my ass"
Hey, mister, would you care to bear witness to
The ass-whippin' I'm about to administer
To this ass-kissin' little vaginal blister?
Stanibus, little Marshall Mathers' sister
And in this corner, we have the "Mr
Not-Havin'-It," it's the Mad, sinister
Dr. Evil, with his bag of tricks for
This little antagonistic faggot
Dick-sucking ex-LL Cool J fan from Windsor
I'm 'bout to murder little Kenny-Fag-Kaniff-sta
You bastard, I ain't wanna have to diss ya
Canibus, where the fuck you at? I miss ya
Canibitch, oh, Canibitch
Wherefore art thou, Canibitch?
Please tell me what happened with
That style that you were rappin' with
Canibitch, oh, Canibitch
Are you from Los Angeles
New York, or just a janitor
From Canada? Oh, Canibitch
Now, at first, I ain't really understand this shit
Picture me, for a second, and imagine it
Chillin' in the Bat Mansion relaxin' when
All of a sudden some bullshit comes across the scanners, it's
Canibitch, on some "Stan Lives" shit
It creeped me out at first, man, this is sick
But me, bein' just as sick, this conflict
Gets my dick harder than arithmetic
And I know how you jealous ones envy
I shoulda knew better from the first few letters you sent me
The first two letters, you were tellin' me shit like
You respect me, like any other regular MC
The third letter, you asked how come I ain't return
None of the messages at Shady Records you left me
The fourth letter, "Slim, you're really startin' to upset me"
The fifth letter told me you were comin' to get me
The sixth letter, there's a bomb threat on our building
This crazy motherfucker's really tryna kill me
So I went back and read the first few letters that said
Some shit about a message you left
Oh shit, that's not a E, that's an A
This dude wants to leave me a "massage", he's gay
Right away, I'm on the phone with Dr. Dre
"We got a bogey," "Marshall, I'm on the way"
Canibitch, oh, Canibitch
Wherefore art thou, Canibitch?
Please tell me what happened with
That style that you were rappin' with
Canibitch, oh, Canibitch
Are you from Los Angeles
New York, or just a janitor
From Canada? Oh, Canibitch
So, in two seconds flat, Dre's at my crib
Only thing is, we both know where this kid lives
And neither one of us have Canadian citizenship
"Shit, oh, Dre, wait a minute, that's it
All we gotta do is use a bit of turbo-boost
We can fly over the border" "let's go" (whoosh)
So we're off to Toronto and we're gainin' speed
"What was that? Oh, Jermaine Dupri"
"Fuck it, keep goin', no time to waste"
"Wait, back up, hit him one more time, in case"
"Okay," fuck, now he's draggin' under the car
"Oh well, only thirty more thousand miles"
Meanwhile, me and Dre are tryna conversate
Just tryna find a reason for the constant hate
And tryna figure out what happened to "Germaine Propane"
"He couldn't have fell off that hard", ain't no way
What happened to the way you was rappin'
When you was scandalous?
That Canibus turned into a television evangelist
Plus, he raps with his regular voice
"What was that?" "Pet Shop Boys"
So, we pull up to the bridge where he last was spotted
His corpse was still movin', but his ass was rotted
And he kinda smelled a little like Courtney Love
I figured if I stick him with a fork, he's done
So I stabbed him twice, kept jabbin', Christ
He won't die, this guy's like a battered wife
He's like Kim, he keeps comin' back for more
But he won't fight back, I cracked his jaw
Hold up, 'Bis, quit foldin' up
Punch me in the chest, make my shoulders touch
Do something, at least one punchline
Come on, 'til the meter reads Nine, Nine, Nine-
Ty nine percent of my fans are blond
'Bis, come on, answer me, man, respond
Tell me 'bout the sun, rain, moon and stars
Intergalactical metaphors from Mars
Raw to the floor, raw like Reservoir Dogs
Bite another line from Redman's song
Suddenly, the stub of a dead man's arm
From a midget reaches out from under the car
It's J.D., This motherfucker won't die, neither
Dre starts sprayin' him with cans of ether
We swamped the bitch in it, stomped the bitch again
"Compton" "Detroit, bitch, talk some shit again"
"Stomp him" "Switch feet" "Stomp him" "Switch again"
"Dre, all right, he's dead, dog, quit kickin' him
I think Stanibus jumped off the bridge again" (ah)
"Damn," "He disappeared, yo, he's gone, he did it again"
Canibitch, oh, Canibitch
Wherefore art thou, Canibitch?
Please tell me what happened with
That style that you were rappin' with
Canibitch, oh, Canibitch
Are you from Los Angeles
New York, or just a janitor
From Canada? Oh, Canibitch
Overall Meaning
In Eminem's song Bitch, the opening lyrics are a voice message from a person named Zoe to Justin, expressing her disgust towards Eminem's music. Zoe mentions that Kelly did not ask her to call, but she listened to Eminem in her car and found it to be the most disgusting thing she has ever heard. She goes on to say that she wants to call Eminem's agent and let them know how disgusting he is, and that it makes her upset and even nauseous to listen to his music. These lyrics can be interpreted as a commentary on the controversy and backlash that Eminem has faced throughout his career for his use of controversial and offensive lyrics.

Line by Line Meaning
Justin? It's Zoe
The speaker is addressing Justin through a phone call or text message, and the person on the other line is identified as Zoe.
Um, Kelly did not have me call, however
The speaker acknowledges that they are not calling on behalf of Kelly, despite the fact that they are about to criticize a musician that Kelly may have connections to.
I just listened to Eminem in her car
The speaker listened to music by Eminem while in the car with Kelly.
It is the most disgusting thing I have ever heard in my entire life
The speaker found the Eminem song they listened to to be extremely repulsive and offensive.
And I seriously wanna call his fucking agent
The speaker is so outraged by Eminem's music that they want to take action and complain to his representative.
And tell them how fucking disgusting he is
The speaker intends to inform Eminem's agent about the offensive and inappropriate content in his music.
It, like, makes me upset
The music has an emotional impact on the speaker, causing them to become upset and distressed.
I'm now nauseous and I can't eat lunch
The speaker's physical response to the music is so severe that they feel sick and cannot eat.
Goodbye
The speaker ends the conversation or message, possibly because they need to attend to the symptoms caused by Eminem's music or because they feel they have made their case.
Lyrics © O/B/O APRA AMCOS
Written by: Marshall Mathers

Lyrics Licensed & Provided by LyricFind
To comment on or correct specific content,
highlight it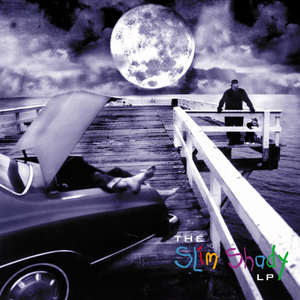 Marshall Bruce Mathers III (born October 17, 1972, in St. Joseph, MO), known professionally as Eminem (often stylized as EMINƎM), is an American rapper, songwriter, record producer, record executive, and actor.

Eminem is the best-selling artist of the 2000s in the United States. Throughout his career, he has had 10 number-one albums on the Billboard 200 and five number-one singles on the Billboard Hot 100. With more than 47.4 million albums and 107.
Read Full Bio
Marshall Bruce Mathers III (born October 17, 1972, in St. Joseph, MO), known professionally as Eminem (often stylized as EMINƎM), is an American rapper, songwriter, record producer, record executive, and actor.

Eminem is the best-selling artist of the 2000s in the United States. Throughout his career, he has had 10 number-one albums on the Billboard 200 and five number-one singles on the Billboard Hot 100. With more than 47.4 million albums and 107.5 million singles sold in the US and 220 million records globally, he is among the world's best-selling artists of all time and is consistently cited as one of the greatest and most influential artists in any genre. He is the only artist to have eight albums consecutively debut at number one on the Billboard 200. Rolling Stone ranked him 83rd on its list of 100 Greatest Artists of All Time, calling him "King of Hip-Hop".

After his debut album Infinite (1996) and then Slim Shady EP (1997), Eminem signed with Dr. Dre's Aftermath Entertainment and subsequently achieved mainstream popularity in 1999 with [album artist= Eminem The Slim Shady LP[/album], which earned him his first Grammy Award for Best Rap Album. His next two releases, 2000's The Marshall Mathers LPand 2002's The Eminem Show, were worldwide successes, with each being certified diamond in U.S. sales and both winning Best Rap Album Grammy Awards—making Eminem the first artist to win the award for three consecutive LPs. They were followed by Encore in 2004, another critical and commercial success. Eminem went on hiatus after touring in 2005, releasing Relapse in 2009 and Recovery in 2010. Both won Grammy Awards and Recovery was the best-selling album of 2010 worldwide, the second time he had the international best-selling album of the year (after The Eminem Show). Eminem's eighth album, 2013's The Marshall Mathers LP 2, won two Grammy Awards, including Best Rap Album; it expanded his record for the most wins in that category and his Grammy total to 15. In 2017, he released his ninth studio album, Revival. On August 31, 2018, Eminem released his tenth studio album, Kamikaze, to streaming services Apple Music, Spotify, and Amazon Music.

In addition to his solo career, Eminem is an original member of the Midwest hip-hop groups Soul Intent and D12. He is also known for his collaborations with fellow Detroit-based rapper Royce da 5'9"; the two are collectively known as Bad Meets Evil. Eminem has developed other ventures, including Shady Records, with manager Paul Rosenberg, which helped launch the careers of artists such as 50 Cent. Eminem has also established his channel, Shade 45, on Sirius XM Radio. In November 2002, he starred in the hip-hop film 8 Mile, which won the Academy Award for Best Original Song for "Lose Yourself", becoming the first rap artist to ever win the award. Eminem has made cameo appearances in the films The Wash (2001), Funny People (2009), The Interview (2014), and the television series Entourage (2010).

Marshall Bruce Mathers III was born on October 17, 1972, in St. Joseph, Missouri, the only child of Marshall Bruce Mathers Jr. and Deborah Rae "Debbie" Nelson. His mother nearly died during her 73-hour labor with him. Eminem's parents were in a band called Daddy Warbucks, playing in Ramada Inns along the Dakotas–Montana border before their separation. Bruce left the family, moving to California and having two other children: Michael and Sarah. Debbie later had a son Nathan "Nate" Kane Samara. During his childhood, Eminem and Debbie shuttled between Michigan and Missouri, rarely staying in one house for more than a year or two and living primarily with family members. In Missouri, they lived in several places, including St. Joseph, Savannah, and Kansas City.

Eminem uses alter egos in his songs for different rapping styles and subject matter. His best-known alter ego, Slim Shady, first appeared on the Slim Shady EP. In this persona, his songs are violent and dark, with a comic twist. Eminem downplayed Slim Shady on Recovery because he felt it did not fit the album's theme.

As a white performer prominent in a genre influenced by black artists, Eminem has been compared, much to his chagrin, to Elvis Presley, as a lyricist, and as aforementioned to Bob Dylan. Rapper Asher Roth has been compared to Eminem, and Roth devoted a song on his album ("As I Em") to him, which he took offense to. The accomplished trumpeter Nicholas Payton has called Eminem "the Bix Beiderbecke of hip hop".



A protégé of Dr. Dre, rapper Eminem emerged in 1999 as one of the most controversial rappers to ever grace the genre. Coming up from Detroit's rap battle scene, Eminem proved he could withstand the test of time to become one of the greatest and best-selling artists in hip-hop. Using his biting wit and incredible skills to vent on everything from his unhappy childhood to his contempt for the mainstream media, his success became the biggest crossover success the genre had seen since Dre's solo debut seven years earlier. The controversy over his lyrics was the best publicity any musician could afford, and being the first Caucasian rapper to make a significant impact in years may have given him a platform not afforded to equally talented African-American rappers. A gifted producer as well, his talents always seemed overshadowed by his media presence, which was a mix between misunderstood genius and misogynistic homophobe. Both may be true, but his message spoke to legions of disaffected youth who had few role models in the rap world who could relate to the white lower-class experience. The lackluster debut of Infinite in 1996 ignited his Slim Shady violent persona, whom Em debuted in Slim Shady EP in 1997. Somehow, Dr. Dre got a copy of the EP, and well, the rest is history.

He was born Marshall Mathers in St. Joseph, MO (near Kansas City), spending the better part of his impoverished childhood shuttling back and forth between his hometown and the city of Detroit. Initially attracted to rap as a teen, Eminem began performing at age 14, performing raps in the basement of his high school friend's home. The two went under the names Manix and M&M (soon changed to Eminem), which Mathers took from his own initials. Due to the unavoidable racial boundaries that came with being a white rapper, he decided the easiest way to win over underground hip-hop audiences was to become a battle rapper and improv against other MCs in clubs. Although he wasn't immediately accepted, through time he became such a popular attraction that people would challenge him just to make a name for themselves.

His uncle's suicide prompted a brief exodus from the world of rap, but he returned and found himself courted by several other rappers to start groups. He first joined the New Jacks, and then moved on to Soul Intent, who released Eminem's first recorded single in 1995. A rapper named Proof performed the B-side on the single and enjoyed working with Eminem so much that he asked him to start yet another group. Drafting in a few other friends, the group became known as D-12, a six-member crew that supported one another as solo artists more than they collaborated. The birth of Eminem's first child put his career on hold again as he started working in order to care for his family. This also instilled a bitterness that started to creep into his lyrics as he began to drag personal experiences into the open and make them the topic of his raps.

A debut record, 1996's Infinite, broke his artistic rut but received few good reviews, as comparisons to Nas and AZ came unfavorably. Undaunted, he downplayed many of the positive messages he had been including in his raps and created Slim Shady, an alter ego who was unafraid to say whatever he felt. Tapping into his innermost feelings, he had a bounty of material to work with when his mother was accused of mentally and physically abusing his younger brother the same year. The next year his girlfriend left him and barred him from visiting their child, so he was forced to move back in with his mother, an experience that fueled his hatred toward her and made him even more sympathetic toward his brother. The material he was writing was uncharacteristically dark as he began to abuse drugs and alcohol at a more frequent rate. An unsuccessful suicide attempt was the last straw, as he realized his musical ambitions were the only way to escape his unhappy life. He released the brutal Slim Shady EP, a mean-spirited, funny, and thought-provoking record that was light years ahead of the material he had been writing beforehand. Making quite the impression in the underground not only for his exaggerated, nasal-voiced rapping style but also for his skin color, many quarters dubbed him the music's next "great white hope."

According to legend, Dr. Dre discovered his demo tape on the floor of Interscope label chief Jimmy Iovine's garage, but the reality was that Eminem took second place in the freestyle category at 1997's Rap Olympics MC Battle in Los Angeles and Iovine approached the rapper for a tape afterward. It wasn't until a month or two later that he played the tape for an enthusiastic Dre, who eagerly contacted Eminem. Upon meeting, Dre was taken back by his skin color more than his skill, but within the first hour they had already started recording "My Name Is." Dre agreed to produce his first album and the two released "Just Don't Give a Fuck" as a single to preview the new album. A reconciliation with his girlfriend led to the two getting married in the fall of 1998, and Interscope signed the rapper and prepared to give him a massive push on Dre's advice. An appearance on Kid Rock's Devil Without a Cause only helped the buzz that was slowly surrounding him.

The best-selling Slim Shady LP followed in early 1999, scoring a massive hit with the single and video "My Name Is," plus a popular follow-up in "Guilty Conscience"; over the next year, the album went triple platinum. With such wide exposure, controversy ensued over the album's content, with some harshly criticizing its cartoon-ish, graphic violence; others praised its edginess and surreal humor, as well as Eminem's own undeniable lyrical skills and Dre's inventive production. In between albums, Eminem appeared on Dre's 2001, with his contributions providing some of the record's liveliest moments.

The Marshall Mathers LP appeared in the summer of 2000, moving close to two million copies in its first week of release on its way to becoming the fastest-selling rap album of all time. Unfortunately, this success also bred more controversy, and no other musician was better suited for it than Eminem. Among the incidents that occurred included a scuffle with Insane Clown Posse's employees in a car stereo shop, a bitter battle with pop star Christina Aguilera over a lyric about her fictional sexual exploits, a lawsuit from his mother over defamation of character, and an attack on a Detroit club goer after Eminem allegedly witnessed the man kissing his wife. Fans ate it up as his album stood strong at the top of the charts. But the mainstream media was not so enamored, as accusations of homophobia and sexism sprung from the inflammatory lyrics in the songs "Kill You" and "Kim." It was this last song that ended his marriage, as the song's chosen topic (violently murdering his real life wife Kim Mathers) drove his spouse to a suicide attempt before they divorced. Eminem toured throughout most of this, settling several of his court cases and engaging a mini-feud with rapper Everlast.
The annual Grammy Awards nominated the album for several awards, and to silence his critics the rapper called on Elton John to duet with him at the ceremony. In 2001, he teamed with several of his old Detroit running buddies and re-formed D-12. Releasing an album with the group, Eminem hit the road with them that summer and tried to ignore the efforts of his mother, who released an album in retaliation to his comments. After getting off of the road, he stepped in front of the camera and filmed 8 Mile, a film loosely based on his life directed by an unlikely fan, Curtis Hanson (Wonder Boys). His constant media exposure died out as well, leaving him time to work on new music.

When he re-emerged in 2002, he splashed onto the scene with "Without Me," a single that attacked Moby and Limp Bizkit and celebrated his return to music. Surprisingly, the following album, The Eminem Show, inspired little controversy. Instead, the popular second single, "Cleanin' Out My Closet," told of his dysfunctional childhood and explained his hatred toward his mother in a mannered, poignant fashion. And being Eminem, he followed this up with an appearance at MTV's Video Music Awards that inspired boos when he verbally assaulted Moby. Targets on his third straight chart-topper, 2004's Encore, ranged from Michael Jackson ("Just Lose It") to war-hungry politicians ("Mosh"). The album was another smash hit for Eminem, but the resulting touring was fraught with setbacks and controversy. First there was a bus crash in Missouri that injured protégé Stat Quo. Then there were reports of the tour being under-attended. There were also rumors of Eminem retiring, which he quickly quelled. However, the tour's European leg was eventually canceled due to "exhaustion," and Em entered rehab for a dependency on sleeping pills. However, by the end of 2005 he was back with a new video. In typical Eminem fashion, the clip for "When I'm Gone" riffed on his recent rehab stay. He also issued a chart-topping greatest-hits set, Curtain Call: The Hits, that December.

The year 2006 was a turbulent one. Mathers remarried Kim on January 14, 2006, but the couple filed for divorce in April. Also in April, D-12 member Proof, Mathers' best friend, was killed in a shooting at a Detroit nightclub. In August, Eminem resurfaced as producer on Obie Trice's Second Round's on Me and in October he was rapping on Akon's hit single "Smack That." He capped the year off with Eminem Presents: The Re-Up, a mixtape featuring artists from his Shady label.

Since then, many other great rappers have listed Eminem as one of their influences while growing up. From Detroit's very own Big Sean to Compton's finest Kendrick Lamar, here's how Eminem influenced the style of some of these rappers.

Big Sean:
Coming from the Motor City of Detroit, Big Sean grew up with Eminem's The Slim Shady LP tape. The two ended up collaborating several times, including in Detroit's posse cut "Detroit vs. Everybody" from the Shady XV album.

"He's the biggest rapper of all time," the rapper told Tim Westwood of Capital Xtra, citing the album as one of his childhood favorites. "If you just look at the numbers. You can imagine what that's like coming up in Detroit and looking up to that."

B.o.B:
North Carolina rapper B.o.B rose to stardom in the early 2010s after his Bruno Mars-supported single "Nothin' on You" scored a massive commercial success. He's also won an Eminem feature in "Airplanes" from The Adventures of Bobby Ray's debut album.

"I grew up listening to Eminem, so to be able to work and get advice on your music from him is a dream come true," he told MTV.

Tyler, The Creator:
While the two had exchanged some not-so-nice words about each other between 2017 and 2018, one of Tyler the Creator's favorite albums of all time is Eminem's 2009 Relapse. The drug-fueled and heavy-accented album plays a serial killer role, in which Tyler's early works were heavily influenced. Some of his favorite songs from the horrorcore album were "Stay Wide Awake," "Deja Vu," "Underground," and "Hello."

Logic:
Logic hailed Eminem as one of his all-time favorites, but it wasn't until 2019 that they finally linked up. The two collaborated on "Homicide" from Logic's Confession of a Dangerous Mind album.

"Em, if you're reading this I want you to know how much I love and appreciate you. I'll never forget the experience and I'm more than happy and ecstatic to now call you my homie!," the rapper took to social media to detail his encounter with the Rap God.

Mac Miller:
The late Mac Miller grew up with the angst and explosive anger of The Marshall Mathers LP, but it wasn't until he turned 15 or 16 that he finally realized the genius of Em.

"I think people assume that that was how I got into rap, by the way of like Marshall Mathers LP. Had some good moments with that when I was younger," The Divine Feminine rapper told Mass Appeal's Time Alone.

XXXTentacion:
If there's something that Eminem and XXXTentacion have shared in common, is that the two are bravely candid about their struggle with substance abuse in their early works. When the train of hate started coming towards Em in 2017 for "Walk on Water" from Revival, X is one of the few people who defended the single.

Juice WRLD:
Coming up from the rap battle scene, Eminem's freestyling ability should not be put in question. The late Juice WRLD did an hour of non-stop freestyle over Eminem's classic beats at Tim Westwood. The two ended up collaborating for Juice's first-ever posthumous feature, "Godzilla," from Eminem's Music to Be Murdered By album in 2020.

"That kid was so talented," Eminem showed the late some love during a rare chat on King Crookxd's Crooked Corner interview series. "To be so young, he mastered that so f—ing quickly. His potential was so off the charts."

Nicki Minaj:
Over the years, Eminem and Nicki Minaj have shared a unique timeline of friendship and name-dropped each other in their respective crafts. Both are fans of each other's works, with Nicki Minaj listing Em as one of her all-time favorites.

"As a fan of rap, I think I would say the people that have influenced me the most with the way I rap, that would definitely be Lil Wayne, JAY-Z, Foxy Brown, Eminem," she told XXL.

J. Cole:
J. Cole always shows love for Eminem. Interestingly, he also cited rap veteran Canibus, one of Eminem's early nemesis, as another inspiration. His favorite album was The Marshall Mathers LP.

"I have people's raps on my wall, but his raps and then Canibus' raps were the only ones that could get close to the bedspread," he told DJ Whoo Kid in an interview.

Kendrick Lamar:
Just like Eminem back in the late 1990s, in the early 2010s, Kendrick Lamar also signed to Dr. Dre's Aftermath Entertainment label. This trio link-up is what propelled "Kung Fu Kenny's" career to the next level.

The "King Kunta" rapper spoke highly of Eminem and often called him one of his favorites. Em's aggressiveness in The Marshall Mathers LP influenced Lamar's hard-hitting and determined approach in his early works, especially in his 2013 verse in Big Sean's cut "Control".
Genre not found
Artist not found
Album not found
Search results not found
Song not found