Groundhog Day
Eminem Lyrics
What is a nightmare?
The dictionary tells us it is a terrifying dream
A nightmare (A nightmare, a nightmare, a nightmare)
I used to think I had bad luck, but I wasn't superstitious
Till one day I grew suspicious,
When I stepped on a crack on Aunt Edna's stoop
And got pooped on by a group of stupid pigeons
Then we flew the coop to Michigan to start a new be-ditching
Missouri from Michigan didn't work
So we moved back to Missouri from Michigan
From Missouri back to Michigan
Someone put me out my misery, I can't do this again
Mom please stick to a decision
Discipline, last thing I wanna' do is listen
She's like Lex Luthor, b****, her rules are krypton-ite
To the walls and I've lost my power to see through them b****es
But I run into them, running through the kitchen
Pretending to be blind, Superman
'Cause I had no supervision
But I did have a super power though
I could turn into invisible kid
Disappear out of sight, like a true magician
And one day uncle Ronnie brought over this new, but different
Music into the picture and it become my new religion
"I remember it clearly, even today"
Move back to Michigan again, to live with my Grandma Ned
Always itchin' for something to do, was flipping
Through the radio stations one day and discovered this DJ who was mixing
I say it to this day, if you ain't listened to the the wizard
You ain't have a f***ing clue what you was missing
I'd zone out with my headphones, all I remember doing's wishing
For shoes, f*** them stupid Pumas b****, it's all about them new edition shoes
You get them LL Cool J coolin' systems
Think I finally maneuvered to 8 Mile and Hoover
And somehow I saw my future is in this that's how I know my mission
Little boom box boomin', spitting
Practicing numerous rhythms
When I sit in my room envisioning my dreams come true for wishin'
I remember Proof would visit
Couldn't wait to play him my new s***, he'd go complete ballistic
Go through the roof for his s***
It's like we knew the instant
We touched a mic that both of us two existed to do this s***
Never quit, too persistent
Started a group of misfits
Proof had a proposition
If we all brand together, there ain't no stopping this s***
Come up with aliases, bipolar opposites and
Be ready to come off the top as sharp position
If you got dissed at the shop 'cause if they caught you slippin'
They'd take your spot if someone got to rippin' you
And you forgot your written
Opportunity knocked us once, it ain't knocking again
It tried ding dong ditching s***
I f***ing got that b**** in a headlock
Cut off his oxygen slim
Snot forgin' like c***suckers and rocks in the wind
Now I got my pot to piss in
Spottin' the top of this chain
Cuppin' over the opposition
Lookin' like a dog that's pissin'
Wake up on the competition
Promise incomplete
Diamond and Sugar Ray Robinson
I'm in a league Muhammad's in
Ali's my colleague bombin' them probably
Probably end up on top of them
Stomping them like Adomakin
I'm rushing like your cranium LaDainian Tomlinson
Flow vomits in your face
Competitors fall at my waist
You spit a rhyme, I spit in a rhyme's face
So name the time, place
To battle b**** I'm still in that mind state
Don't make me step on you and make you wine grapes
Cry babies, maybe my way that I use words is loose
But you turds better be careful how you choose yours
'Cause feelings scar but egos bruise worse
And the truth hurts, s*** no wonder you're sore losers
Now wish you pink birds, ooh no more drippin' in bird s***,
This songs a self empowerment surgeon
Words of encouragement but discourage any rappers the rap games God
But the name's not James Todd, I'm just a wordsmith
So let these words lift
'Cause all I got is bars for you dumbbells
And doors ain't working out
Each verse is more merciless than the first
As you ain't got to wear no shoes and shirt in this beast to get served
Blood thirst, revenge of the nerds
(They shall not escape my vengeance)
And I'm the kid with them ears like Dumbo's gone
With the uncle Ron I'm turning into an non-humble Don
You blind dumbos, all I got is dick for you to crumble on
So stop the show, but I need a drum roll for I go on
Better back away from the front row, get lunch, I'm
Bigger than Dikembe Mutombo on the f***ing jumbo tron
I'm a juggernaut, you do not wanna crumble, you bambacluts
I'll leave you stretched out, like a f***ing yarn
So mow the f***ing lawn, your a**es are blades of grass
And I'm f***ing up this whole landscape of rap
The goat just ate eight acres, and ate the vet
Who just make a path and take you straight to your favorite rapper
Oh look, my notebook with smoke cook
Like the flow stood a foot over the flame on the stove, soot
It's hard to breath floating like oak wood was burning
Return of the no good and I wont (quit)
And a gauntlet, with a chain henge, its like a groundhogs day
So crowd around y'all, 'cause you may, see about y'all hey
Lyrics © BMG Rights Management, Universal Music Publishing Group, Sony/ATV Music Publishing LLC
Written by: ADAM FEENEY, LEON MICHELS, THOMAS BRENNECK, DAVID GUY, MARSHALL MATHERS, HOMER STEINWEISS, JARED TANKEL, C MCCORMICK

Lyrics Licensed & Provided by LyricFind
To comment on specific lyrics,
highlight them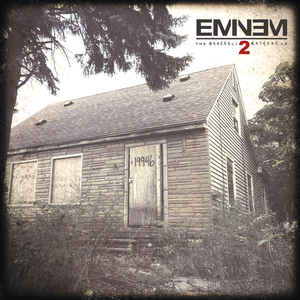 Marshall Bruce Mathers III (born October 17, 1972), known professionally as Eminem (often stylized as EMINƎM), is an American rapper, songwriter, record producer, record executive, and actor.

Eminem is the best-selling artist of the 2000s in the United States. Throughout his career, he has had 10 number-one albums on the Billboard 200 and five number-one singles on the Billboard Hot 100. With more than 47.4 million albums and 107.5 million singles sold in the U.
Read Full Bio
Marshall Bruce Mathers III (born October 17, 1972), known professionally as Eminem (often stylized as EMINƎM), is an American rapper, songwriter, record producer, record executive, and actor.

Eminem is the best-selling artist of the 2000s in the United States. Throughout his career, he has had 10 number-one albums on the Billboard 200 and five number-one singles on the Billboard Hot 100. With more than 47.4 million albums and 107.5 million singles sold in the U.S. and 220 million records globally, he is among the world's best-selling artists of all time and is consistently cited as one of the greatest and most influential artists in any genre. He is the only artist to have eight albums consecutively debut at number one on the Billboard 200. Rolling Stone ranked him 83rd on its list of 100 Greatest Artists of All Time, calling him the "King of Hip Hop".

After his debut album Infinite (1996) and then Slim Shady EP (1997), Eminem signed with Dr. Dre's Aftermath Entertainment and subsequently achieved mainstream popularity in 1999 with The Slim Shady LP, which earned him his first Grammy Award for Best Rap Album. His next two releases, 2000's The Marshall Mathers LP and 2002's The Eminem Show, were worldwide successes, with each being certified diamond in U.S. sales and both winning Best Rap Album Grammy Awards—making Eminem the first artist to win the award for three consecutive LPs. They were followed by Encore in 2004, another critical and commercial success. Eminem went on hiatus after touring in 2005, releasing Relapse in 2009 and Recovery in 2010. Both won Grammy Awards and Recovery was the best-selling album of 2010 worldwide, the second time he had the international best-selling album of the year (after The Eminem Show). Eminem's eighth album, 2013's The Marshall Mathers LP 2, won two Grammy Awards, including Best Rap Album; it expanded his record for the most wins in that category and his Grammy total to 15. In 2017, he released his ninth studio album, Revival. On August 31, 2018, Eminem released his tenth studio album, Kamikaze, to streaming services Apple Music, Spotify, and Amazon Music.

In addition to his solo career, Eminem is an original member of the Midwest hip hop groups Soul Intent and D12. He is also known for his collaborations with fellow Detroit-based rapper Royce da 5'9"; the two are collectively known as Bad Meets Evil. Eminem has developed other ventures, including Shady Records, with manager Paul Rosenberg, which helped launch the careers of artists such as 50 Cent. Eminem has also established his own channel, Shade 45, on Sirius XM Radio. In November 2002, he starred in the hip hop film 8 Mile, which won the Academy Award for Best Original Song for "Lose Yourself", becoming the first rap artist to ever win the award. Eminem has made cameo appearances in the films The Wash (2001), Funny People (2009), and The Interview (2014), and the television series Entourage (2010).

Marshall Bruce Mathers III was born on October 17, 1972, in St. Joseph, Missouri, the only child of Marshall Bruce Mathers Jr. and Deborah Rae "Debbie" Nelson. His mother nearly died during her 73-hour labor with him. Eminem's parents were in a band called Daddy Warbucks, playing in Ramada Inns along the Dakotas–Montana border before their separation. Bruce left the family, moving to California and having two other children: Michael and Sarah. Debbie later had son Nathan "Nate" Kane Samara. During his childhood, Eminem and Debbie shuttled between Michigan and Missouri, rarely staying in one house for more than a year or two and living primarily with family members. In Missouri, they lived in several places, including St. Joseph, Savannah, and Kansas City.

Eminem uses alter egos in his songs for different rapping styles and subject matter. His best-known alter ego, Slim Shady, first appeared on the Slim Shady EP. In this persona his songs are violent and dark, with a comic twist. Eminem downplayed Slim Shady on Recovery because he felt it did not fit the album's theme.

As a white performer prominent in a genre influenced by black artists, Eminem has been compared, much to his chagrin, to Elvis Presley, and as a lyricist and as aforementioned to Bob Dylan. Rapper Asher Roth has been compared to Eminem, and Roth devoted a song on his album ("As I Em") to him, which he took offense to. The accomplished trumpeter Nicholas Payton has called Eminem "the Bix Beiderbecke of hip hop".

Eminem and Christian hip hop artist KJ-52 have been compared to each other, with KJ-52 called his "Christian counterpart". KJ-52's single, "Dear Slim", was controversial with Eminem fans when it appeared on Total Request Live. Although he said the song was not intended to be disrespectful, KJ-52 received hate mail and the song was number 26 on VH1's Top 40 Worst Moments in Hip Hop list.
Genre not found
Artist not found
Album not found
Search results not found
Song not found