Public Service Announcement
Eminem Lyrics
Jump to: Overall Meaning | Line by Line Meaning
This is another public service announcement
Brought to you in part by Slim Shady (tell 'em I don't give a fuck)
Slim Shady does not give a fuck what you think (tell 'em to suck it)
If you don't like it, you can suck his fucking cock (tell 'em kiss my ass)
Little did you know, upon purchasing this album
You have just kissed his ass (tell 'em I'm fed up)
Slim Shady is fed up with your shit
And he's going to kill you (yeah)
An-anything else?
Yeah, sue me
Overall Meaning
The lyrics of Eminem's "Public Service Announcement 2000" are a direct attack on his critics and naysayers. The song begins with a public service announcement, which is a nod to Eminem's controversial image and reputation. He uses the PSA as a platform to convey his attitude towards his haters and tell them that he doesn't care what they think. He goes on to mention that he's fed up with their constant criticism and that he's not afraid to stand up for himself.
The chorus "tell 'em I'm fed up" is a powerful message that he's not going to take their criticism lying down. He's ready to take action and put an end to their negativity. The lyrics take a violent and aggressive turn when he says "he's going to kill you." This is a metaphor for his intentions to destroy his detractors with his lyrical prowess and talent.
Overall, the song is a testament to Eminem's resilience and grit. Despite facing countless controversies in his career, he's always been able to come out on top. He's proven time and again that he's not afraid to speak his mind and that he'll do whatever it takes to defend himself.

Line by Line Meaning
This is another public service announcement
This is a message from Eminem to his fans and haters
Brought to you in part by Slim Shady (tell 'em I don't give a fuck)
This message is partly brought to you by Slim Shady, who does not care about anyone's opinion
Slim Shady does not give a fuck what you think (tell 'em to suck it)
Slim Shady wants you to know that he doesn't care about your opinion and you can suck it
If you don't like it, you can suck his fucking cock (tell 'em kiss my ass)
If you don't like his music, you can go ahead and kiss his ass
Little did you know, upon purchasing this album
As a listener, you might not have known this before buying the album
You have just kissed his ass (tell 'em I'm fed up)
By purchasing his album, you have shown that you support him and his music
Slim Shady is fed up with your shit
Eminem is fed up with the critics and haters who don't appreciate his music
And he's going to kill you (yeah)
He's not literally going to kill anyone, but he's going to come back stronger than ever and silence his critics
An-anything else?
Is there anything else you want to complain about?
Yeah, sue me
If you are not happy with his music, go ahead and sue him
Lyrics © Kobalt Music Publishing Ltd.
Written by: Jeff Bass, Marshall B Mathers III

Lyrics Licensed & Provided by LyricFind
To comment on or correct specific content,
highlight it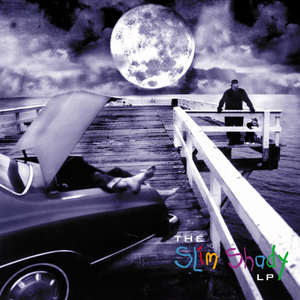 Public Service Announcement
The hilarious yet meaningless intro to Eminem's major label debut, The Slim Shady LP.
Genre not found
Artist not found
Album not found
Search results not found
Song not found