will the same mistakes haunt you like they used to do?
or are you afraid that your body won't let you choose?
you are your father's son, and the same disease that holds you held him once!
and i know if you push this hard it will still take hold.
you cannot accept the things you can't control.
and i know your mind is young but your body's old.
and you can't forgive youself (though no one else could blame you for this).
but hold on! hold on! hold on!
and already i can't remember if the heart was ever aware
that the body it kept alive was wearing out, was shutting down.
and tonight, when it realized, you gave up, it cried out,
"only now i realize i always knew."
Contributed by Alexander M. Suggest a correction in the comments below.
To comment on specific lyrics,
highlight them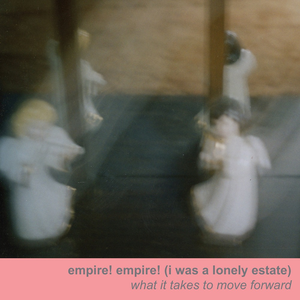 An Idea Is a Greater Monument Than a Cathedral
Empire! Empire! (I Was a Lonely Estate) was an American emo band from Michigan. It was formed in 2006 originally as a solo project of band member Keith Latinen. The band's music is most often described as emotional indie rock reminiscent of '90s Midwest emo sound.
The band's first release was in 2007 with an EP titled When The Sea Became A Giant. The band released a full-length album, What It Takes To Move Forward, in 2009. The band is signed to Count Your Lucky Stars Records and has released albums on a number of other labels
Read Full Bio
Empire! Empire! (I Was a Lonely Estate) was an American emo band from Michigan. It was formed in 2006 originally as a solo project of band member Keith Latinen. The band's music is most often described as emotional indie rock reminiscent of '90s Midwest emo sound.
The band's first release was in 2007 with an EP titled When The Sea Became A Giant. The band released a full-length album, What It Takes To Move Forward, in 2009. The band is signed to Count Your Lucky Stars Records and has released albums on a number of other labels, such as strictly no capital letters (UK), Topshelf Records, Stiff Slack (Japan), and Hobbledehoy Record Co (Australia). The band released their second album You Will Eventually Be Forgotten on August 19, 2014. On February 16, 2016, the band announced their final tour before their breakup on their official Facebook page.[2]

Bandcamp

Social media: facebook / twitter /

Labels: count your lucky stars / strictly no capital letters / stiff slack / keep it together / topshelf
Genre not found
Artist not found
Album not found
Search results not found
Song not found