you settled into uneasy sleep, a subtle hint that things were changing
and every breath of labored rest brought new designs of old regrets.
and how they aged you! how they took your strength away!
(when they entered your body and pinned fear to weight)
pull out! pull out!
lead you weak cells to oxygen, and sew your skin to bone.
you can hold on! hold on!
lend dead weight to stronger hands.
you are not alone.
(you are not alone)
if you're weighed down, i'll lay your fears to rest
you are safe now.
(you are safe now)
Contributed by Hudson G. Suggest a correction in the comments below.
To comment on specific lyrics,
highlight them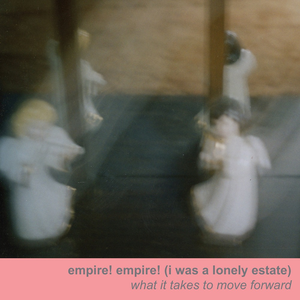 Empire! Empire! (I Was a Lonely Estate) was an American emo band from Michigan. It was formed in 2006 originally as a solo project of band member Keith Latinen. The band's music is most often described as emotional indie rock reminiscent of '90s Midwest emo sound.
The band's first release was in 2007 with an EP titled When The Sea Became A Giant. The band released a full-length album, What It Takes To Move Forward, in 2009. The band is signed to Count Your Lucky Stars Records and has released albums on a number of other labels
Read Full Bio
Empire! Empire! (I Was a Lonely Estate) was an American emo band from Michigan. It was formed in 2006 originally as a solo project of band member Keith Latinen. The band's music is most often described as emotional indie rock reminiscent of '90s Midwest emo sound.
The band's first release was in 2007 with an EP titled When The Sea Became A Giant. The band released a full-length album, What It Takes To Move Forward, in 2009. The band is signed to Count Your Lucky Stars Records and has released albums on a number of other labels, such as strictly no capital letters (UK), Topshelf Records, Stiff Slack (Japan), and Hobbledehoy Record Co (Australia). The band released their second album You Will Eventually Be Forgotten on August 19, 2014. On February 16, 2016, the band announced their final tour before their breakup on their official Facebook page.[2]

Bandcamp

Social media: facebook / twitter /

Labels: count your lucky stars / strictly no capital letters / stiff slack / keep it together / topshelf
Genre not found
Artist not found
Album not found
Search results not found
Song not found