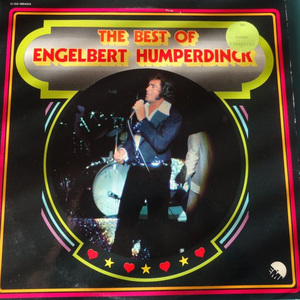 There are multiple artists with this name:
1. A German composer
2. A Briti…
Read Full Bio ↴
There are multiple artists with this name:
1. A German composer
2. A British pop singer

1. Engelbert Humperdinck (German pronunciation: [ˈɛŋl̩bɛʁt ˈhʊmpɐdɪŋk]) (1 September 1854 – 27 September 1921) was a German composer, best known for his opera, Hänsel und Gretel. Humperdinck was born at Siegburg in the Rhine Province; at the age of 67 he died in Neustrelitz, Mecklenburg-Western Pomerania.

2. Engelbert Humperdinck (born Arnold George Dorsey; 2 May 1936) is a British pop singer, best known for his hits including "Release Me (And Let Me Love Again)" and "After the Lovin'" as well as "The Last Waltz" ("The Last Waltz with You").
Humperdinck represented the United Kingdom in the Eurovision Song Contest 2012.
Jump to: Overall Meaning ↴ Interesting Facts ↴ Line by Line Meaning ↴
I can't believe that I'm feeling this way about you
I'm so confused that all of my thoughts surround you
Guess there's just nothing to do
But spend my whole life lovin' you
Oh, I'm fallin', catch me, I'm fallin' in love with you
You hypnotising, your eyes mesmerise everything I do
Now that you're near, I'll always fear living without you
I don't have any doubt
You are what I'm all about
I'm fallin', catch me, I'm fallin' in love with you
All of the signs point one way
Leaves me with one thing to say
My head's in the clouds and I'm singin' out loud about you
To tell you the truth, I'll find any excuse to be near you
Maybe tomorrow you'll see
You'll spend your whole life lovin' me
I'm fallin', catch me, I'm fallin' in love with you
Catch me, I'm fallin' in love with you
Catch me, I'm fallin' in love with you
Ringtones Send "Catch Me, I'm Falling" Ringtone to your Cell Ringtones
Overall Meaning
In this song, the singer is expressing their confusion and deep feelings for the person they are singing to. They can't believe that they feel this strongly about the person, and they are surrounded by thoughts of them. The person is described as hypnotizing and their eyes mesmerize the singer. They fear living without this person and they have no doubts that they are what the singer is all about. They feel like they are falling in love, and they want the person to catch them before they hit the ground.
The singer is so infatuated with this person that they can't think of anything else. Even when their head is in the clouds and they're singing about the person, they will find any excuse to be near them. They hope that tomorrow the person will see how much they mean to the singer, and that they will spend their whole life loving them. This song is about taking a chance on love and expressing your feelings, even when it's scary.
Interesting facts about the song:
Interesting Facts
Note: This section uses generative AI, which can be inaccurate.


Line by Line Meaning
I can't believe that I'm feeling this way about you
It's hard to fathom that I'm experiencing this sort of affection towards you
I'm so confused that all of my thoughts surround you
My mind feels muddled, with you as the central focus of my every thought
Guess there's just nothing to do
Perhaps there's no solution to how I feel
But spend my whole life lovin' you
The only option I perceive is to devote myself to loving you for the rest of my life
Oh, I'm fallin', catch me, I'm fallin' in love with you
I'm careening into emotions I can't contain, please help me catch hold of my feelings because I'm falling in love with you
You hypnotizing, your eyes mesmerize everything I do
You possess an enchanting quality, your eyes are captivate me and influence all my actions
Now that you're near, I'll always fear living without you
I realize I cannot bear the notion of not having you around, now that you're with me
I don't have any doubt
I'm entirely certain
You are what I'm all about
My life revolves around you
All of the signs point one way
All indicators direct to the same conclusion
Leaves me with one thing to say
It compels me to say one specific thing
My head's in the clouds and I'm singin' out loud about you
I'm feeling euphoric and singing joyfully in admiration of you
To tell you the truth, I'll find any excuse to be near you
To be honest, I'll take any opportunity I can to be close to you
Maybe tomorrow you'll see
Perhaps, in the future, you might understand or realize something I'm feeling right now
You'll spend your whole life lovin' me
I envision that you will spend the entirety of your life devoted to loving me
Catch me, I'm fallin' in love with you
Please catch me, I'm plunging deeply into emotions towards you
Catch me, I'm fallin' in love with you
I urge you to catch my feelings, which are rapidly escalating towards love for you
Lyrics © CARLIN AMERICA INC
Written by: DARRYL COTTON, MICHAEL LLOYD, STEVE KIPNER

Lyrics Licensed & Provided by LyricFind
To comment on or correct specific content,
highlight it
Genre not found
Artist not found
Album not found
Search results not found
Song not found