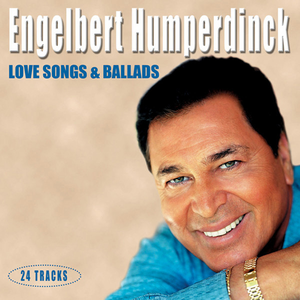 There are multiple artists with this name:
1. A German composer
2. A Briti…
Read Full Bio ↴
There are multiple artists with this name:
1. A German composer
2. A British pop singer

1. Engelbert Humperdinck (German pronunciation: [ˈɛŋl̩bɛʁt ˈhʊmpɐdɪŋk]) (1 September 1854 – 27 September 1921) was a German composer, best known for his opera, Hänsel und Gretel. Humperdinck was born at Siegburg in the Rhine Province; at the age of 67 he died in Neustrelitz, Mecklenburg-Western Pomerania.

2. Engelbert Humperdinck (born Arnold George Dorsey; 2 May 1936) is a British pop singer, best known for his hits including "Release Me (And Let Me Love Again)" and "After the Lovin'" as well as "The Last Waltz" ("The Last Waltz with You").
Humperdinck represented the United Kingdom in the Eurovision Song Contest 2012.
Jump to: Overall Meaning ↴ Line by Line Meaning ↴
Far away places with strange sounding names
Far away over the sea
Those far away places with the strange sounding names are
Calling
Calling me
Goin' to China or maybe Siam
I wanna see for myself
Those far away places I've been reading about in a
Book that I took from a shelf
I start getting' restless whenever I hear the whistle of a train
I pray for the day I can get underway
And look for those castles in Spain
They call me a dreamer
Well maybe I am
But I know that I'm burning to see those
Far away places with the strange sounding names
Calling, calling me
Me
Overall Meaning
The lyrics of Engelbert Humperdinck's song "Faraway Places" express the longing for adventure in distant and exotic locations. The references to strange sounding names and faraway countries evoke a sense of wanderlust and the desire to explore the unknown. There is a palpable sense of restlessness in the singer's voice as he describes the places he's been reading about in books and dreams of visiting.
The line "I start getting restless whenever I hear the whistle of a train" is particularly poignant, suggesting that the singer is trapped in his current surroundings and yearning for escape. He longs to see the castles of Spain and to explore the mysteries of China and Siam. The chorus of the song, with its repeated refrain of "calling, calling me," emphasizes the irresistible pull of these faraway places and the singer's desire to answer that call.

Line by Line Meaning
Far away places with strange sounding names
Referring to exotic, distant locations that are unfamiliar to the singer
Far away over the sea
Referring to locations beyond the singer's immediate surroundings
Those far away places with the strange sounding names are calling
The singer is being drawn to these far off places
Calling me
The artist feels a strong desire to travel to these locations
Goin' to China or maybe Siam
Listing specific locations the artist wishes to visit
I wanna see for myself
Expressing the singer's desire to experience these places firsthand
Those far away places I've been reading about in a book that I took from a shelf
The singer has been researching and learning about these locations through literature
I start getting' restless whenever I hear the whistle of a train
The artist feels an increasing restlessness and eagerness to travel when hearing the sound of a train whistle
I pray for the day I can get underway
The artist longs for the opportunity to begin their travels
And look for those castles in Spain
The artist is searching for romantic or idyllic locations in addition to the exotic ones
They call me a dreamer
The singer's aspirations may seem unrealistic or fanciful to others
Well maybe I am
The artist acknowledges the possibility that their desires may be considered unrealistic
But I know that I'm burning to see those far away places with the strange sounding names
Despite doubts or criticisms, the singer feels a passionate urge to see these places
Calling, calling me
Reiterating the intense desire to explore these far off locations
Lyrics © O/B/O APRA/AMCOS

Lyrics Licensed & Provided by LyricFind
To comment on or correct specific content,
highlight it
Genre not found
Artist not found
Album not found
Search results not found
Song not found